IDH-1, ATRX AND 1P19Q CO-DELETION IN DIFFUSE GLIOMAS
Rabia Javed

Shaukat Khanum Memorial Cancer Hospital and Research Centre, Lahore, Pakistan

Noreen Akhtar

Shaukat Khanum Memorial Cancer Hospital and Research Centre, Lahore, Pakistan

Usman Hassan

Shaukat Khanum Memorial Cancer Hospital and Research Centre, Lahore, Pakistan

Mohammad Azam

Shaukat Khanum Memorial Cancer Hospital and Research Centre, Lahore, Pakistan

Asif Loya

Shaukat Khanum Memorial Cancer Hospital and Research Centre, Lahore, Pakistan

Mudassir Hussain

Shaukat Khanum Memorial Cancer Hospital and Research Centre, Lahore, Pakistan

Maryam Hameed

Shaukat Khanum Memorial Cancer Hospital and Research Centre, Lahore, Pakistan

Sumera Butt

Shaukat Khanum Memorial Cancer Hospital and Research Centre, Lahore, Pakistan

Sajid Mushtaq

Shaukat Khanum Memorial Cancer Hospital and Research Centre, Lahore, Pakistan
Keywords:
ATRX, Diffuse astrocytomas, Glioblastoma, IDH1, Oligodendrogliomas, 1p/19q co-deletion
Abstract
Objective: To stratify diffuse gliomas into subtypes including diffuse astrocytomas, oligodendrogliomas and glioblastomas based on recent molecular updates and assess their frequencies in our local subpopulation.
Study Design: Cross-sectional study.
Place and Duration of Study: Department of Histopathology, Shaukat Khanum Memorial Cancer Hospital and Research Centre, Lahore, Pakistan, from Jun 2015 to Jul 2017
Methodology: Two hundred and fourteen (n=214) cases of adult diffuse gliomas were evaluated. Clinical and morphological features like age, gender and type of tumor were quantified. Molecular studies including IDH 1 by antibody and PCR, ATRX by antibody and 1p/19q co-deletion by FISH were tested. Gliomas were subcategorised based on WHO 2016 guidelines.
Results: Mean age of presentation was 39 years. Overall n=146/214 (68.2%) of the cases were completely classifiable including Diffuse Astrocytomas, Oligodendrogliomas and Glioblastomas. Out of the glioblastomas (n=81), 67/81(n=82.7%) were IDH Wild type and 14/81 (17.3%) were IDH Mutant.
Conclusion: In this study, glioblastomas are the most frequent gliomas as categorized by current WHO molecular guidelines followed by diffuse astrocytomas. Oligodendrogliomas are the least common.
Downloads
Download data is not yet available.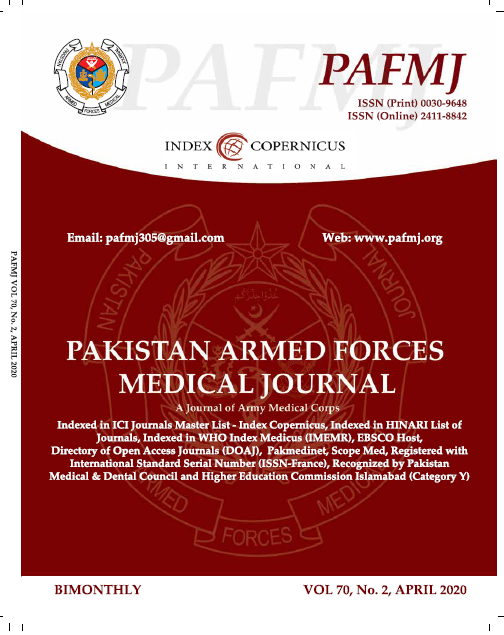 How to Cite
Javed, R., Akhtar, N., Hassan, U., Azam, M., Loya, A., Hussain, M., Hameed, M., Butt, S., & Mushtaq, S. (2020). IDH-1, ATRX AND 1P19Q CO-DELETION IN DIFFUSE GLIOMAS. Pakistan Armed Forces Medical Journal, 70(2), 571-77. Retrieved from https://pafmj.org/index.php/PAFMJ/article/view/4235
Section
Original Articles