MENINGOCOCCAL DISEASE OUTBREAK IN A LIBERIAN COUNTY
Muhammad Fahd Bin Haider

Pakistan Field Hospital (PFH)-14, United Nations Mission in Liberia, Liberia

Meezan Jalil

Pakistan Field Hospital (PFH)-14, United Nations Mission in Liberia, Liberia

Nisar Ul Haq

UN Migration Agency, Liberia
Keywords:
Meningococcal disease, Neisseria meningitides, Outbreak
Abstract
Meningococcal infection caused by Neisseria meningitidis causes epidemics especially in the ''Meningitis Belt'' of Sub-Saharan Africa with a case fatality of 5.9% and attack rate 1%. We report a localized outbreak of Meningococcal disease in a Liberian county (a West African country) where our Pakistan Army Military Hospital was working under United Nations (UN) Mission. It began suddenly as a cluster of cases who had all attended a funeral. Patients developed sudden headache, vomiting and abdominal pain with petechial rash in a few but without fever in the majority. It caused much diagnostic confusion until the illness was diagnosed by Centres for disease control (CDC) as Meningococcal septicemia due to Neisseria meningitidis group C.
Downloads
Download data is not yet available.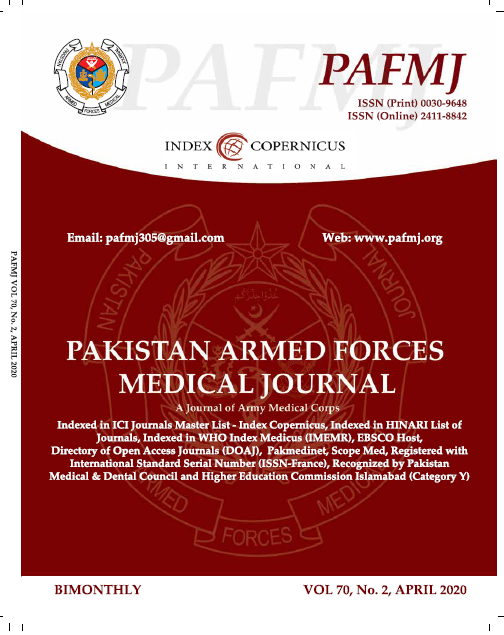 How to Cite
Haider, M. F., Jalil, M., & Haq, N. (2020). MENINGOCOCCAL DISEASE OUTBREAK IN A LIBERIAN COUNTY. Pakistan Armed Forces Medical Journal, 70(2), 639-41. Retrieved from https://pafmj.org/index.php/PAFMJ/article/view/4231