ARTIFICIAL INTELLIGENCE IN HEALTHCARE SETUPS: PROS AND CONS AND WAY FOR WARD TO MANAGE
Sikandar Hayat Khan

Pakistan Naval Ship, Hafeez Hospital, Islamabad Pakistan
Keywords:
Artificial intelligence, Healthcare, Machine learning
Abstract
Artificial intelligence employs machine base algorithmic processes which are now entering into the clinical domain. While the medical doctors and paramedical staff are usually not formally taught the subject in their primaries so a little understanding about various machine learning processes are essential. Apart from staff the requirements, knowledge, systems, training and understanding the best possible utility of the processes is also needed. This article attempts to address the processes linked within this new via of patient-doctor interface leading to decision making by taking the help of algorithmic approaches with input details guiding them about regulatory guidelines, ethics, links to requisite data repository and applicable evidence based practices. The article further elaborates upon the needs of such artificial intelligence interfaced healthcare system in terms of patient related understanding requirements, technical human resource, systems to establish, physician clientele focus along with some novel added features for healthcare expanding domains. Following this the pros and cons as perceived by newly introduced clientele have been discussed with their concerns and a way forward for installing such system. The articles primarily focus on the beginner's need especially those living in resource-bound countries.
Downloads
Download data is not yet available.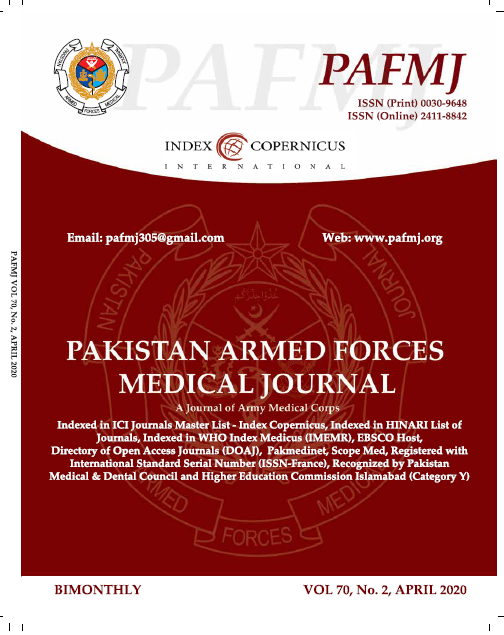 How to Cite
Khan, S. (2020). ARTIFICIAL INTELLIGENCE IN HEALTHCARE SETUPS: PROS AND CONS AND WAY FOR WARD TO MANAGE. Pakistan Armed Forces Medical Journal, 70(2), 634-38. Retrieved from https://pafmj.org/index.php/PAFMJ/article/view/4230