COMPARISON OF EFFICACY OF CRYOTHERAPY VERSUS ORAL ZINC SULPHATE IN THE TREATMENT OF CUTANEOUS WARTS
Ali Riaz

Combined Military Hospital, Malir/National University of Medical Sciences (NUMS) Pakistan

Junaid Riaz

Nishtar Hospital Multan Pakistan

Waqas Ahmed

Combined Military Hospital, Malir/National University of Medical Sciences (NUMS) Pakistan

Rabia Mushtaq

District Head Quarter, Sargodha Pakistan

Omer Riaz

Combined Military Hospital/National University of Medical Sciences (NUMS) Rawalpindi Pakistan

Komal Mushtaq

Combined Military Hospital, Malir/National University of Medical Sciences (NUMS) Pakistan
Keywords:
Cutaneous warts, Cryotherapy, Oral zinc sulphate
Abstract
Objective: To compare the efficacy of oral zinc sulphate with cryotherapy in the treatment of viral warts.
Study Design: Quasi-experimental study.
Place and Duration of Study: Department of Dermatology, Combined Military Hospital Malir, from Nov 2018 to Apr 2019.
Methodology: A total of 210 patients (105 in each group) were included in this study. We randomized the patients into two equal groups, A and B by lottery method. Patients of both genders with cutaneous warts between the ages of 18 to 65 years. Patients with genital warts, cardiac, hepatic and renal disease, and hypercholesterolemia were excluded. Patients in group A were given oral zinc sulphate 10mg/kg/day for 8 weeks. Patients in group B were treated with cryotherapy after every 2 weeks for 8 weeks.
Results: Mean age of the patients was 39.30 ± 11.35 years and 38.92 ± 10.32 years in group A and B, respectively. In group A, 63 patients (60%) and in group B, 62 patients (59%) were males while 42 patients (40%) of group A and 43 patients (41%) of group B were females. Oral zinc sulphate was found to be effective in 67 patients (63.8%) and cryotherapy in 39 patients (37.2%). Statistically significant difference was observed between the two groups (p<0.001).
Conclusion: The results suggested that oral zinc sulphate is more effective than cryotherapy in the treatment of viral warts.
Downloads
Download data is not yet available.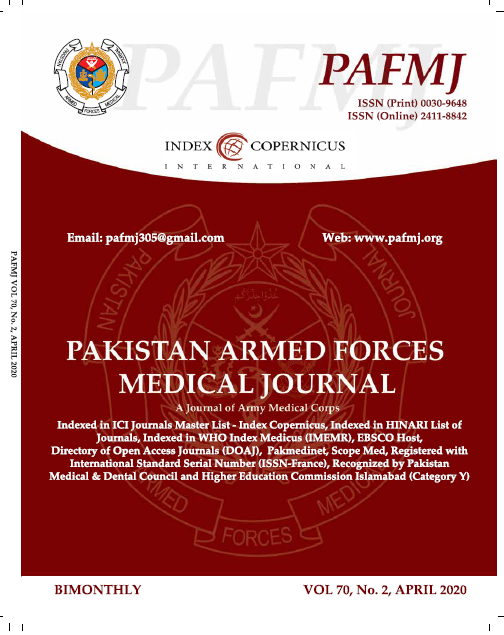 How to Cite
Riaz, A., Riaz, J., Ahmed, W., Mushtaq, R., Riaz, O., & Mushtaq, K. (2020). COMPARISON OF EFFICACY OF CRYOTHERAPY VERSUS ORAL ZINC SULPHATE IN THE TREATMENT OF CUTANEOUS WARTS. Pakistan Armed Forces Medical Journal, 70(2), 519-23. Retrieved from https://pafmj.org/index.php/PAFMJ/article/view/4222
Section
Original Articles