PREVALENCE AND MANAGEMENT OF POLYCYSTIC OVARY SYNDROME AND ITS ASSOCIATION WITH DEMOGRAPHICS
Saleha Sadeeqa

Lahore College for Women University, Lahore Pakistan

Komal Irshad

Lahore College for Women University, Lahore Pakistan

Hafiza Hina Arshad

Lahore College for Women University, Lahore Pakistan

Umm e Ammara

Lahore College for Women University, Lahore Pakistan

Rabia Fiaz

Lahore College for Women University, Lahore Pakistan

Nazra Islam

Lahore College for Women University, Lahore Pakistan

Bushra Ali Sherazi

Lahore College for Women University, Lahore Pakistan
Keywords:
Management, Medication, Polycystic ovary syndrome, Prevalence
Abstract
Objective: To find out the prevalence, lifestyle modifications and medications prescribed in polycystic ovary syndrome.
Study Design: Cross-sectional study.
Place and Duration of Study: In different health care settings of Punjab Pakistan, from Jul 2018 to Sep 2018.
Methodology: A structured data collection form was filled by face to face interviews with patients. Female patients with a diagnosis of polycystic ovary syndrome in the age range of 15-45 years were included and a total of 200 patients participated.
Results: Demographics of the respondents had association with frequency of miscarriage (p<0.001), medication prescribed (p<0.001), physical exercise (p<0.001) and diet plan (p<0.001). Most of the patients had their body mass index in the range of overweight and obese. Treatment included drug therapy in 40% patients and lifestyle modification (regular exercise and dietary changes) were recommended in 60% of the patients. Metformin and contraceptives were most commonly prescribed drugs without causing any significant adverse drug reactions.
Conclusion: It is concluded that polycystic ovary syndrome prevails higher in 30-45 years age, treatment usually starts with drug therapy along with lifestyle changes like weight loss, dietary changes and exercise. Metformin and oral contraceptives were most commonly prescribed drugs.
Downloads
Download data is not yet available.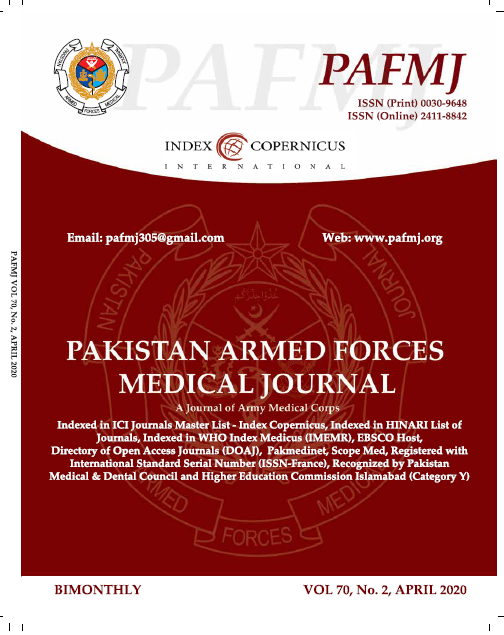 How to Cite
Sadeeqa, S., Irshad, K., Arshad, H., Ammara, U., Fiaz, R., Islam, N., & Sherazi, B. (2020). PREVALENCE AND MANAGEMENT OF POLYCYSTIC OVARY SYNDROME AND ITS ASSOCIATION WITH DEMOGRAPHICS. Pakistan Armed Forces Medical Journal, 70(2), 498-502. Retrieved from https://pafmj.org/index.php/PAFMJ/article/view/4218
Section
Original Articles