KNOWLEDGE, ATTITUDE, AND PRACTICES TOWARDS EXCLUSIVE BREAST FEEDING IN POST NATAL MOTHERS AND ITS COMPARISON BETWEEN LOW VERSUS HIGH EDUCATIONAL STATUS MOTHERS ATTENDING TERTIARY CARE HOSPITAL AT MIRPUR AZAD KASHMIR. A COMPARATIVE CROSS SECTIONAL STUDY
Aurooj Fatima

Muhtarma Benazir Bhutto Medical College, Mirpur Pakistan

Ijaz Ali

Mohi-Ud-Din Islamic Medical College, Mirpur Pakistan

Aisha Yousaf

Mohi-Ud-Din Islamic Medical College, Mirpur Pakistan

Tahir Ahmad Munir

Mohi-Ud-Din Islamic Medical College, Mirpur Pakistan
Keywords:
Attitude, Exclusive breastfeeding, Knowledge, Practice
Abstract
Objective: To access the knowledge, attitude and practices towards exclusive breast feeding among postnatal mothers.
Study Design: Comparative cross-sectional study.
Place and Duration of Study: Mohi-ud-din tertiary-care hospital Mirpur, Azad-Kashmir, from Mar 2017 to Feb 2018.
Methodology: Study was conducted among 200 postnatal mothers at tertiary care hospital, using a structured questionnaire by 'recall since birth' method. Analysis was done using SPSS version 17.
Results: Majority of the mothers were breast feeders, 27% were exclusive breastfeeding and 73% initiated breast feeding within 24 hours. The multivariate logistic regression showed that females who know exclusive breast feeding duration (95%CI-014, 1.381), breastfeeding better than artificial feed (95% CI-075, 1.182), mothers with hepatitis B, exclusive breastfeeding prevents pregnancy (95% CI-134, 1.220) and colostrum helps in immunity (95% CI-233, 1.436) were more educated and favored exclusive breastfeeding.
Conclusion: The majority mothers having good exclusive breastfeeding knowledge, initiated breastfeeding within 24 hours, had more positive attitude and practice towards exclusive breastfeeding than non-breastfeeding mothers.
Downloads
Download data is not yet available.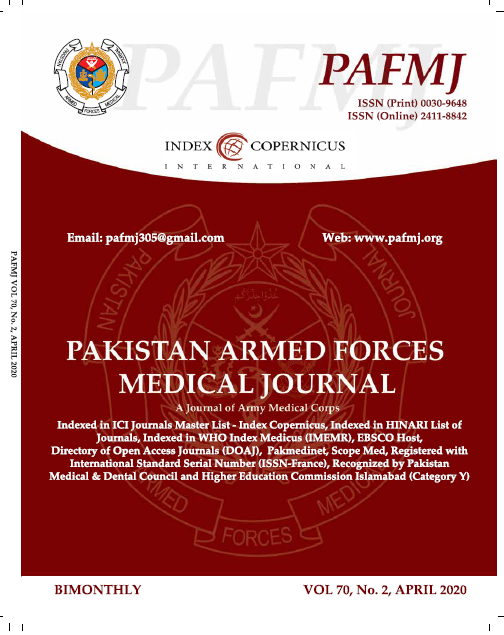 How to Cite
Fatima, A., Ali, I., Yousaf, A., & Munir, T. (2020). KNOWLEDGE, ATTITUDE, AND PRACTICES TOWARDS EXCLUSIVE BREAST FEEDING IN POST NATAL MOTHERS AND ITS COMPARISON BETWEEN LOW VERSUS HIGH EDUCATIONAL STATUS MOTHERS ATTENDING TERTIARY CARE HOSPITAL AT MIRPUR AZAD KASHMIR. A COMPARATIVE CROSS SECTIONAL STUDY. Pakistan Armed Forces Medical Journal, 70(2), 485-92. Retrieved from https://pafmj.org/index.php/PAFMJ/article/view/4216
Section
Original Articles