AMBULATORY MINI PERCUTANEOUS NEPHROLITHOTOMY (MINI-PCNL): FEASIBILITY AND OUTCOMES IN 1000 CASES IN PAKISTAN
Keywords:
Ambulatory care facility, Hematuria, Kidney stones,, Percutaneous nephrolithotomy, Renal calculi, Therapeutic chemoembolization, Thoracotomy
Abstract
Objective: To review the outcomes of a consecutive cohort of 1000 patients with renal stones managed with mini-percutaneous nephrolithotomy at our institute.
Study Design: Prospective observational study.
Place and Duration of Study: Armed Forces Institute of Urology Rawalpindi, Pakistan, from Jan 2016 to Dec 2018.
Methodology: Surgery was carried out under general anesthesia in prone position. Access was made by single step dilatation by 14-17 French sheath, pneumatic lithoclast was used for stone disintegration and fragments removed. Foley and ureteric catheters were removed following morning of surgery after confirming stone clearance on plain X-Ray kidney ureter and bladder.
Results: Mean stone size was 3.1 ± 2.1cm (2-6). Upper pole access was utilized in 398 (39.8%) while lower pole in 587 (58.7%) cases. Mean operative time was 67 ± 15.4 minutes (45-120) while the mean hospital stay was 22 ± 13.2 hours (20-120). A complete clearance rate of 93.3% was achieved as assessed by plain X-Ray kidney ureter & bladder. Residual stones were treated with either shock wave lithotripsy or redo mini-Percutaneous Nephrolithotomy. 910 (91%) of patients were discharged within 24 hours of surgery.
Conclusion: Mini Percutaneous nephrolithotomy was found as a safe and feasible alternative contemporary established technique for treatment of nephrolithiasis which can be offered as a day case surgery except for complete staghorn calculi.
Downloads
Download data is not yet available.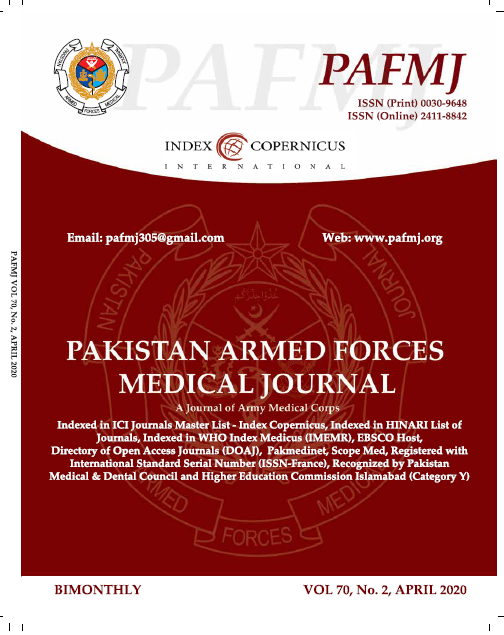 Downloads
How to Cite
Zia, Q., Kiani, F., Sajjad, M., Nawaz, M., Akmal, M., Khurshid, A., … Ali, M. (2020). AMBULATORY MINI PERCUTANEOUS NEPHROLITHOTOMY (MINI-PCNL): FEASIBILITY AND OUTCOMES IN 1000 CASES IN PAKISTAN. Pakistan Armed Forces Medical Journal, 70(2), 469–73. Retrieved from https://pafmj.org/index.php/PAFMJ/article/view/4213
Section
Original Articles