STROKE ASSOCIATED PNEUMONIA (SAP) IN INTENSIVE CARE UNIT: ITS PREVALENCE, IMPACT ON ECONOMICAL COST AND LENGTH OF HOSPITAL STAY
Muhammad Ahmad

National Hospital & Medical Centre, Lahore Pakistan

Nadeem Siddique

National Hospital & Medical Centre, Lahore Pakistan

Arshad Taqi

National Hospital & Medical Centre, Lahore Pakistan

Sabir Khan

National Hospital & Medical Centre, Lahore Pakistan

Tanvir Hussain

National Hospital & Medical Centre, Lahore Pakistan
Keywords:
Diabetes mellitus, Intensive care unit, Stroke associated pneumonia
Abstract
Objective: To determine the frequency of stroke associated pneumonia in Intensive Care Unit patients, and its impact on economical cost and length of hospital stay.
Study Design: Descriptive case series study.
Place and Duration of Study: Intensive Care Unit-National Hospital and Medical Centre Lahore, during Aug 2017 to Sep 2018.
Methodology: The cases of acute stroke were selected on the basis of clinical symptoms and computed tomography (CT) scan findings irrespective of the gender with age >30 years. Stroke associated pneumonia was labelled on the basis of consensus definition of stroke group.
Results: In this study out of total 80 cases 60% were males, mean age of the participants was 62.01 ± 9.79 years Ischemic stroke was seen in 75%. Stroke associated pneumonia was observed in 10 (12.5%) cases. Stroke associated pneumonia was significantly high in cases with haemorrhagic stroke where this was seen in 30% of the cases (p=0.006). This difference was also statistically significant in cases with diabetes mellitus where it was seen in 28.57% of the cases with p=0.02. The mean hospital stay and cost were also statistically significant in cases with stroke associated pneumonia as compared to those with no pneumonia with p≤0.01 each.
Conclusion: Stroke associated pneumonia is not uncommon and is significantly associated with haemorrhagic stroke and diabetes mellitus. It also has significant impact on length of hospital stay and cost of treatment.
Downloads
Download data is not yet available.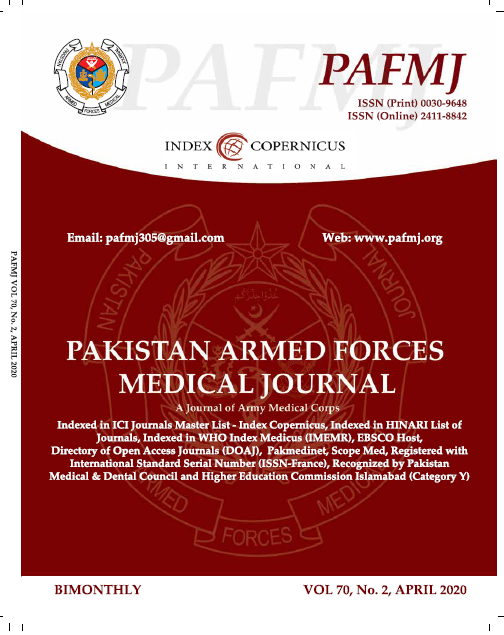 How to Cite
Ahmad, M., Siddique, N., Taqi, A., Khan, S., & Hussain, T. (2020). STROKE ASSOCIATED PNEUMONIA (SAP) IN INTENSIVE CARE UNIT: ITS PREVALENCE, IMPACT ON ECONOMICAL COST AND LENGTH OF HOSPITAL STAY. Pakistan Armed Forces Medical Journal, 70(2), 457-61. Retrieved from https://pafmj.org/index.php/PAFMJ/article/view/4211
Section
Original Articles