COMPARISON BETWEEN EXTRA ORAL AND INTRAORAL SURGICAL PROCEDURES FOR THE MANAGEMENT OF MANDIBULAR ANGLE FRACTURES
Isolated Mandibular Angle Fractures
Syed Gulzar Ali Bukhari

Armed Forces Institute of Dentistry/National University of Medical Sciences (NUMS) Rawalpindi Pakistan

Muhammad Shahzad

Liaqat University Hospital, Hyderabad Pakistan

Muhammad Afzal

Armed Forces Institute of Dentistry/National University of Medical Sciences (NUMS) Rawalpindi Pakistan,

Sibghat Ullah

Liaqat University Hospital, Hyderabad Pakistan

Sahrish Liaqat

Armed Forces Institute of Dentistry/National University of Medical Sciences (NUMS) Rawalpindi Pakistan
Keywords:
Extra oral approach, Malocclusion, Mandibular angle fractures, Surgical procedures
Abstract
Objective: To evaluate and compare the treatment outcomes of isolated mandibular angle fractures managed by open reduction and internal fixation using intra oral and extra oral approaches.
Study Design: Randomized control trial.
Place and duration of Study: Department of oral and maxillofacial surgery, Liaquat University Hospital Hyderabad, from May 2011 to Nov 2011.
Patients and Methods: The patients who presented with isolated mandibular fracture were selected according to inclusion criteria. The diagnosis was made by standard history, clinical examination and radiographic investigations. The patients were randomly divided into two groups, A and B. Group A patients were managed by extra oral approach and group B patients were managed using intra oral approach. The patients were prescribed antibiotics for one week and follow up was carried for four weeks. Nerve damage, limited mouth opening, infection, mal-occlusion, hypertrophic scar and aesthetic dissatisfaction were immediate and late post operative complications observed and documented.
Results: Road traffic accident (RTA) was the main etiologic factor (66.66%). Marginal mandibular nerve damage was noted in 20% cases treated with extra oral approach (group A). Post operative esthetic dissatisfaction was present in 60% patients (group A) as compared to 6.66% of the patients (group B). The rate of mouth opening compromise and mal-occlusion were also higher in the patients treated with extra oral approach compared with intra oral approach, although statistically not significant.
Conclusion: The intra oral approach for mandibular angle fracture management is an effective and comparatively better technique as compare to the extra oral approach.
Downloads
Download data is not yet available.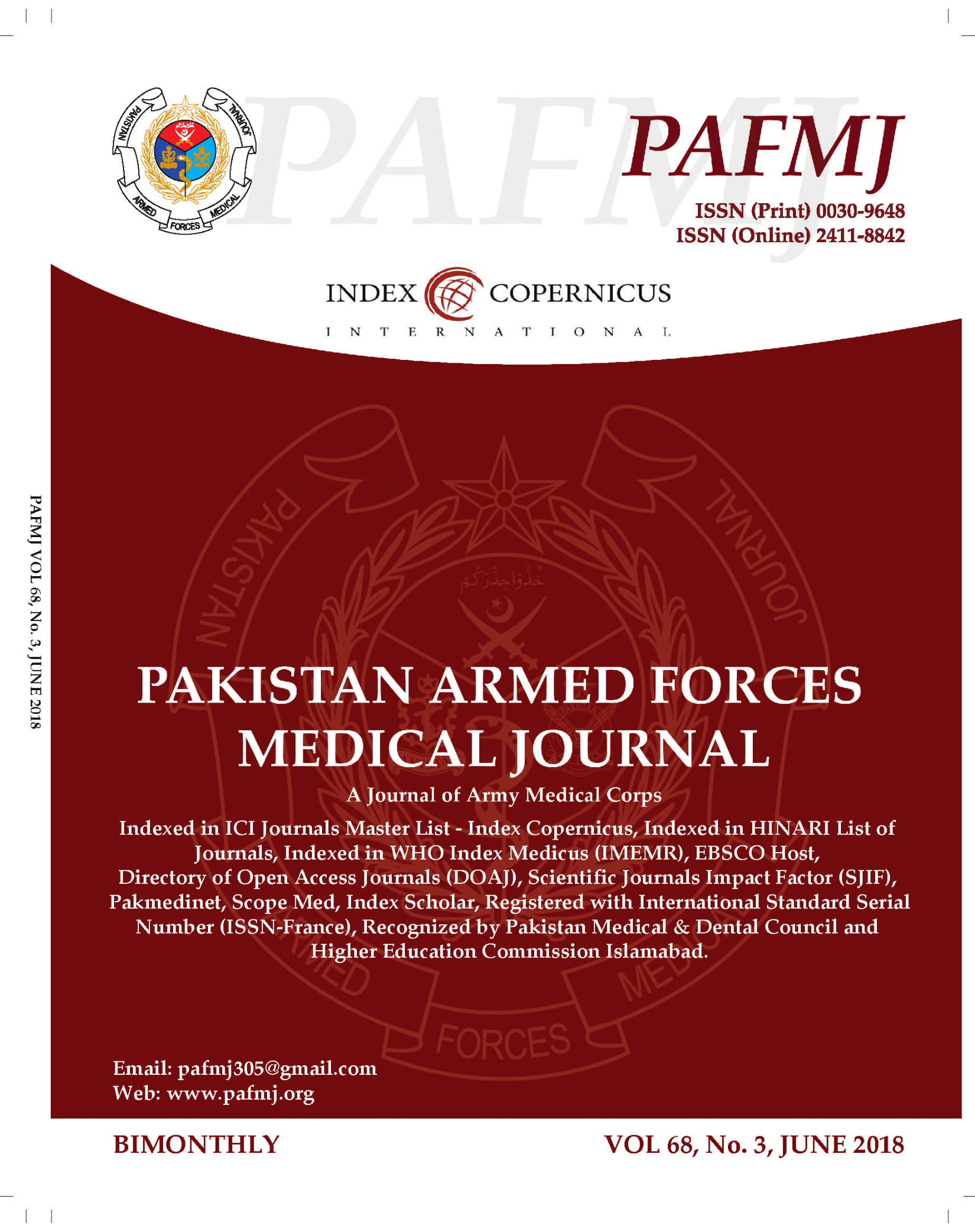 How to Cite
Bukhari, S. G. A., Shahzad, M., Afzal, M., Ullah, S., & Liaqat, S. (2018). COMPARISON BETWEEN EXTRA ORAL AND INTRAORAL SURGICAL PROCEDURES FOR THE MANAGEMENT OF MANDIBULAR ANGLE FRACTURES. Pakistan Armed Forces Medical Journal (PAFMJ), 68(3), 623-26. Retrieved from https://pafmj.org/index.php/PAFMJ/article/view/421
Section
Original Articles