COMPARISON OF PLATELET RICH PLASMA WITH LOCAL STEROID INJECTION IN THE MANAGEMENT OF CHRONIC PLANTAR FASCIITIS
Hina Kanwal Shafaat

Armed Forces Institute of Rehabilitation Medicine/National University of Medical Sciences (NUMS) Rawalpindi Pakistan

Tariq Aziz

Combined Military Hospital Pano Aqil Pakistan

Aamir Waheed Butt

Armed Forces Institute of Rehabilitation Medicine/National University of Medical Sciences (NUMS) Rawalpindi Pakistan

Sara Iqbal

Pak Emirates Military Hospital/National University of Medical Sciences (NUMS) Rawalpindi Pakistan

Usman Aziz

Diana, Princess of Wales Hospital, Grimsby, England

Tarique Aziz

Midland Regional Hospital, Portlaoise, Ireland
Keywords:
Autologous blood, Growth factors, Non-steroidal anti-inflammatory drugs, Plantar fasciitis, Platelet rich plasma, Steroid injections
Abstract
Objective: To compare platelet rich plasma against local steroid injection in patients with chronic plantar fasciitis in terms of mean pain and functional scores.
Study Design: Quasi-experimental study.
Place and Duration of study: Armed Forces Institute of Rehabilitation Medicine (AFIRM) Rawalpindi, from May 2016 to Apr 2018.
Methodology: A total of 120 patients having chronic plantar fasciitis were included in the study and were split into 2 groups. The group "A" (n=60) patients were injected with a single dose of autologous platelet rich plasma. The group "B" (n=60) patients received a single dose of methylprednisolone added with a local anesthetic agent. Functional and symptomatic evaluation was done using the American foot and ankle score and the visual analog scale respectively at baseline and at 6 months follow-up.
Results: Mean visual analogue score was 7.83 ± 0.99 at baseline and 3.43 ± 1.30 at 6 months follow-up in group "A" and 7.90 ± 1.06 and 4.97 ± 1.16, respectively, in group "B" (p<0.001). Mean American Foot and Ankle Score was 39.37 ± 5.93 at baseline and 88.73 ± 5.02 at 6 months follow-up in group "A" and 39.03 ± 5.97 and 80.30 ± 8.03, respectively, in group "B" (p<0.001). Changes in the scores of both the evaluation tools were significantly higher in the group "A" (p<0.001).
Conclusion: Platelet rich plasma turns out to be more efficacious compared to steroid injection in terms of pain relief and functional outcome in the management of chronic plantar fasciitis in long term.
Downloads
Download data is not yet available.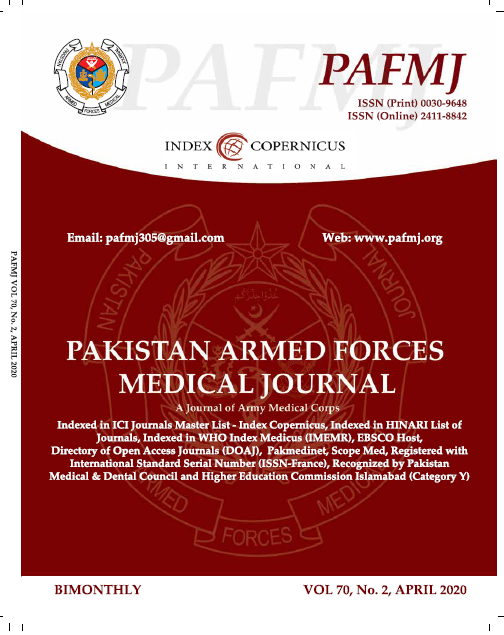 How to Cite
Shafaat, H., Aziz, T., Butt, A., Iqbal, S., Aziz, U., & Aziz, T. (2020). COMPARISON OF PLATELET RICH PLASMA WITH LOCAL STEROID INJECTION IN THE MANAGEMENT OF CHRONIC PLANTAR FASCIITIS. Pakistan Armed Forces Medical Journal, 70(2), 442-46. Retrieved from https://pafmj.org/index.php/PAFMJ/article/view/4208
Section
Original Articles