MULTICENTER NATIONAL STUDY ON CARDIOPULMONARY BYPASS (CPB) PERFUSION PRACTICES DURING ADULT CARDIAC STUDY
Muhammad Saad Yousuf

Aga Khan University Hospital, Karachi Pakistan

Mohammad Irfan Akhtar

Aga Khan University Hospital, Karachi Pakistan
Keywords:
Adult cardiac surgery, Cardiopulmonary bypass, Perfusion practices
Abstract
Objective: To describe the multicenter variations in perfusion practices, which persist nationally and to highlight the non-evidence based practice variations.
Study Design: Multicenter National cross sectional web-based study.
Place and Duration of Study: Multicenter national adult cardiac surgical units, from Jul 2018 to Jan 2019.
Methodology: The web-based questionnaire of the study was sent to 24 adult cardiac anaesthesiologists working in different cardiac centers nationally. Partial or unresponded study were excluded. A convenient sampling technique was done.
Results: The response rate was 15 (62.5%). Sixty percent of the respondents were practicing in heart centers. The study demonstrated that 10 (66.7%) respondents used goal directed perfusion during cardiopulmonary bypass (CPB), with more than 80% used aseptic measures during handling cardiopulmonary bypass machine, consulted with the cardiac anesthesiologist in critical decision making and treatment of complications, and used protocol for trouble shooting during cardiopulmonary bypass. Nine (60%) perfusionists did not monitor continuous arterial blood gases and acid base balance. Thirteen (86.6%) respondents transfused packed red blood cells (PRBC) if hemoglobin ≤7g/dl. Only 5 (33%) centers used the scavenging system to avoid pollution by using volatile agents. Conventional polyvinylchloride (PVC) circuits were used by 13 (86.6%) participants while heparin coated silicon circuits were used by only 2 (13%).
Conclusion: The study revealed that most of the perfusion practices reflect updated guidelines and they try to maintain standards in their institution.
Downloads
Download data is not yet available.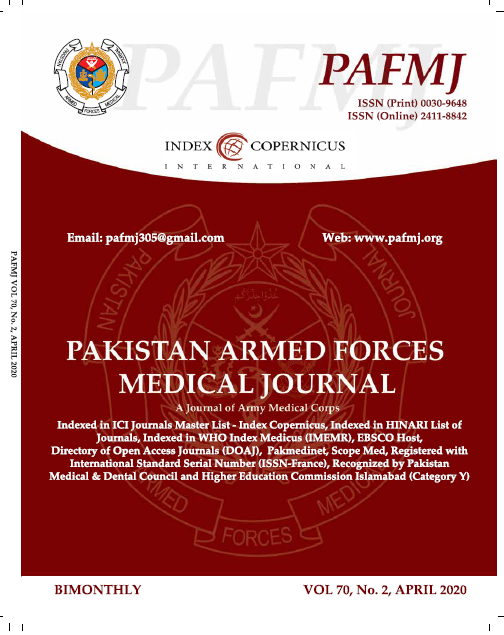 How to Cite
Yousuf, M., & Akhtar, M. (2020). MULTICENTER NATIONAL STUDY ON CARDIOPULMONARY BYPASS (CPB) PERFUSION PRACTICES DURING ADULT CARDIAC STUDY. Pakistan Armed Forces Medical Journal, 70(2), 425-32. Retrieved from https://pafmj.org/index.php/PAFMJ/article/view/4204
Section
Original Articles