HEPATOCELLULAR CARCINOMA: CORRELATION OF ALPHA-FETOPROTEIN WITH TUMOUR CHARACTERISTICS
Rafi Ud Din

Pak Emirates Military Hospital/National University of Medical Sciences (NUMS) Rawalpindi Pakistan

Adnan Qadir

Pak Emirates Military Hospital/National University of Medical Sciences (NUMS) Rawalpindi Pakistan

Rao Saad Ali

Pak Emirates Military Hospital/National University of Medical Sciences (NUMS) Rawalpindi Pakistan

Amjad Salamat

Pak Emirates Military Hospital/National University of Medical Sciences (NUMS) Rawalpindi Pakistan
Keywords:
Alpha-fetoprotein, Cirrhosis, Hepatocellular carcinoma
Abstract
Objective: To determine the correlation of alpha-fetoprotein (AFP) levels with tumour characteristics in hepatocellular carcinoma (HCC).
Study Design: Cross sectional study.
Place and Duration of Study: Pak Emirates Military Hospital Rawalpindi, from Oct 2014 to Feb 2016.
Methodology: It was a cross sectional study in which all patients with a diagnosis of hepatocellular carcinoma presenting to Pak Emirates Military Hospital (PEMH) Rawalpindi, from Oct 2014 to Feb 2016 were enrolled. They underwent testing for alpha-fetoprotein levels and investigations were carried out to determine Barcelona Clinic Liver Cancer (BCLC) staging and Child-Pugh classification. Patients' age, gender, underlying aetiology of liver disease, alpha-fetoprotein levels, number and size of hepatocellular carcinoma lesions, Child–Pugh class and Barcelona Clinic Liver Cancer stage and vascular invasion by the tumour were noted in a proforma. Alpha-fetoprotein levels were categorised into within normal limit, 8.5-100 ng/ml, 100-1000 ng/ml and >1000ng/ml. Data were entered in SPSS version 22 and descriptive statistics were used to calculate frequencies, means and standard deviation. Spearman correlation was used to find correlation between alpha-fetoprotein levels and other variables.
Results: Out of 100 patients 67 (67%) were men and 33 (33%) were women. Mean age was 58.23 yrs (SD ± 10.355). Majority (seventy nine, 79%) of patients had chronic liver disease due to hepatitis C virus. In majority (sixty, 60%) of patients size of the tumour was more than 5 cm, and hepatocellular carcinoma was mono-nodular in 62 patients. Positive correlation was seen between alpha-fetoprotein levels and Barcelona Clinic Liver Cancer stage of the tumour. Positive correlation was also seen between alpha-fetoprotein level and number and size of the tumour although it wasn't statistically significant.
Conclusion: Alpha-fetoprotein levels are positively correlated with Barcelona Clinic Liver Cancer stage of the tumour.
Downloads
Download data is not yet available.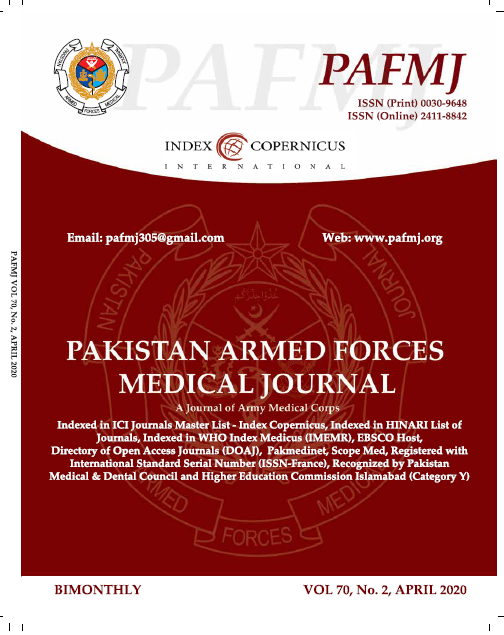 How to Cite
Din, R., Qadir, A., Ali, R., & Salamat, A. (2020). HEPATOCELLULAR CARCINOMA: CORRELATION OF ALPHA-FETOPROTEIN WITH TUMOUR CHARACTERISTICS. Pakistan Armed Forces Medical Journal, 70(2), 420-24. Retrieved from https://pafmj.org/index.php/PAFMJ/article/view/4203
Section
Original Articles