COMPARISON OF ULTRASOUND ELASTOGRAPHY VERSUS B-MODE ULTRASOUND IN DIFFERENTIATING MALIGNANT FROM BENIGN CERVICAL LYMPH NODES
Breeha Elahi

Combined Military Hospital Pano Aqil Pakistan

Koukab Nadeem

Combined Military Hospital/National University of Medical Sciences (NUMS) Rawalpindi Pakistan

Ishrat Parveen

Combined Military Hospital/National University of Medical Sciences (NUMS) Rawalpindi Pakistan

Muhammad Imran Ibrahim

Combined Military Hospital Pano Aqil Pakistan
Keywords:
Elastography, Lymph nodes, Malignant, Sensitivity, Ultrasonography
Abstract
Objective: To compare the diagnostic accuracy of ultrasound elastography with B-mode ultrasonography in differentiating malignant from benign cervical lymph nodes, keeping histopathology as gold standard.
Study Design: Comparative cross-sectional study.
Place and Duration of Study: Radiology department of Combined Military Hospital, Rawalpindi, from May to Oct 2016.
Methodology: After approval from hospital ethical committee a total of 246 patients with palpable cervical lymph node and age 20-50 years of either gender were collected by non probability purposive sampling. Patients with already proven histopathology, any chronic disease, history of prior irradiation, malignancy and trauma were excluded. The demographic details including name, age, gender, location race was noted on a predesigned research proforma. First of all, the registered patients underwent B mode ultrasound of cervical lymph nodes as benign or malignant on the basis of ultrasound features. All these patients were subjected to ultrasound elastography and categorized from score 1-4 on the basis of elastographic tissue stiffness. Patients with score of 1 and 2 were labeled as benign, while 3 and 4 were labeled as malignant. The tissue diagnosis/ histopathology was taken as reference gold standard for both B-mode ultrasound and ultrasound elastography findings.
Results: A total number of 246 patients with a mean age of 36.63 ± 8.52 years were registered. Mean size of lymph node was 2.32 ± 1.07 cm. The positive predictive value was found to be 94.70%, negative predictive value 92.6%, sensitivity 95.33%, specificity 91.67% and diagnostic accuracy of 93.90% for ultrasound elastography while that of B-mode..........
Downloads
Download data is not yet available.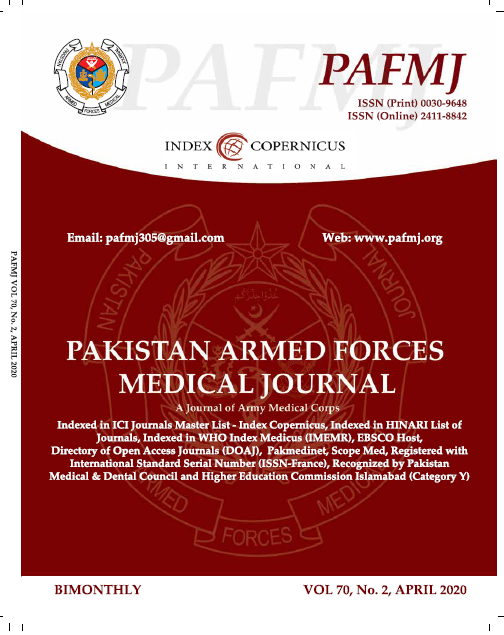 How to Cite
Elahi, B., Nadeem, K., Parveen, I., & Ibrahim, M. (2020). COMPARISON OF ULTRASOUND ELASTOGRAPHY VERSUS B-MODE ULTRASOUND IN DIFFERENTIATING MALIGNANT FROM BENIGN CERVICAL LYMPH NODES. Pakistan Armed Forces Medical Journal, 70(2), 409-13. Retrieved from https://pafmj.org/index.php/PAFMJ/article/view/4201
Section
Original Articles