PREVALENCE OF HEPATITIS B AND C IN FEMALE POPULATION REPORTING FOR ANTENATAL SCREENING AT COMBINED MILITARY HOSPITAL HHYDRAABAD SINDH, PAKISTAN
Ambreen Ehsan

Pak Emirates Military Hospital/National University of Medical Sciences (NUMS) Rawalpindi Pakistan

Helen Robert

Armed Forces Institute of Pathology/National University of Medical Sciences (NUMS) Rawalpindi Pakistan

Ikram Nabi

Armed Forces Post Graduate Medical Institute/National University of Medical Sciences (NUMS) Rawalpindi Pakistan

Maryam Abbas

Armed Forces Post Graduate Medical Institute/National University of Medical Sciences (NUMS) Rawalpindi Pakistan
Keywords:
Hepatitis B and C, Hepatitis screening, Pregnant women
Abstract
Objective: To find out the magnitude of hepatitis B and hepatitis C seropositivity during antenatal screening of pregnant women aged 20 years and above.
Study Design: Cross-sectional study.
Place and Duration of Study: Department of Obstetrics and Gynaecology, Combined Military Hospital Hyderabad, Sindh Pakistan, from Jan 2014 to Dec 2014.
Methodology: This study was conducted on 1769 admitted pregnant females 20 years age and above which were selected by non-probability consecutive sampling technique. For sample collection 3ml of blood was taken in clot activated bottle. Quantitative detection of HbsAg and Hepatitis B from serum of patients were done by rapid chromatographic immunoassay (ICT kit used for HbsAg and Anti Hepatitis B by Healgen Scientific, London). Seropositivity for HbsAg and anti-hepatitis C virus among selected pregnant patients was also checked.
Results: Out of 1769 pregnant females mean age 22 ± 2.23 years screened for hepatitis B and C seropositivity, 129 (7.299%) females were found to be positive for serum antibodies for hepatitis B and C. Out of 129 seropositive females 99 (76.7%) were anti-hepatitis C virus (HCV) positive and 30 (23.3%) were HbsAg positive. Out of 129 seropositive females 80 (62%) patients delivered by caesarean section and 23 (38%) had normal vaginal delivery. Multiparas patients were 110 (85.3%) more than prim gravidas 19 (2%).
Conclusion: Magnitude of hepatitis B and C virus is alarming among pregnant women. This study shows high frequency of Anti-hepatitis C than HbsAg which is alarming due to non-availability of prophylactic vaccine against the disease.
Downloads
Download data is not yet available.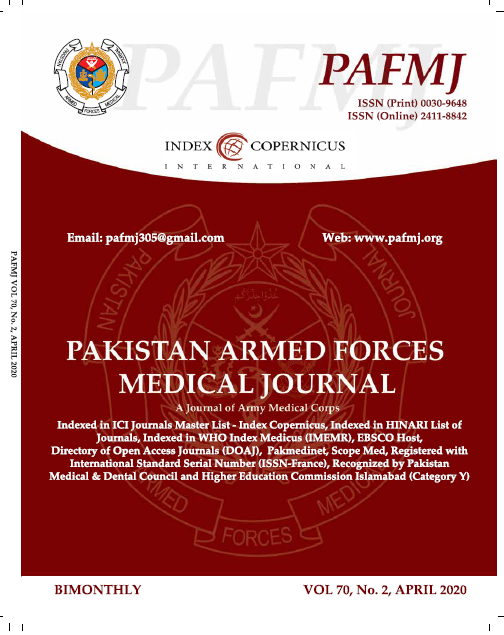 How to Cite
Ehsan, A., Robert, H., Nabi, I., & Abbas, M. (2020). PREVALENCE OF HEPATITIS B AND C IN FEMALE POPULATION REPORTING FOR ANTENATAL SCREENING AT COMBINED MILITARY HOSPITAL HHYDRAABAD SINDH, PAKISTAN. Pakistan Armed Forces Medical Journal, 70(2), 385-89. Retrieved from https://pafmj.org/index.php/PAFMJ/article/view/4196
Section
Original Articles