FREQUENCY OF ACTIVE AND LATENT PULMONARY TUBERCULOSIS IN APPARENTLY HEALTHY ASYMPTOMATIC YOUNG PATIENTS HAVING SUBTLE NON-SPECIFIC X RAY CHEST ABNORMALITIES
Sultan Mehmood Kamran

Pak Emirates Military Hospital/National University of Medical Sciences (NUMS) Rawalpindi Pakistan

Jamal Ahmad

Pak Emirates Military Hospital/National University of Medical Sciences (NUMS) Rawalpindi Pakistan

Taymmia Ejaz

Pak Emirates Military Hospital/National University of Medical Sciences (NUMS) Rawalpindi Pakistan

Yousaf Jamal

Pak Emirates Military Hospital/National University of Medical Sciences (NUMS) Rawalpindi Pakistan

Shahzeb Ahmed Satti

Pak Emirates Military Hospital/National University of Medical Sciences (NUMS) Rawalpindi Pakistan
Keywords:
Apical pleural thickening, Blunt costophrenic angle, Diaphragmatic tenting, Endobronchial washings, Military personnel, MTB GeneXpert, Mantoux test
Abstract
Objective: To determine the frequency of active and latent pulmonary tuberculosis in apparently healthy young patients having subtle nonspecific x-ray chest abnormalities picked up during medical fitness for foreign assignment.
Study Design: Cross-sectional study.
Place and Duration of Study: Pulmonology department, Pak Emirates Military Hospital Rawalpindi, from Mar 2018 to Sep 2018.
Methodology: A total of 85 healthy young patients having subtle nonspecific x-ray chest findings and no previous history of tuberculosis treatment or exposure were selected. All these patients underwent qualitative C-reactive protein (CRP), erythrocyte sedimentation rate (ESR) and Mantoux testing followed by high-resolution computed tomography (HRCT) chest. An induration >10mm was considered positive test. An erythrocyte sedimentation rate greater than 20mm fall after one hour was considered abnormal. Lastly bronchoscopy with endobronchial washings was carried out in all study participants and samples sent for MTB Gene X-pert, Acid-Fast Bacillus (AFB) stain and Mycobacterial Tuberculosis culture and sensitivity.
Results: Mean age of the participants was 35.81 with SD ± 4.5 (age range 27-54). Most common finding reported on chest x-ray was apical pleural thickening which was observed in 44.7% (38 cases). The most common high-resolution computed tomography scan chest finding was also apical pleural thickening reported in 75.3% (64) of the participants. Microbiological evidence of tuberculosis was found in 9.4% (8/85 cases). Only 5 had abnormal erythrocyte sedimentation rate but none of them were found were positive for tuberculosis. Mantoux was positive in 23 of participants and 17 were labelled to be suffering from latent tuberculosis infection (LTBI)..........
Downloads
Download data is not yet available.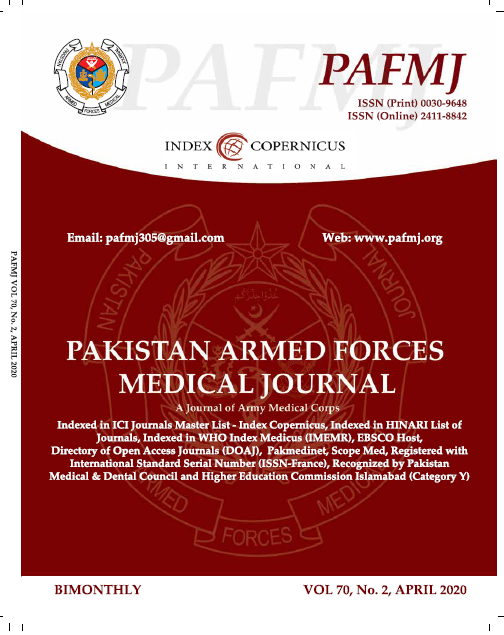 How to Cite
Kamran, S., Ahmad, J., Ejaz, T., Jamal, Y., & Satti, S. (2020). FREQUENCY OF ACTIVE AND LATENT PULMONARY TUBERCULOSIS IN APPARENTLY HEALTHY ASYMPTOMATIC YOUNG PATIENTS HAVING SUBTLE NON-SPECIFIC X RAY CHEST ABNORMALITIES. Pakistan Armed Forces Medical Journal, 70(2), 373-78. Retrieved from https://pafmj.org/index.php/PAFMJ/article/view/4192
Section
Original Articles