COMPARISON OF LAPAROSCOPIC TRANSABDOMINAL PREPERITONEAL REPAIR (LAP TAPP) VS LICHTENNSTEIN REPAIR IN INCOMPLETE INGUINAL HERNIA
Mannan Masud

Combined Military Hospital Lahore/National University of Medical Sciences (NUMS) Pakistan

Farhan Majeed

Combined Military Hospital Lahore/National University of Medical Sciences (NUMS) Pakistan

Muhamad Shaheer Mannan

CMH Lahore Medical College, Lahore/National University of Medical Sciences (NUMS) Pakistan

Muhammad Bilal

CMH Lahore Medical College, Lahore/National University of Medical Sciences (NUMS) Pakistan

Nafasat .

Combined Military Hospital Lahore/National University of Medical Sciences (NUMS) Pakistan

Naima Rasool

Combined Military Hospital Lahore/National University of Medical Sciences (NUMS) Pakistan
Keywords:
Inguinal hernia, Laparoscopic repair, Lichtenstein repair, TAP
Abstract
Objective: To compare and analyze the outcome of laparoscopic inguinal hernia repair with Lichtenstein repair in Incomplete inguinal hernia.
Study Design: Controlled prospective study.
Place and Duration of Study: The study was conducted at Department of Surgery Combined Military Hospital Lahore, from Jan 2017 to Jan 2018.
Methodology: Incomplete Inguinal hernia patients were admitted electively. They were randomly assigned into groups A and B. The group A patients were treated with laparoscopic transabdominal pre peritoneal repair (lap tap) and group B patients underwent Lichtenstein's open repair. Postoperative follow up of early complication of pain, testicular swelling and wound in duration was done. Follow up was at 1 week, 2 weeks, 1month and then 3 month.
Results: A total of 80 patients of incomplete inguinal hernia were included with 40 patients in each group. Group A patients had short hospital stay (discharged within 24 hours 68.08%) as compared to group B (31.91% p<0.001). From 2nd to 6th postoperative week group A patients had significantly less postoperative pain as compared to group B (p<0.05).
Conclusion: Laparoscopic TAP repair was safe with early hospital discharge and less postoperative pain and post-operative complications.
Downloads
Download data is not yet available.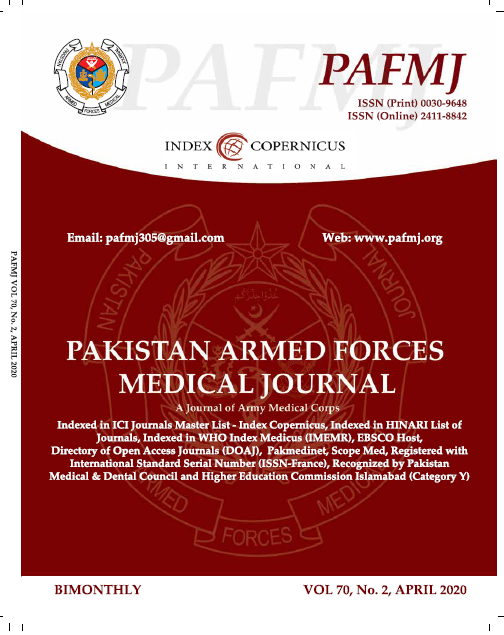 How to Cite
Masud, M., Majeed, F., Mannan, M., Bilal, M., ., N., & Rasool, N. (2020). COMPARISON OF LAPAROSCOPIC TRANSABDOMINAL PREPERITONEAL REPAIR (LAP TAPP) VS LICHTENNSTEIN REPAIR IN INCOMPLETE INGUINAL HERNIA. Pakistan Armed Forces Medical Journal, 70(2), 357-61. Retrieved from https://pafmj.org/index.php/PAFMJ/article/view/4189
Section
Original Articles