ANTIPERSONNEL IMPROVISED EXPLOSIVE DEVICE (AP--IED) BLAST AT MUZAFFARABAD, AJK: ORTHOPAEDIC INJURY PROFILE OF VICTIMS
Muhammad Sohail Amin

Army Medical College/National University of Medical Sciences (NUMS) Rawalpindi Pakistan

Aziz Ur Rehman

Combined Military Hospital/National University of Medical Sciences (NUMS) Rawalpindi Pakistan

Aisha Akhtar

Pak Emirates Military Hospital/National University of Medical Sciences (NUMS) Rawalpindi Pakistan
Keywords:
Antipersonnel Improvised explosive device, Blast, Orthopaedic injury profile
Abstract
Objective: To describe orthopaedic injury profile in mass casualties due to anti-personnel improvised explosive device (AP-IED) blast at Muzaffarbad, Azad Jammu & Kashmir.
Study Design: Retrospective descriptive case study of a single incident.
Place and Duration of Study: The orthopaedic injury profile suffered by victims of anti-personnel improvised explosive device blast in 9th Muharram religious procession on 27th December, 2009 just in front of main gate of H.H. Sheikh Khalifa Bin Zayed Hospital, also called CMH Muzaffarabad.
Methodology: A total of 82 mass casualties were evacuated to the Accident and Emergency Department. There were 9 fatalities. Seven were found dead on triage, whereas 2 died during resuscitation. Seventy three injured victims were included in this study.
Results: Seventy three injured victims (51 males: 22 females) survived this anti-personnel improvised explosive device blast. Thirty nine victims were admitted and 2 died within 72 hours due to complications of polytrauma, making overall mortality to be 13.4%. Twenty eight emergency surgical procedures were done in 24 patients (32.8%). Limb fractures were present in 53.4% victims. Lower limb fractures in 56.75%, upper limb fractures in 29.73%. Most common upper limb fracture involved humerus (18.92%). Traumatic amputations were present in 7 (9.59%) victims.
Conclusion: The effects of anti-personnel improvised explosive device blast are both physically and psychologically devastating. Extremity injuries are prevalent in victims, by far. By appreciating associated injury profile, the treating physicians and surgeons are primed to deal with life and limb threatening injuries of unfortunate victims.
Downloads
Download data is not yet available.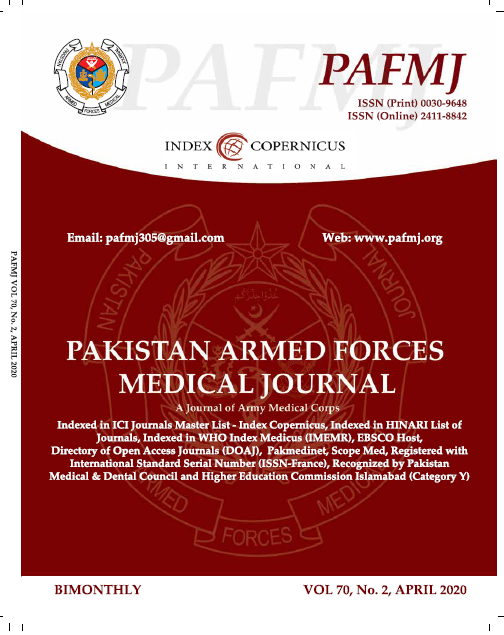 How to Cite
Amin, M., Rehman, A., & Akhtar, A. (2020). ANTIPERSONNEL IMPROVISED EXPLOSIVE DEVICE (AP--IED) BLAST AT MUZAFFARABAD, AJK: ORTHOPAEDIC INJURY PROFILE OF VICTIMS. Pakistan Armed Forces Medical Journal, 70(2), 346-51. Retrieved from https://pafmj.org/index.php/PAFMJ/article/view/4187
Section
Original Articles