PRE-EMPTIVE VS CONVENTIONAL METHOD OF EPIDURAL ANALGESIA FOR POST THORACOTOMY PAIN: A RANDOMIZED CONTROLLED TRIAL
Liaquat Ali

Combined Military Hospital/National University of Medical Sciences (NUMS) Rawalpindi Pakistan

Waqas Alam

Combined Military Hospital/National University of Medical Sciences (NUMS) Rawalpindi Pakistan

Saira Mehboob

Combined Military Hospital/National University of Medical Sciences (NUMS) Rawalpindi Pakistan

Umer Ali

Combined Military Hospital/National University of Medical Sciences (NUMS) Rawalpindi Pakistan
Keywords:
Postoperative analgesia, Pre-emptive analgesia, Thoracic epidural, Thoracic surgery
Abstract
Objective: To find out whether pre-emptive thoracic epidural analgesia is superior to conventional postoperative epidural analgesia for post-thoracotomy pain.
Study Design: Randomized controlled trial.
Place and Duration of Study: Department of anesthesia and critical care, Combined Military Hospital Rawalpindi, from Apr 2017 to Aug 2017.
Methodology: After ethical committee approval and informed consent from patients, 40 patients undergoing thoracotomy were included in study. Preoperatively thoracic epidural catheter was inserted at T7-9 intervertebral space level. Group P was given 0.1ml/kg of 0.125% bupivacaine before induction of anesthesia; whereas group C was administered 5 ml 0.125% bupivacaine after closure of wound in supine position. Visual analog scale (VAS) was used to assess pain severity at 1 and 24 hours postoperatively, both at rest and after cough (R1, R24, C1 and C24 respectively). Data were analyzed with SPSS 16.
Results: There was no statistical difference in demographic profile of both groups in terms of age, gender, site of insertion of epidural catheter, American Society of Anaesthesiologists (ASA) status or type of surgery. Pain was significantly less in group P at 1hour postoperatively (p=0.009). However, there was no difference in pain severity at rest at 24 hours and with cough at 01 hour or 24 hours postoperatively.
Conclusion: Preemptive thoracic epidural analgesia provides better pain control in immediate postoperative period at rest. However, its efficacy is similar to conventional epidural analgesia in immediate post op period with cough and at 24 hours with cough and at rest.
Downloads
Download data is not yet available.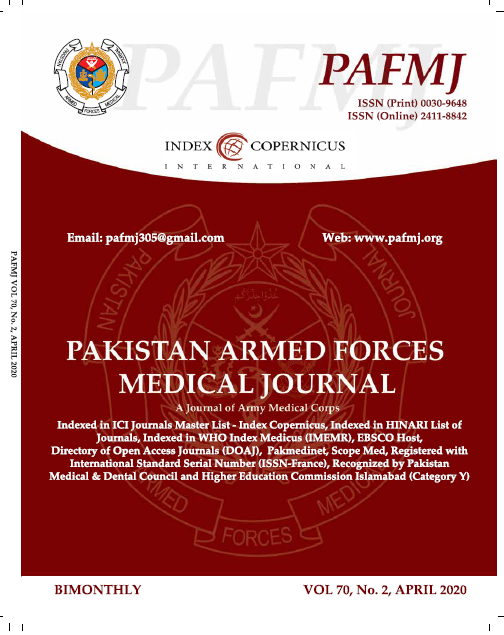 How to Cite
Ali, L., Alam, W., Mehboob, S., & Ali, U. (2020). PRE-EMPTIVE VS CONVENTIONAL METHOD OF EPIDURAL ANALGESIA FOR POST THORACOTOMY PAIN: A RANDOMIZED CONTROLLED TRIAL. Pakistan Armed Forces Medical Journal, 70(2), 318-22. Retrieved from https://pafmj.org/index.php/PAFMJ/article/view/4182
Section
Original Articles