DENGUE FEVER OUTBREAK IN TWIN CITIES; A TERTIARY CARE CENTER EXPERIENCE
Recent dengue fever outbreak
Taimoor Ashraf Khan

Headquarter Ghazaband Scouts Frontier Corps Balochistan

Shazia Nisar

Pak Emirates Military Hospital/National University of Medical Sciences (NUMS) Rawalpindi Pakistan

Muhammad Mahad Qureshi

01 Mountain Medical Battalion, Azad Jammu & Kashmir, Pakistan

Muhammad Samiullah

Headquarter Ghazaband Scouts Frontier Corps Balochistan

Muhammad Israr

Force Command Northern Areas, Pakistan
Keywords:
Alanine aminotransferase, Alkaline phosphatase, Dengue fever, Dengue hemorrhagic fever, Liver enzymes, Nonstructural protein 1 antigen
Abstract
Objective: To characterize the clinical presentations and laboratory markers (as disease predictors and markers) and severity of disease in patients admitted with dengue fever.
Study Design: Prospective observational study.
Place and Duration of Study: Department of Infectious Diseases, Pak Emirates Military Hospital Rawalpindi, from May to Oct 2018
Methodology: In our study, we included the patients treated for dengue fever. Data were recorded on predesigned proforma and analyzed using Microsoft excel 365 and Social Package for Statistical Sciences version 23.
Results: A total of 160 patients were included in this study, all were males. All cases were positive for Nonstructural Protein 1 Antigen. Symptoms seen in abundance were fever with rigors, chills, backache, retro-orbital pain, nausea and vomiting. Manual platelet count at admission ranged from 15-396 x 103 (mean 107.5 ± 6.8 x 103). Platelet count on discharge ranged from 102-577 x 103 (mean 207.9 ± 95.4 x 103). A total of 34 (21.25%) patients out of 160 confirmed and admitted dengue fever cases had Dengue Hemorrhagic Fever (Nonstructural Protein 1 Antigen positive, thrombocytopenia and leukopenia) and 2 patient went into dengue shock syndrome. The derangement in alanine aminotransferase and alkaline phosphatase levels were shown in 98 (61.2%) and 62 (31.2%) of patients. All these patients were immunoglobulin M and Nonstructural Protein 1
Antigen positive.
Conclusion: Raised serum alanine aminotransferase and alkaline phosphatase levels along with early positive Nonstructural Protein 1 Antigen is a marker of disease severity.
Downloads
Download data is not yet available.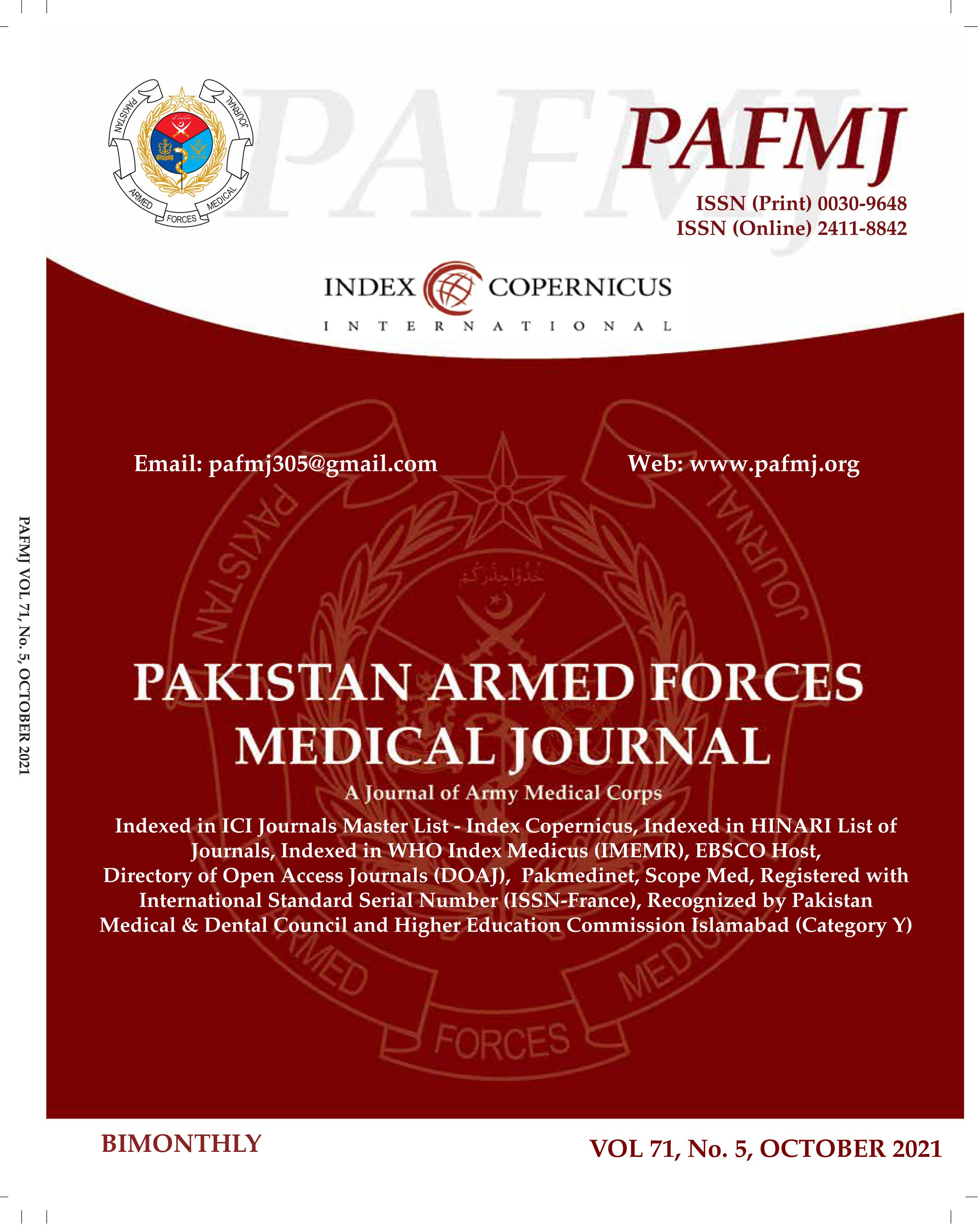 How to Cite
Khan, T., Nisar, S., Qureshi, M., Samiullah, M., & Israr, M. (2021). DENGUE FEVER OUTBREAK IN TWIN CITIES; A TERTIARY CARE CENTER EXPERIENCE. Pakistan Armed Forces Medical Journal, 71(5), 1524-28. https://doi.org/10.51253/pafmj.v71i5.4165
Section
Original Articles