Effects of Low and Standard Intra-Abdominal Pressure on Postoperative Pain in Laparoscopic Cholecystectomy
Afaque Ali

Pak Emirates Military Hospital/National University of Medical Sciences (NUMS) Rawalpindi Pakistan

Zaki Hussain

Combined Military Hospital Kohat/National University of Medical Sciences (NUMS) Pakistan

Ayesha Jamal

Shifa International Hospital, Islamabad Pakistan

Fatima Rahat

University of Lahore, Lahore Pakistan

Talha Makshoof

Pak Emirates Military Hospital/National University of Medical Sciences (NUMS) Rawalpindi Pakistan

Saqib Islam

Pak Emirates Military Hospital/National University of Medical Sciences (NUMS) Rawalpindi Pakistan
Keywords:
cholecystectomies, laparoscopic, Laparoscopic cholecystectomy, Post-cholecystectomy syndrome, Pneumatic Pressure, Post-operative pain
Abstract
Objective: To analyze the effects of low and standard intra-abdominal pressure on post-operative pain in laparoscopic cholecystectomy.
Study Design: Comparative prospective study.
Place and Duration of the Study: Department of General Surgery, Pak Emirates Military Hospital Rawalpindi, from Nov 2019 to Feb 2020.
Methodology: The study comprised 53 patients who underwent Laparoscopic Cholecystectomy and were selected for the study. They were randomly divided into two groups by third-party randomization. The first group was operated on under low pneumatic pressure, i.e. 8-12 mmHg and the second group was operated on under high pneumatic pressure, i.e. (≥15 mmHg). The complaint of post-operative pain was evaluated using a visual analogue scale (VAS) in the next 12 hours.
Results: The group that was operated under high pneumatic pressure showed a higher occurrence of post-operative pain (50.9%) than the group that operated under low pneumatic pressure. On the Visual Analogue Scale, 80.0% of patients with high pneumatic pressure showed a pain of score four or more which is very high compared to the other group (p <0.05).
Conclusion: The patients operated for laparoscopic cholecystectomy under low-pressure pneumoperitoneum would suffer from less post-operative abdominal pain, which needs less analgesia and leads to early hospital discharge.
Downloads
Download data is not yet available.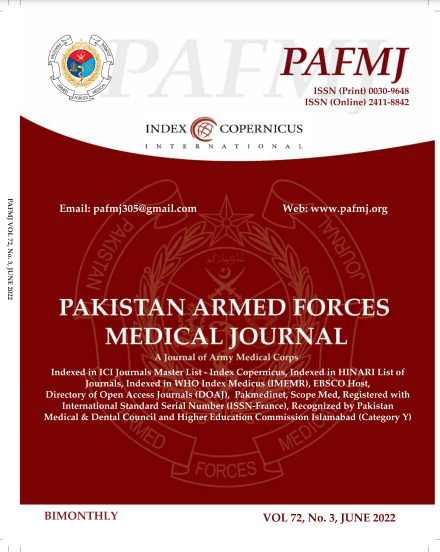 How to Cite
Ali, A., Hussain, Z., Jamal, A., Rahat, F., Makshoof, T., & Islam, S. (2022). Effects of Low and Standard Intra-Abdominal Pressure on Postoperative Pain in Laparoscopic Cholecystectomy. PAFMJ, 72(3), 891-95. https://doi.org/10.51253/pafmj.v72i3.4163
Section
Original Articles