CHALLENGES FACED BY VASCULAR SURGEONS IN ACCEPTANCE OF THEIR SPECIALTY BY MEDICAL COMMUNITY OF PAKISTAN
Vascular Surgeons and Acceptance of Their Specialty
Muhammad Jamil

Combined Military Hospital/National University of Medical Sciences (NUMS) Rawalpindi Pakistan

Brekhna Jamil

Khyber Medical University, Peshawar Pakistan

Aaiza Aman

Fouji Foundation Hospital, Rawalpindi Pakistan

Rashid Usman

Combined Military Hospital Lahore/National University of Medical Sciences (NUMS) Pakistan
Keywords:
Acceptability, Medical community, Separate specialty, Vascular surgeon
Abstract
Objective: To determine the challenges being faced by vascular surgeons in acceptability of their specialty by the medical community of Pakistan.
Study Design: Qualitative case study.
Place and Duration of Study: Various training institutes & teaching hospitals all over the Pakistan, from Sep 2019 to Feb 2020.
Methodology: Semi structured interview format comprising of a series of open ended and broad questions to get maximum relevant information, were sent to 13 surgeons (vascular and part time vascular surgeons) practicing vascular surgery at least for the last five years in various training institutes and teaching hospitals of Pakistan. Interviews were audio recorded on telephone and in persons. The data was transcribed, cleansing was done, and analyzed through inductive and thematic content analysis.
Results: Handful of qualified vascular surgeons, inadequate vascular training program, part time vascular surgery and unawareness/misconceptions/myths about vascular diseases, were the major challenges being faced by the vascular community for their separate identity.
Conclusion: The vascular community is facing great challenges of shortage of qualified vascular surgeons and technicians, inadequate training centers, part time vascular surgery and misconceptions/myths/unawareness about vascular diseases.
Downloads
Download data is not yet available.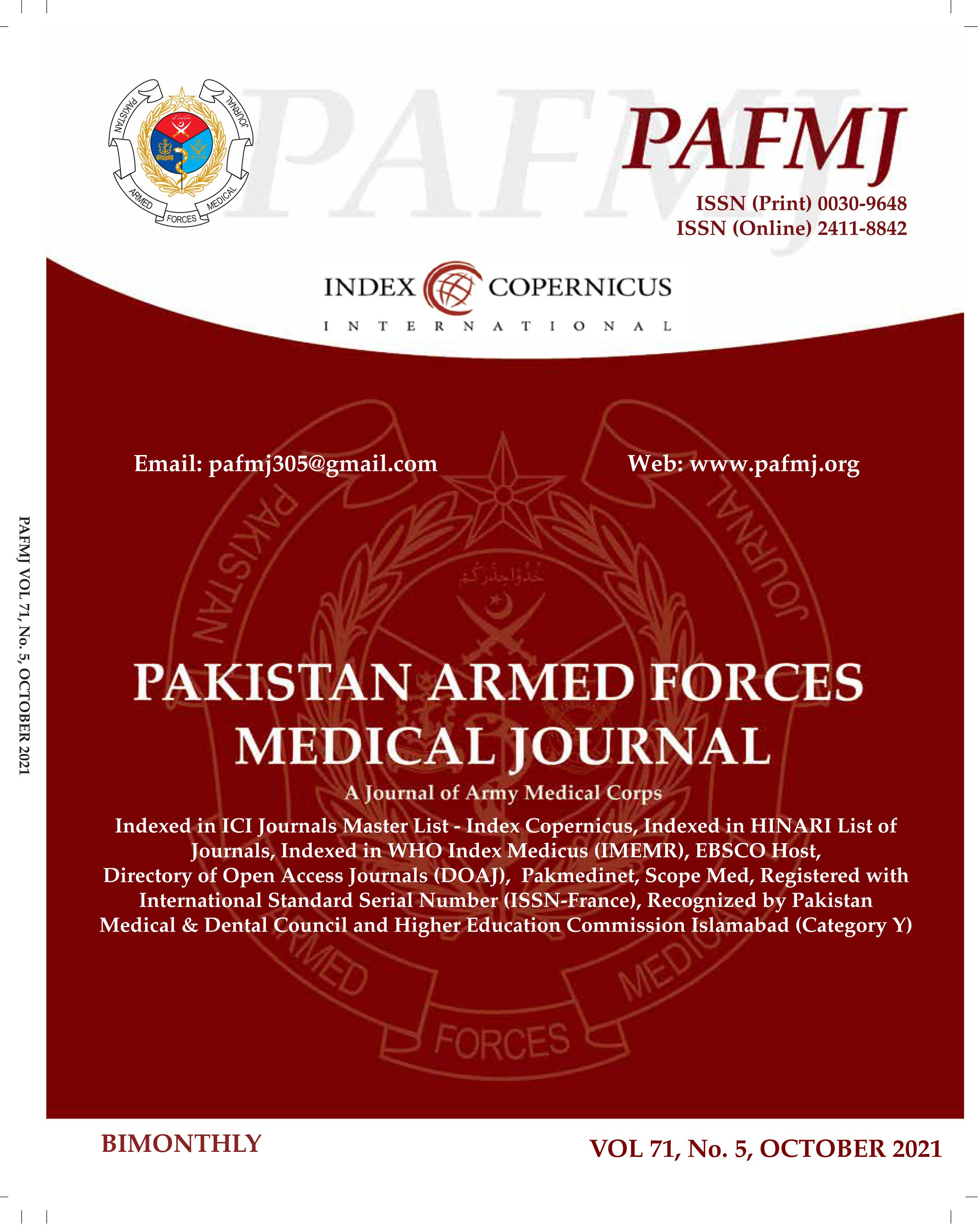 How to Cite
Jamil, M., Jamil, B., Aman, A., & Usman, R. (2021). CHALLENGES FACED BY VASCULAR SURGEONS IN ACCEPTANCE OF THEIR SPECIALTY BY MEDICAL COMMUNITY OF PAKISTAN. PAFMJ, 71(5), 1857-60. https://doi.org/10.51253/pafmj.v71i5.4153
Section
Original Articles