Association of Type 2 Diabetes Mellitus with Chronic Hepatitis C Virus Infection
Babar Rafique

Combined Military Hospital Peshawar/National University of Medical Sciences (NUMS) Pakistan

Muhammad Amir

Combined Military Hospital Peshawar/National University of Medical Sciences (NUMS) Pakistan

Abdul Jabbar Khaskheli

Combined Military Hospital Badin/National University of Medical Sciences (NUMS) Pakistan

Abdul Rehman Arshad

Combined Military Hospital Peshawar/National University of Medical Sciences (NUMS) Pakistan

Ayaz Aslam

132 Medical Battalion, Karachi Pakistan

Muhammad Irfan

2 Mountain Medical Battalion, Pakistan
Keywords:
Hepatitis C virus, Type 2 diabetes mellitus, Association, Chronic liver disease
Abstract
Objective: To determine the association of type 2 diabetes mellitus with chronic hepatitis C virus (HCV) infection.
Study Design: Case control study.
Place and Duration of Study: Combined Military Hospital, Peshawar Pakistan, from Jun 2017 to Jun 2018.
Methodology: After fulfilling the inclusion criteria, 190 patients were enrolled in the study and divided into two equal groups. The patients of either gender with positive anti-hepatitis C antibodies/PCR for HCV, ribonucleic acid (RNA) were included as cases and apparently healthy individuals reporting for blood donation were included as controls. Plasma glucose was tested by hexokinase enzymatic method using Advia 1800 after 8 hours fast. Then the association between the two major diseases was observed.
Results: Patients in the case and control groups had the mean age of 40.26 ± 8.05 and 40.29 ± 8.89 years respectively whereas body mass index in the case group was 26.60 ± 1.67 kg/m2 and 26.05 ± 1.49 kg/m2 in the control group. Mean duration of HCV infection was 7.03 ± 2.21 months in the case group. Mean serum ALT level was 46.81 ± 7.25 U/L in the case group and 28.43 ± 4.66 U/L in the control group. A total of 76.8% of patients in case group had been treated for HCV infection previously. Type 2 diabetes was seen in 38 (40%) cases and 19 (20%) controls (Odd Ratio=2.60; p=0.002).
Conclusion: Type 2 diabetes mellitus is more frequent amongst HCV positive patients as compared to HCV negative patients.
Downloads
Download data is not yet available.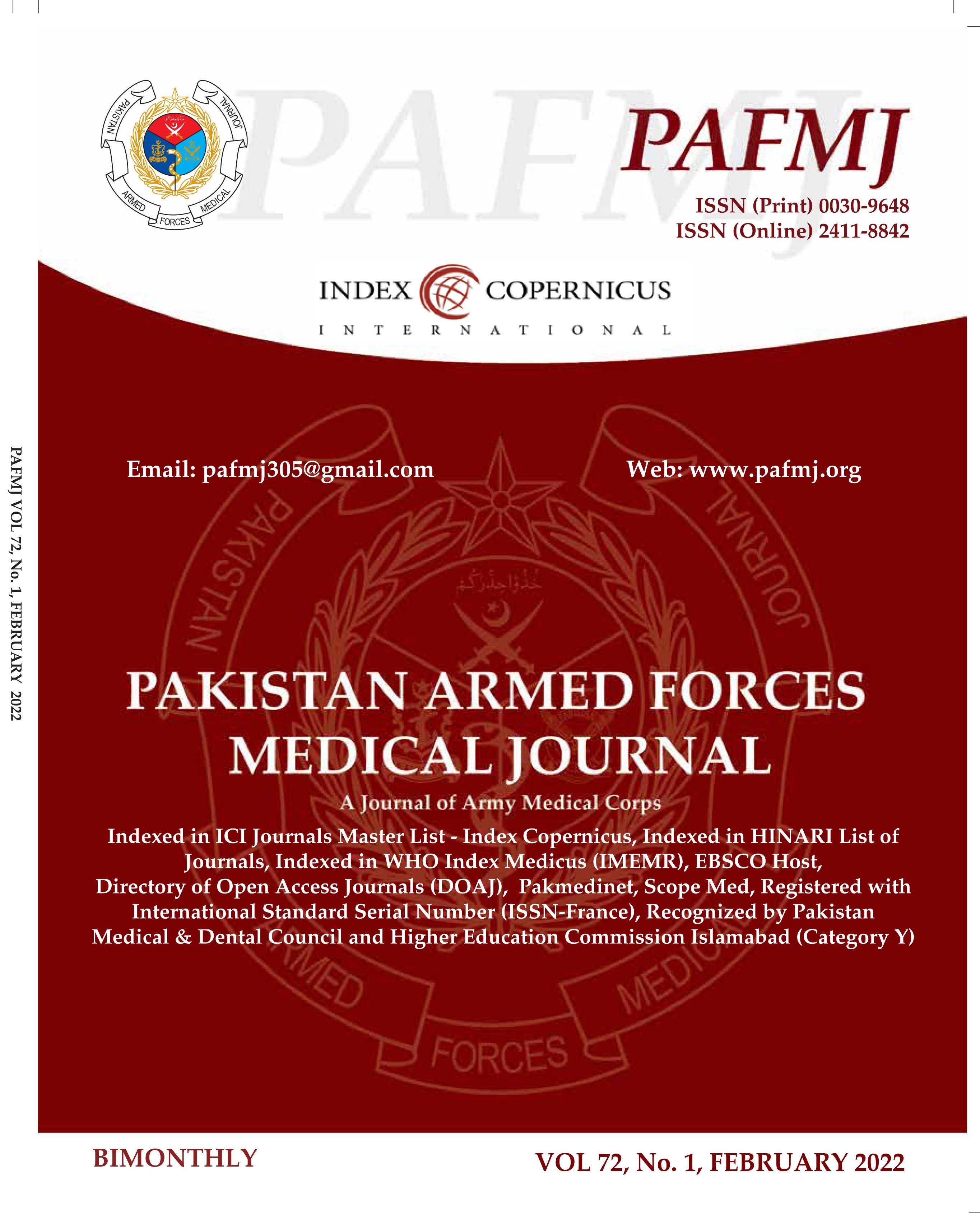 How to Cite
Rafique, B., Amir, M., Khaskheli, A. J., Arshad, A. R., Aslam, A., & Irfan, M. (2022). Association of Type 2 Diabetes Mellitus with Chronic Hepatitis C Virus Infection. Pakistan Armed Forces Medical Journal, 72(1), 62-65. https://doi.org/10.51253/pafmj.v72i1.4142
Section
Original Articles