STUDY OF CORONARY ARTERY DISEASE IN PATIENTS OF YOUNGER AGE GROUP LESS THAN 40 YEARS OF AGE
Coronary Artery Disease
Syed Alam Shah

Rai Medical College Sargodha Pakistan,

Syed Ali Hassan

Social Security Hospital Shahdara Lahore Pakistan

Ali Farhan

Government College University Faisalabad Pakistan

Anum Munir

Capital University of Science and Technology Islamabad Pakistan

Sahar Fazal

Capital University of Science and Technology Islamabad Pakistan
Keywords:
Aetiology, Coronary artery disease, Hypertension, Myocardial infarction, Younger age group.
Abstract
Study Design: A descriptive study.
Objective: To consider the aetiological factors for causing myocardial infarction in younger age group and to include these perspectives for the diagnosis of coronary artery disease.​
Place and Duration of Study: Study was carried out at CCU in the Department of Medicine, Avicenna Medical College and Hospital Lahore, from Jun 2012 to May 2013.
Material and Methods: All patients within the age group of 26-35 years were admitted in CCU on the basis of multiple clinical symptoms by using approach of regular clinical investigations under the aspect of Ischemic heart disease. Clinical investigations were comprised upon cardiac monitoring, lipid profile, ECG and rate for cardiac enzyme included. 
Results: A total of 18 patients completed the study with age group of 26-35 years. MI was diagnosed in all patients and maximum number of patients with acute MI varied from age 28-33 years. All patients were heavy smokers with high rate of physical stress. On gross clinical examination it was revealed that majority of the patients included in age of 28-33 years was professionally van drivers.
Conclusion: The essence of acute MI was observed and critically analyzed in younger age group of people with certain aetiological factors. This should be essentially important in redefining the criterion on clinical grounds for CAD and this should be recognized at International level. As the studies under clinical grounds with the aspect of CAD being reported at International level so, the amount of parameters in clinical diagnosis has to be considered in regular manners for the cure and prevention of CAD in patients especially of younger age groups less than 40. 
Downloads
Download data is not yet available.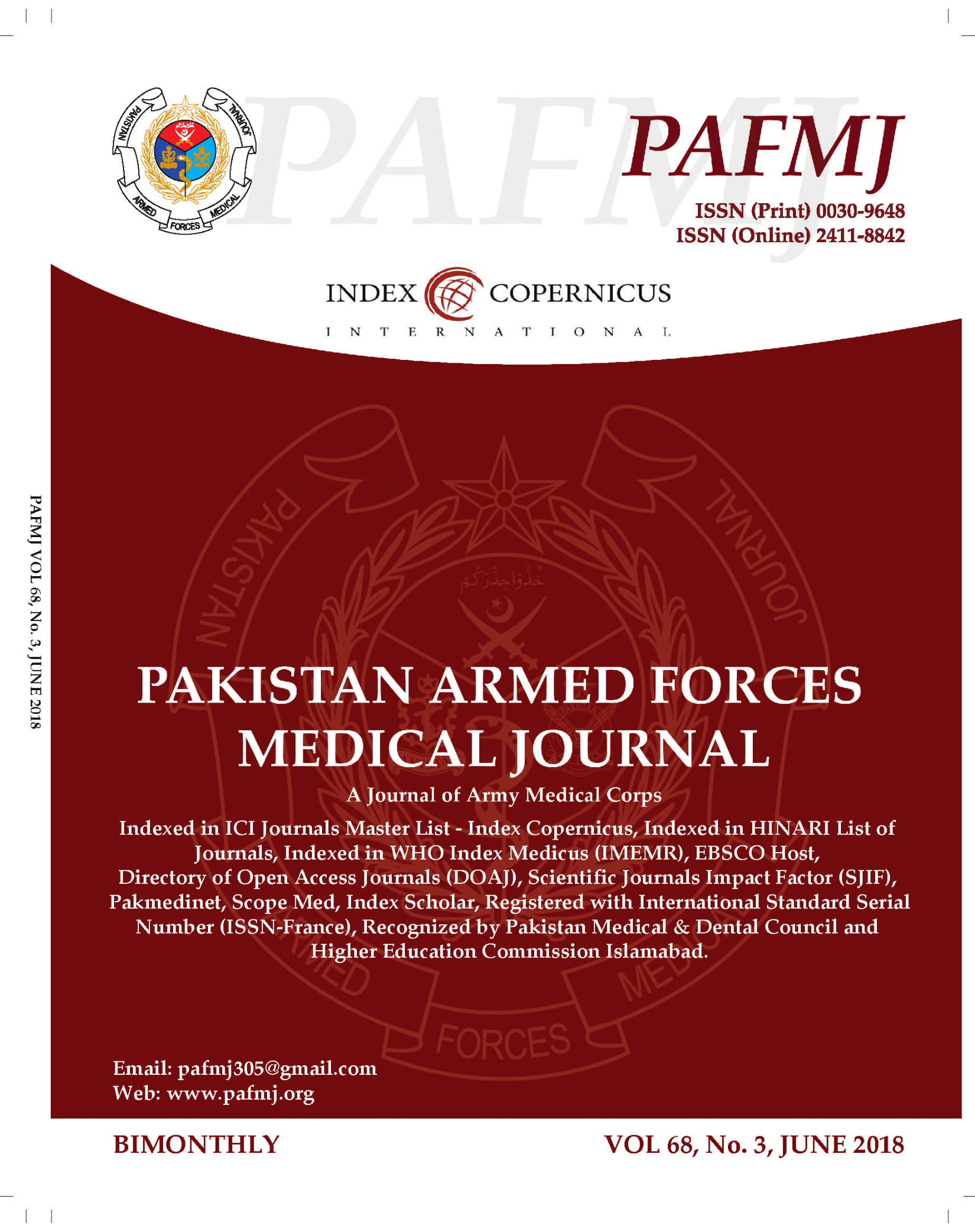 How to Cite
Shah, S. A., Hassan, S. A., Farhan, A., Munir, A., & Fazal, S. (2018). STUDY OF CORONARY ARTERY DISEASE IN PATIENTS OF YOUNGER AGE GROUP LESS THAN 40 YEARS OF AGE. Pakistan Armed Forces Medical Journal (PAFMJ), 68(3), 617-22. Retrieved from https://pafmj.org/index.php/PAFMJ/article/view/414
Section
Original Articles