COMPARISON OF PAIN RELIEF EFFICACY OF PLATELET-RICH PLASMA VERSUS CORTICOSTEROIDS IN KNEE OSTEOARTHRITIS
Platelet-Rich Plasma Vs Corticosteroids in Knee Osteoarthritis
Amir Sohail

Combined Military Hospital Peshawar/National University of Medical Sciences (NUMS) Pakistan

Ameer Yasser Zaid

Combined Military Hospital Peshawar/National University of Medical Sciences (NUMS) Pakistan

Shizan Hamid Feroz

Combined Military Hospital Peshawar/National University of Medical Sciences (NUMS) Pakistan

Mohammed Saeed

Combined Military Hospital Peshawar/National University of Medical Sciences (NUMS) Pakistan

Syed Khurram Naseer

Combined Military Hospital Peshawar/National University of Medical Sciences (NUMS) Pakistan

Muhsan Sultan

Combined Military Hospital Peshawar/National University of Medical Sciences (NUMS) Pakistan
Keywords:
Corticosteroids, Injection, Intra-articular, Numerical rating score, Osteoarthritis knee, Platelet-rich plasma
Abstract
Objective: To compare the pain relief efficacy of platelet rich plasma injection with corticosteroid injection in knee osteoarthritis using numeric rating scale.
Study Design: Quasi experimental study.
Place and Duration of Study: Department of Anesthesia and Pain Management, Combined Military Hospital Peshawar, from Jan 2018 to Dec 2019.
Methodology: Total of 310 patients who underwent knee injection for osteoarthritis were included in this study. Patients were divided into two groups; group A and group B comprising of 155 patients each. Patients in group 'A' received intra articular corticosteroid injection while patients in group 'B' received intra articular platelet rich plasma injection for knee osteoarthritis. Pain assessment via numerical rating score was done at the start of the treatment and at 6 months.
Results: In group A female to male ratio was 2.69:1 while in group B the female to male ratio was 2.78:1. Mean age of 'group A' was 58.52 ± 11.87 years and that of 'group B' was 58.79 ± 11.15 years. Numerical rating score pre-treatment in 'group A' vs 'group B' was 8.35 ± 1.17 vs 8.42 ± 1.14. While numeric rating scale post treatment in 'group A' vs 'group B' was 5.74 ± 1.37 vs 4.06 ± 1.19, respectively with p-value of 0.001, which is statistically significant.
Conclusion: Patients who received intra-articular platelet rich plasma had significantly more pain relief as compared to patients who received intra-articular steroid on numerical rating score.
Downloads
Download data is not yet available.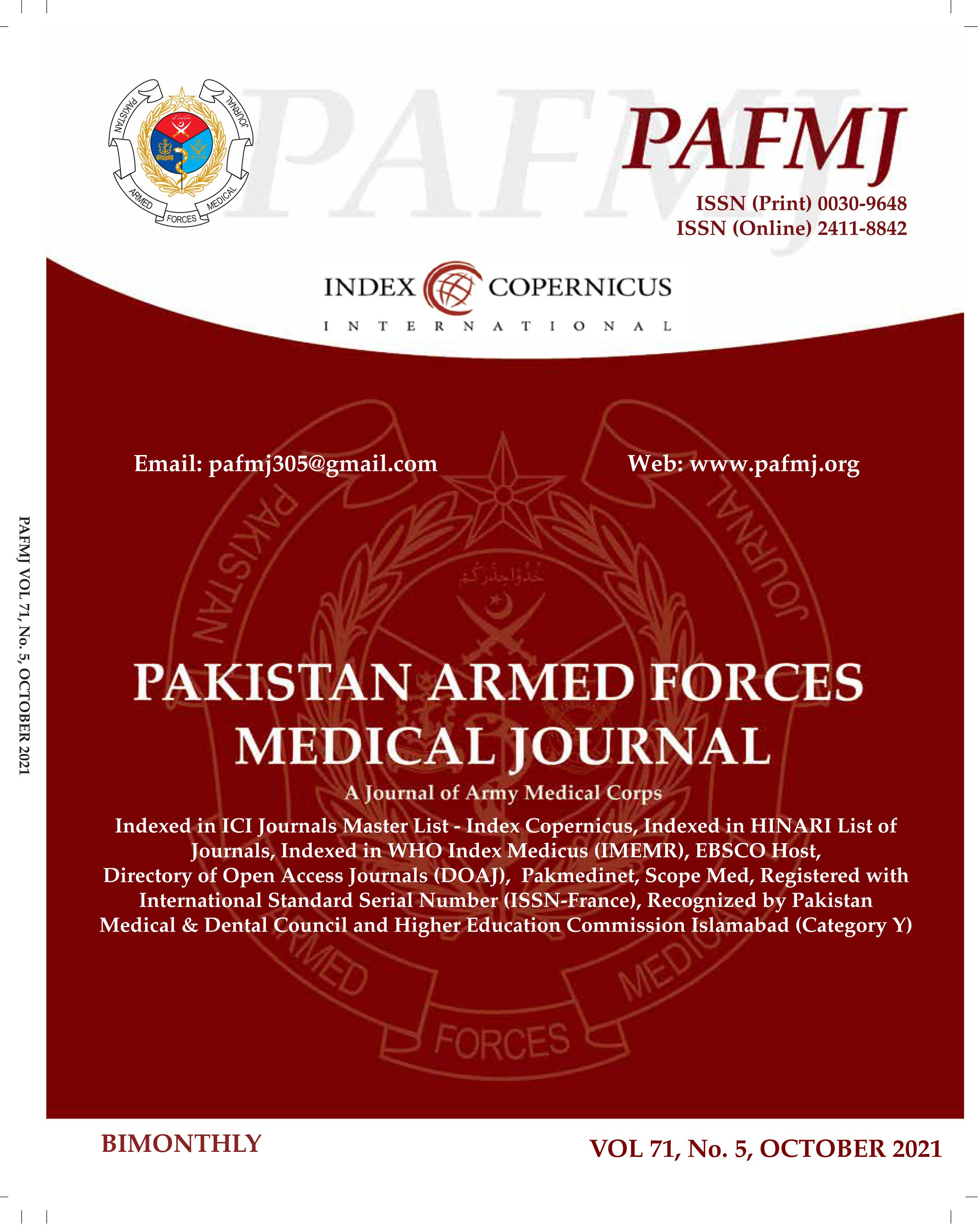 How to Cite
Sohail, A., Zaid, A., Feroz, S., Saeed, M., Naseer, S., & Sultan, M. (2021). COMPARISON OF PAIN RELIEF EFFICACY OF PLATELET-RICH PLASMA VERSUS CORTICOSTEROIDS IN KNEE OSTEOARTHRITIS. PAFMJ, 71(5), 1764-68. https://doi.org/10.51253/pafmj.v71i5.4135
Section
Original Articles