Frequency of Hepatitis C Virus and Human Immunodeficiency Virus Coinfection among Intravenous Drug Abusers; Experience from A Single Rehabilitation Center
Keywords:
Co-infection, Hepatitis C, Hepatitis B, HIV, Intravenous drug abuse
Abstract
Objectives: To determine the frequency of Hepatitis C virus and Human Immunodeficiency Virus (HIV) Coinfection among Intravenous drug abusers in a rehabilitation Centre.
Study Design: Cross-sectional analytical study.
Place and Duration of Study: Medical and Rehabilitation Centre of District Jail, Lahore Pakistan, from Jul to Dec 2019.
Methodology: A total of 220 participants with a history of intravenous drug abuse were screened for Human immunodeficiency virus, Hepatitis C virus, and hepatitis B virus, with positive cases confirmed by polymerase chain reaction tests.
Results: The median was age 27(8.0) years. Only 12 (5.5) had above higher secondary education. Injectable heroin and metamphetamine used by the respondents were 182 (82.7) and 41 (22.5), respectively. Human immunodeficiency virus infection was present in 163 (74.1), Hepatitis C infection in 149 (67.7), Hepatitis B infection in 9 (4.09), and co-infection of human immunodeficiency and hepatitis C virus infections in 118 (53.6) respectively. Human immunodeficiency virus infection showed a significant association with education level (p<0.01) and drug use (p=0.01). Hepatitis C infection showed association with marital status (p=0.04), religion (p<0.01) and drugs used, while Co-infection showed association with religion and drug used (p=0.01 and p=0.004 respectively).
Conclusion: Intravenous drug users have a significantly higher prevalence of Human immunodeficiency and hepatitis C infection and their co-infection, occurring in more than half of injectable users. In addition, these infections show significant association with education status, marital status and type of injectable drug used.
Downloads
Download data is not yet available.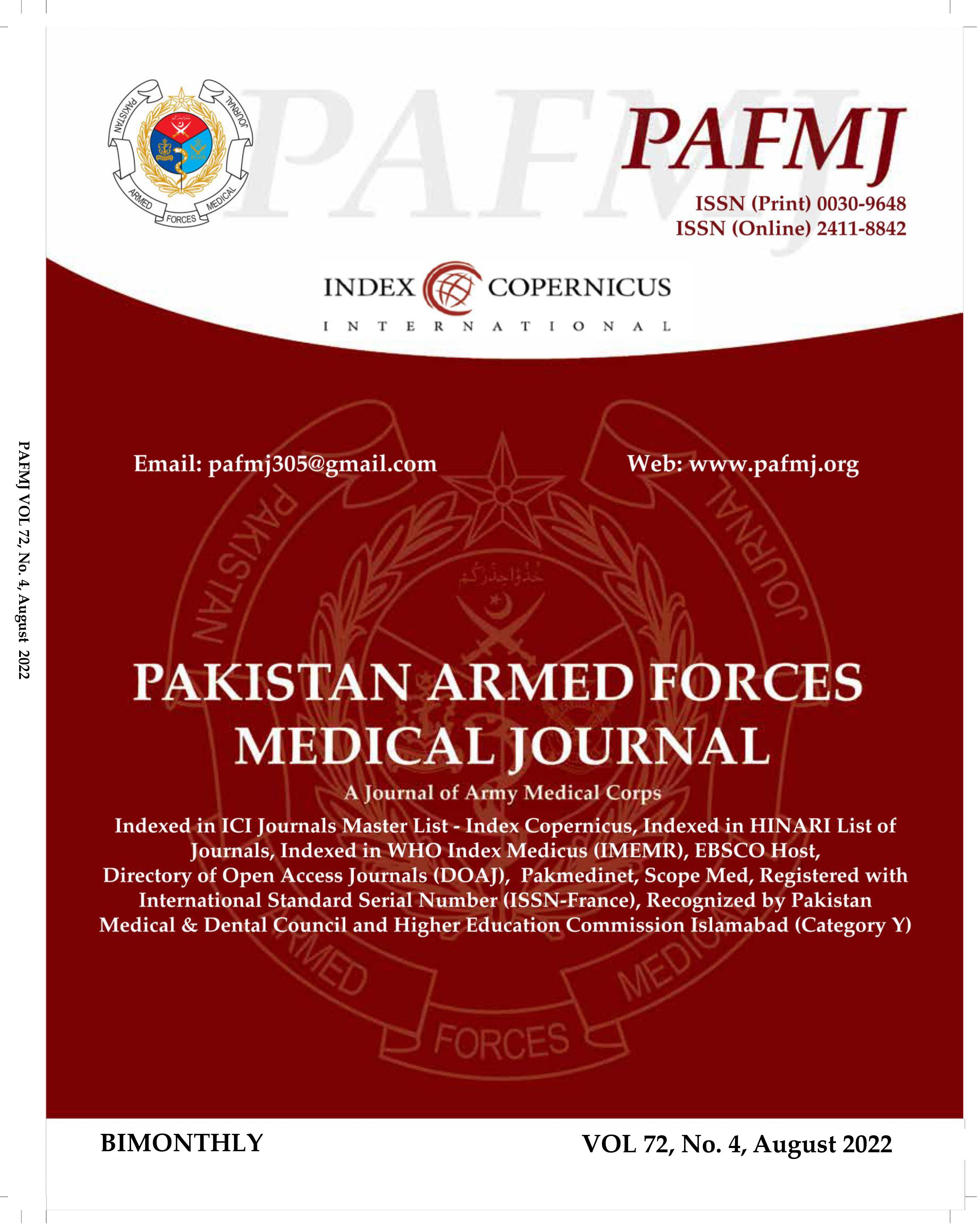 Downloads
How to Cite
Saeed, K., Khan, A., Khanam, A., Lashari, N. A., Khan, H., & Khan, A. (2022). Frequency of Hepatitis C Virus and Human Immunodeficiency Virus Coinfection among Intravenous Drug Abusers; Experience from A Single Rehabilitation Center. Pakistan Armed Forces Medical Journal, 72(4), 1219–23. https://doi.org/10.51253/pafmj.v72i4.4122
Section
Original Articles