COMPARISON OF ULTRASOUND GUIDED MODIFIED PECTORAL NERVE BLOCK WITH LOCAL ANAESTHESTIC INFILTRATION FOR ANALGESIA IN BREAST CANCER SURGERY
Usman Saqib

Combined Military Hospital/National University of Medical Sciences (NUMS) Rawalpindi Pakistan

Rashid Iqbal

Combined Military Hospital/National University of Medical Sciences (NUMS) Rawalpindi Pakistan

Sana Usman

Combined Military Hospital/National University of Medical Sciences (NUMS) Rawalpindi Pakistan

Muhammad Rashid Hanif

Combined Military Hospital/National University of Medical Sciences (NUMS) Rawalpindi Pakistan
Keywords:
Breast cancer surgery, Local anaesthetic, Pectoral nerve blocks, Post-operative pain
Abstract
Objective: To compare the frequency of pain and mean analgesia requirement after breast surgery under general anaesthesia when comparing pectoral nerve block with local anaesthesia infiltration.
Study Design: Comparative prospective study.
Place and Duration of Study: Combined Military Hospital, Rawalpindi from Mar 2018 to Sep 2019.
Methodology: A total of 60 patients undergoing modified radical mastectomy were included in the study. Group A (n=30) received pectoral nerve blocks while Group B (n=30) received local anaesthetic infiltration. Outcome was assessed at 12 hours after injection of local anaesthetic.
Results: Pain in 7 (23.33%) patients in Group A (Pectoral nerve blocks) and in 20 (66.67%) patients in Group B (Local anaesthetic infiltration), p-value of 0.001 which was considered statistically significant. Mean analgesic requirement was found to be 80 ± 33.73 mg in the Group A (pectoral nerve blocks) compared with 141.67 ± 47.50 mg in Group B (Local anaesthesia infiltration) patients with a p-value of <0.001 which was statistically significant.
Conclusion: Pectoral nerve block significantly reduces early postoperative pain and analgesia requirement when compared with Local anaesthesia infiltration after breast surgery.
Downloads
Download data is not yet available.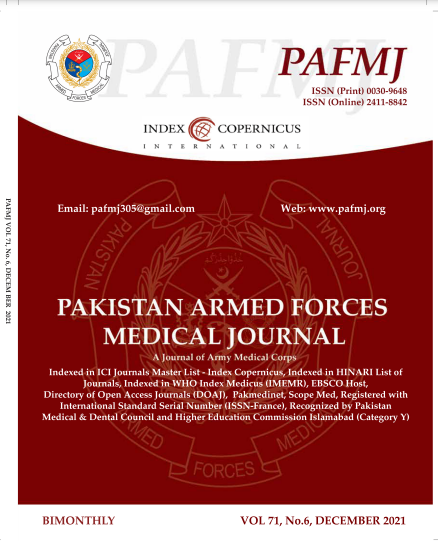 How to Cite
Saqib, U., Iqbal, R., Usman, S., & Hanif, M. (2021). COMPARISON OF ULTRASOUND GUIDED MODIFIED PECTORAL NERVE BLOCK WITH LOCAL ANAESTHESTIC INFILTRATION FOR ANALGESIA IN BREAST CANCER SURGERY. PAFMJ, 71(6), 1981-84. https://doi.org/10.51253/pafmj.v6i6.4110
Section
Original Articles