EFFICACY OF MAGNESIUM SULPHATE ON MATERNAL MORBIDITY AND MORTALITY IN ECLAMPSIA
Nadia Arif

Combined Military Hospital Okara/National University of Medical Sciences (NUMS) Pakistan

Raja Qaseem Ahmed

Combined Military Hospital Okara/National University of Medical Sciences (NUMS) Pakistan

Bushra Zafar

Combined Military Hospital Okara/National University of Medical Sciences (NUMS) Pakistan

Farrukh Shehzad

Combined Military Hospital Okara/National University of Medical Sciences (NUMS) Pakistan
Keywords:
Eclampsia, Magnesium Sulphate, Maternal morbidity, maternal mortality, Pulmonary Edema
Abstract
Objective: To study efficacy of Magnesium Sulphate in reducing maternal morbidity and mortality in patients presenting with eclampsia.
Study Design: Prospective observational study.
Place and Duration of Study: Gynae/Obs Department, Combined Military Hospital Bannu, from Jan 2018 Sep 2019.
Methodology: A total of 134 patients fulfilling inclusion criteria were included in the study. Patient management was multidisciplinary. Convulsions were controlled by 4gram magnesium sulphate intravenously over 20 minutes as a loading dose, followed by 1gram per hour of maintenance infusion. Blood pressure was controlled with injection Labetalol 10 milligram followed by injection Hydralazine repeated after every 20 minutes till the blood pressure was controlled.
Results: A total of 134 patients had eclampsia constituting 6.8% of obstetric admissions. Case fatality was 14 (10.4%) while 120 (89.55%) of the cases responded well to treatment and survived the event. Mean age of patients was 22 years. Thirty patients 22.4% were booked and 104 patients 77.6% were un-booked. Mostly patients 122 (91%) came from rural area and only 12 (9%) were from urban areas with booked pregnancies having regular antenatal visits. One hundred and twenty six (94%) patients with eclampsia presented in antenatal period and only 8 (6%) presented in post natal period. Mode of delivery was cesarean section in 87 (64.9%) and 47 (35.1%) delivered vaginally. Frequency of patient requiring ventilator support, acute renal failure,
disseminated intravascular coagulation, adult respiratory distress syndrome, HELLP (hemolysis, elevated liver enzymes, low platelet) syndrome was 11 (8.2%), 46 (34.3%), 43 (32.1%), 35 (26.1%), 7 (5.2%) respectively..........
Downloads
Download data is not yet available.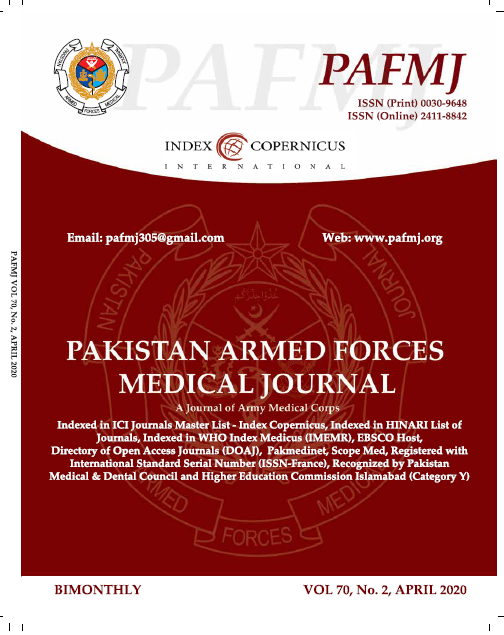 How to Cite
Arif, N., Ahmed, R., Zafar, B., & Shehzad, F. (2021). EFFICACY OF MAGNESIUM SULPHATE ON MATERNAL MORBIDITY AND MORTALITY IN ECLAMPSIA. Pakistan Armed Forces Medical Journal, 71(2), 598-601. https://doi.org/10.51253/pafmj.v71i2.4100
Section
Original Articles