THE ROLE OF DIAGNOSTIC OESOPHAGO-GASTRODUODENOSCOPY (OGD) AND COLONOSCOPY IN CANCER OF UNKNOWN PRIMARY
Keywords:
Cancer of unknown primary (CUP), Colonoscopy, Oesophago-gastroduodenoscopy (OGD)
Abstract
Objective: To study the role of gastrointestinal procedures, namely oesophago-gastroduodenoscopy (OGD) and colonoscopy, in helping to establish a definitive primary tumour site in cancer of unknown primary.
Study Design: Prospective observational study.
Place and Duration of Study: Shaukat Khanum Memorial Cancer Hospital & Research Centre, Lahore Pakistan, from Jan 2018 to Jan 2019.
Methodology: A total of 115 patients included in the study were those, who underwent OGD and a colonoscopy for the diagnosis of a cancer of unknown primary. Data collected included demographics, baseline clinical characteristics, definitive diagnosis, tissue diagnosis and immune-histochemical stains. Primary outcome was the attainment of a definitive diagnosis via OGD and/or colonoscopy.
Results: A total of 115 patients underwent a diagnostic gastrointestinal procedure. Of these 70 (61%) were males. Mean age was 63 ± 12.6 years (range 22-88 years). Abdominal pain comprised the most common presenting complaint, found in 61 (53%). The most common tissue diagnosis of the metastatic sites was adenocarcinoma 81 (70.45%). Tumour markers including carcinoembryonic antigen, alpha-fetoprotein and carbohydrate antigen 19-9 were checked in 90 (78.2%), 46 (40%) and 69 (60%) patients respectively. No patient reached a definitive diagnosis by means of OGD and/or colonoscopy.
Conclusion: OGD and colonoscopy when done collectively as diagnostic procedures to look for a primary tumour, have no value in the evaluation of patients with cancer of unknown primary.
Downloads
Download data is not yet available.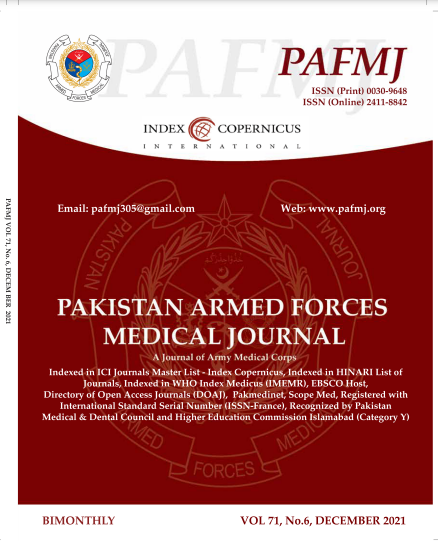 Downloads
How to Cite
Ismail, M., Khan, R. S. A., Saeed, F., & Yusuf, M. A. (2021). THE ROLE OF DIAGNOSTIC OESOPHAGO-GASTRODUODENOSCOPY (OGD) AND COLONOSCOPY IN CANCER OF UNKNOWN PRIMARY. Pakistan Armed Forces Medical Journal, 71(6), 2166–69. https://doi.org/10.51253/pafmj.v71i6.4090
Section
Original Articles