DEPRESSION AND ANXIETY IN CORRELATION TO BODY AREAS INVOLVED IN PATIENTS OF BURNS
Ghazanfar Ali

Combine Military Hospital Multan/National University Medical Sciences (NUMS) Pakistan

Sikander Ali khan

Combine Military Hospital Multan/National University Medical Sciences (NUMS) Pakistan

Muzzafar Ahmed

Combine Military Hospital Multan/National University Medical Sciences (NUMS) Pakistan

Muhammad Sheraz Afzal Malik

Combine Military Hospital Quetta/National University Medical Sciences (NUMS) Pakistan

Danish Almas

Combine Military Hospital Bahawalpur/National University of Medical University (NUMS) Pakistan

Abdul Majid

Combine Military Hospital Multan/National University Medical Sciences (NUMS) Pakistan
Keywords:
Anxiety, Burns, Depression
Abstract
Objective: To evaluate the severity of depression and anxiety among patients of burns and correlate depression and anxiety with areas of body involved in burns.
Study Design: A cross-sectional study.
Place and Duration of Study: The departments of Psychiatry and department of Plastic Surgery, Combined Military Hospital Multan, from Oct 2019 to Mar 2020.
Methodology: Through consecutive sampling, 56 patients of burns reporting to burns unit were assessed for anxiety and/ or depression based on the diagnostic criteria of International Classification of Diseases version 10. Symptom severity was assessed using Beck Depressive Inventory for depression and Beck Anxiety Inventory for anxiety. Descriptive statistics like mean with standard deviation was calculated for age. Frequency along with percentages was calculated for sociodemographic variables, Anxiety and depression.
Results: Depression was present among 30 (53%) of participants out of which 16 (53.5%) had mild, 11 (37.9%) had moderate while only 3 (12.5%) had severe depression. Anxiety was seen among 50 (89%) of participants out of which sixteen (32.1%) had mild, 26 (51.7%) had moderate while 8 (16%) had severe anxiety. Significant correlation existed among the major area involved in burn with both anxiety and depression (p<0.01).
Conclusion: There is a very high prevalence of anxiety and depression among patients of burn. Significant positive correlation existed between the level of anxiety and the areas involved in burns.
Downloads
Download data is not yet available.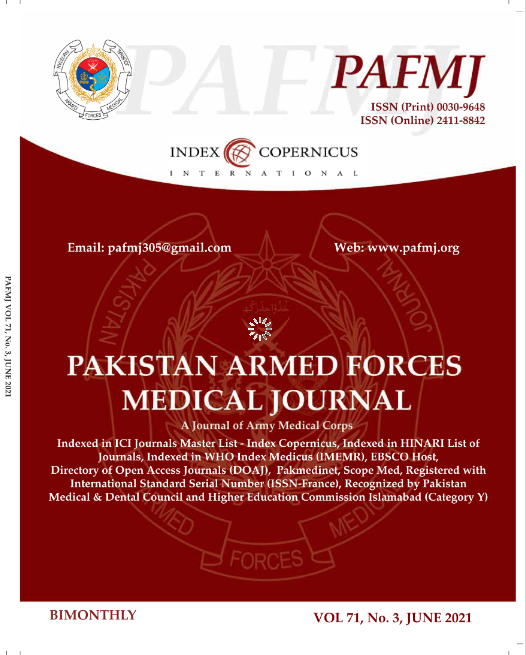 How to Cite
Ali, G., khan, S., Ahmed, M., Malik, M. S., Almas, D., & Majid, A. (2021). DEPRESSION AND ANXIETY IN CORRELATION TO BODY AREAS INVOLVED IN PATIENTS OF BURNS. PAFMJ, 71(3), 734-38. https://doi.org/10.51253/pafmj.v71i3.4088
Section
Original Articles