Frequency of Gestational Diabetes Mellitus in Pregnant Women Reporting to a Public Sector Tertiary Care Hospital of Quetta
Keywords:
Gestational diabetes mellitus, Oral glucose tolerance test, Pregnancy
Abstract
Objective: To determine the frequency of gestational diabetes mellitus in pregnant women reporting to a public sector tertiary care hospital and find the association of gestational diabetes mellitus with age.
Study Design: Comparative cross-sectional study.
Place and Duration of Study: Pathology Department, Combined Military Hospital, Quetta Pakistan, from Jan 2016 to Mar2017.
Methodology: Five hundred and thirty pregnant women who reported to the Pathology Department of the hospital for an Oral Glucose Tolerance Test at 24-28 weeks of gestation were included. The blood samples were taken after ten hours off fasting and one hour and two hours after loading with 75g of anhydrous glucose and analyzed using the enzymatic (Glucose Oxidase) method. Gestational diabetes mellitus was diagnosed using guidelines recommended by the International Association for Diabetes and Pregnancy Study Group /American Diabetic Association for a one-step diagnosis of gestational diabetes mellitus according to the new criteria.
Results: The frequency of gestational diabetes mellitus was quite high 190(35.8%). Of these 530 pregnant women, 162(85.3%)women were diagnosed with Fasting Plasma Glucose, and 28 women were diagnosed with 1-hour or 2-hour after the glucose load test. Age-group of ≥ 30 years had the highest number of women with gestational diabetes mellitus.
Conclusion: The frequency of gestational diabetes mellitus in our hospital-reported sample of pregnant women was 35.8%,associated with advanced age. The maximum number of women were diagnosed as having gestational diabetes mellitus based on the fasting Plasma Glucose cut-off value.
Downloads
Download data is not yet available.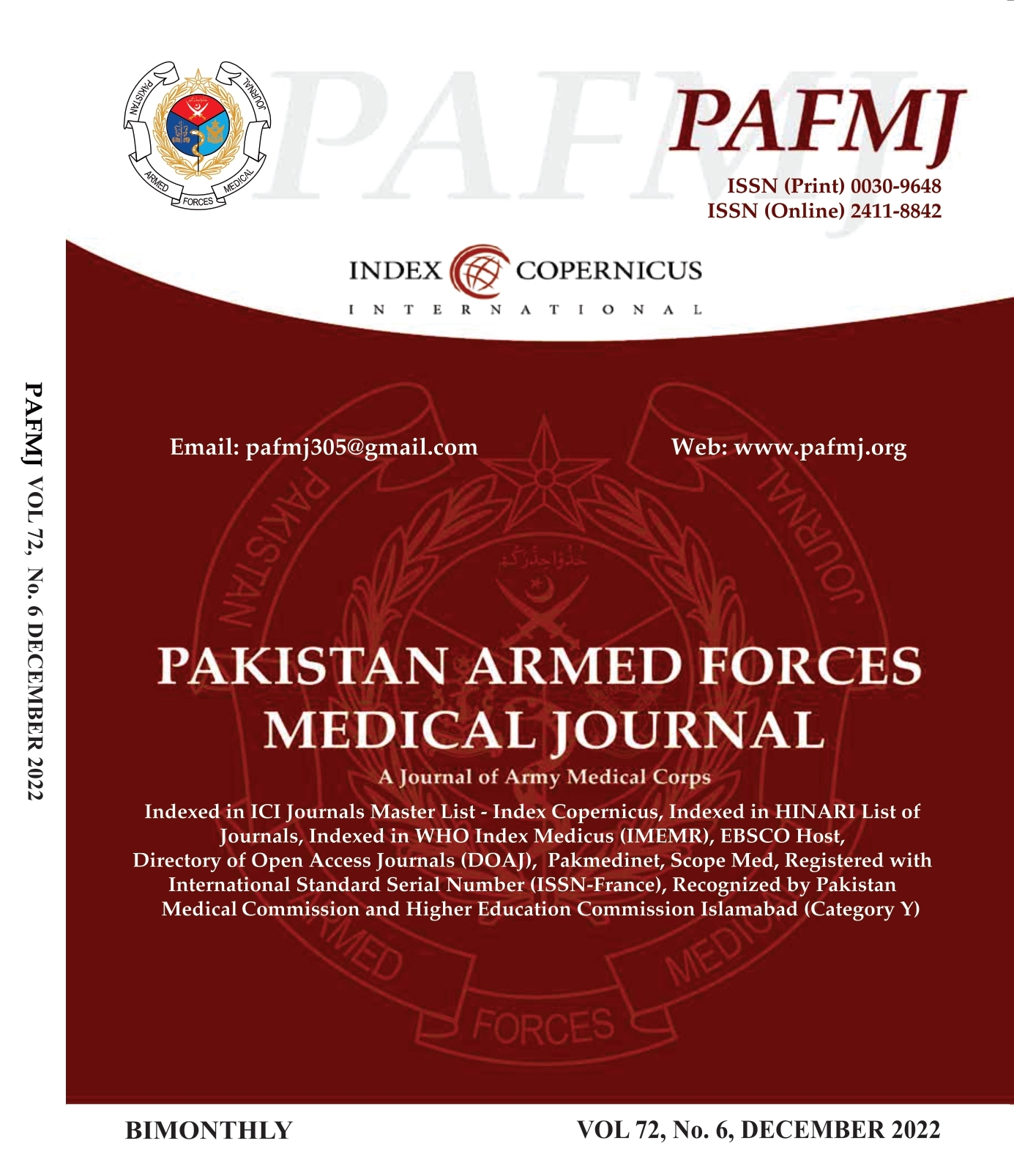 Downloads
How to Cite
Latif, M., Ayaz, S. B., Anwar, M., Manzoor, M., Aamir, M., Shah Bokhari, S. A. R., & Ahmad, M. (2022). Frequency of Gestational Diabetes Mellitus in Pregnant Women Reporting to a Public Sector Tertiary Care Hospital of Quetta. Pakistan Armed Forces Medical Journal, 72(6), 2095–98. https://doi.org/10.51253/pafmj.v72i6.4073
Section
Original Articles