The RECONSTRUCTION OF NASAL ALA DEFECTS USING THREE STAGED FOLDED FOREHEAD FLAP: AESTHETIC AND FUNCTIONAL OUTCOMES
Ghazanfar Ali

Combined Military Hospital Multan/National University of Medical Sciences (NUMS) Pakistan

Moizza Tahir

Combined Military Hospital Multan/National University of Medical Sciences (NUMS) Pakistan

Maqbool Raza

Combined Military Hospital Multan/National University of Medical Sciences (NUMS) Pakistan

Danish Almas

Combined Military Hospital Bahawalpur/ National University of Medical Sciences (NUMS) Pakistan

Abdul Majid

Combined Military Hospital /National University of Medical Sciences (NUMS) Rawalpindi Pakistan

Yasser Saeed Khan

Combined Military Hospital Quetta/National University of Medical Sciences (NUMS) Pakistan
Keywords:
Aesthetic outcomes, Cartilage, Forehead flap, Nasal ala reconstruction
Abstract
Objective: To assess short and long term aesthetic and functional outcomes of nasal ala reconstruction by three staged folded forehead flap.
Study Design: Prospective study.
Place and Duration of Study: Plastic and Reconstructive Surgery Department of Combined Military Hospital
Bahawalpur and Quetta, from Dec 2014 to Dec 2018.
Methodology: Total of 29 patients were enrolled through consecutive sampling technique. Nasal ala defects were reconstructed by three staged frontal forehead flap under general anesthesia. Follow up visit at 2 weeks bleeding, wound Infection, partial skin graft loss and partial flap necrosis was documented. Follow up at 24 weeks, functional outcome of nasal reconstruction was assessed by history and clinical examination for nasal obstruction and/or crusting. Patients' subjective satisfaction about aesthetic outcome of nasal reconstruction was documented on 5 point likert scale. Objective aesthetic assessment of reconstruction was done on 2D photograph by two independent surgeons.
Results: Twenty six (89.66%) males and 3 (10.34%) females participated in study. The mean age was 35 years
range 16 to 64 years. Follow up at two weeks revealed postoperative bleeding in 2 (6.8%), wound infection in 1
(3.4%) and partial flap loss in 1 (3.4%) patient. At 24 weeks follow up all patients had patent nasal ala. Subjective
and objective assessment of nose shape was documented.
Conclusion: Use of three staged folded forehead flapis useful method of reconstruction for full thickness defects of nasal alaewith good functional and aesthetic outcome.
Downloads
Download data is not yet available.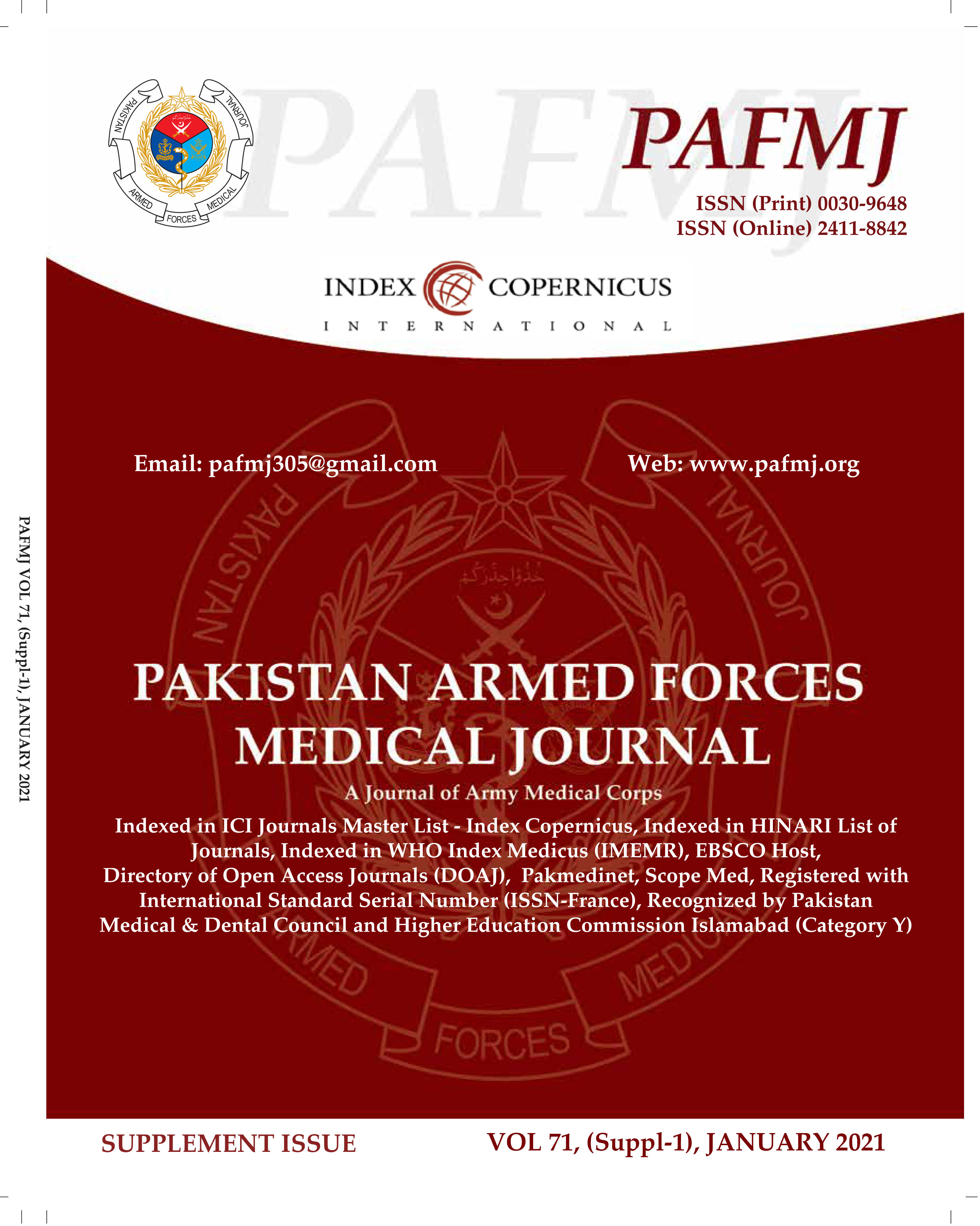 How to Cite
Ali, G., Tahir, M., Raza, M., Almas, D., Majid, A., & Khan, Y. (2021). The RECONSTRUCTION OF NASAL ALA DEFECTS USING THREE STAGED FOLDED FOREHEAD FLAP: AESTHETIC AND FUNCTIONAL OUTCOMES. Pakistan Armed Forces Medical Journal, 71(Suppl-1), S170-74. https://doi.org/10.51253/pafmj.v71iSuppl-1.4069
Section
Original Articles