EFFICACY OF INTRAVENOUS LIGNOCAIN VERSUS SEVOFLURANE IN PREVENTION OF COUGHING AND DESATURATION AT EXTUBATION IN CHILDREN
Prevention of Laryngospasm
Muhammad Shoaib Ahmad Khan

Combined Military Hospital Nowshera Pakistan

Muhammad Naeem Qureshi

Combined Military Hospital Nowshera Pakistan

Mushtaq Hussain Raja

Combined Military Hospital Bahawalpur Pakistan

Syed Sameeudin

Military Hospital/National University of Medical Sciences (NUMS) Rawalpindi Pakistan
Keywords:
Intravenous lignocaine (IV), Laryngospasm, Post extubation, Sevoflurane
Abstract
Objective: To compare the efficacy of intravenous lignocain versus sevoflurane in prevention of coughing and desaturation at extubation in children less than 6 years of age.
Study Design: Randomized controlled trial.
Place and Duration of Study: This study was carried out at Combined Military Hospital Nowshera, from May 2013 to May 2016.
Material and Methods: This randomized controlled trial study was conducted at Combined Military Hospital Nowshera from May 2013 to May 2014 after obtaining approval from the hospital ethics committee (IREC-0003/5/13/Aneas). Sample size (n=710 patients) was calculated by using WHO Sample Size calculator with confidence level of 95%, level of significance 5%. Children aged three months to six years undergoing surgical procedures requiring the placement of definitive airway were randomly assigned into two groups. Patients were anaesthetized by standardized balanced anaesthesia technique. In group-A (n=355), three minutes prior to extubation lignocain 2% was used intravenously. In group-B (n=355), isoflurane was switched off, breathing circuit changed and sevoflurane started at minimum alveolar concentration (MAC 3-4%) for 3 minutes prior to extubation. Assessment for extubation was clinical. Oxygen saturation and severity of coughing were noted for 5 consecutive minutes, after extubation. Data were analysed by using statistical package for social sciences (SPSS) version 20. A p-value ≤0.05 was considered as statistically significant.
Results: In group-A, 156 patients were less than 2 years of age while in group-B, 135 patients were less than 2 years old. In group-A, 199 and in group-B, 220 children were 2-6 years of age respectively. Post stratification the p-value for weight was 0.17 (p-value>0.05) and t-statistic was 1.36. Post stratification p­-value for gender was 0.12 (p-value>0.05) and chi square statistic was 2.49. Demographic comparison described in table-I. Group A had more eventful extubation with 270 cases of cough (76%) as compared to group-B where it were noted in 199 cases (56%). Similarly desaturation was observed in 85 cases in group-A (24%) as compared to 28 cases (8%) in group-B. The difference between the groups was satistically significant as shown in table-II & III.
Conclusion: Sevoflurane based anaesthetic vapor mixture results in statistically significant prevention from events like coughing episodes and desaturation in post-extubation in children less than six years of age undergoing elective surgery.
Downloads
Download data is not yet available.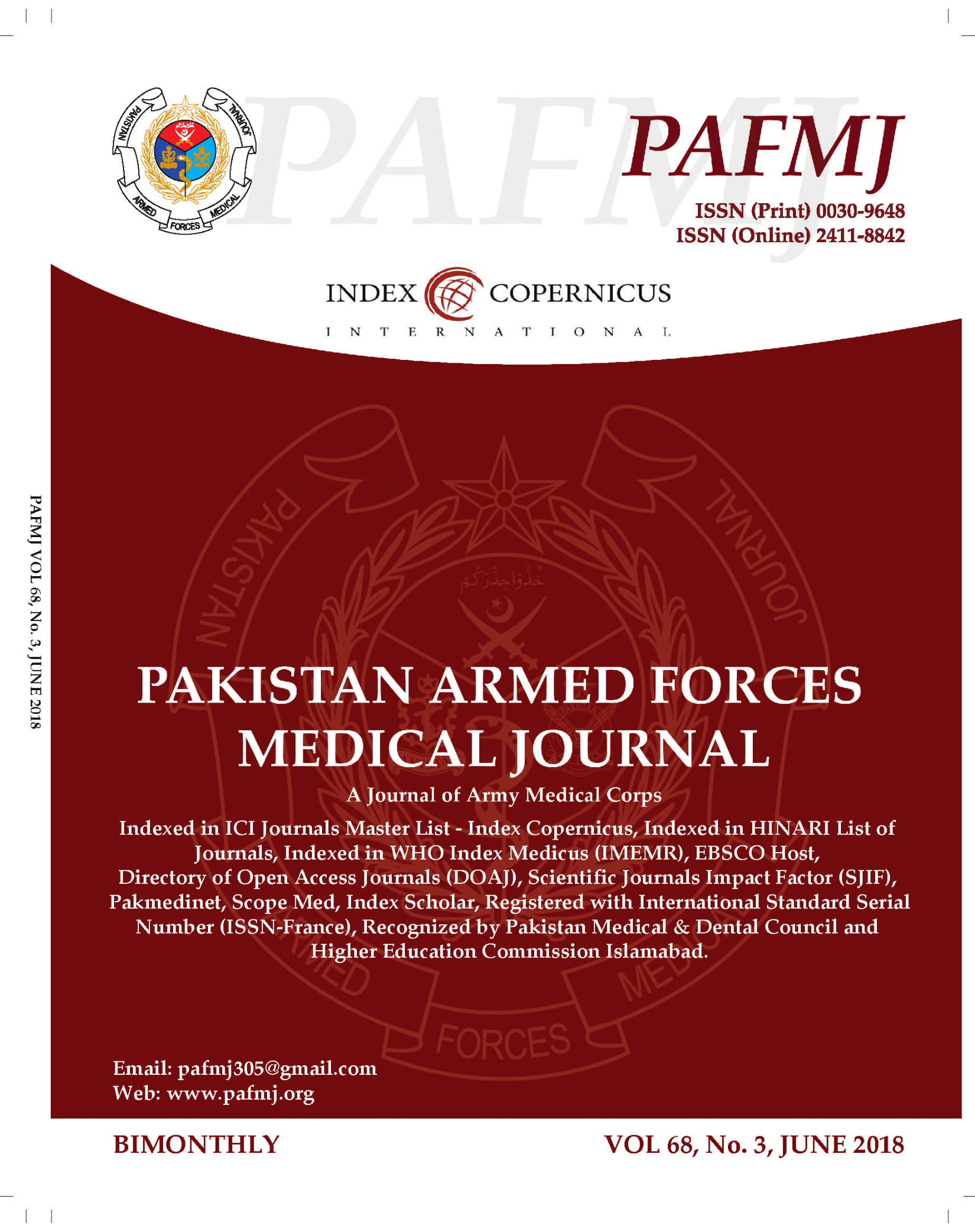 How to Cite
Khan, M. S. A., Qureshi, M. N., Raja, M. H., & Sameeudin, S. (2018). EFFICACY OF INTRAVENOUS LIGNOCAIN VERSUS SEVOFLURANE IN PREVENTION OF COUGHING AND DESATURATION AT EXTUBATION IN CHILDREN. Pakistan Armed Forces Medical Journal (PAFMJ), 68(3), 608-12. Retrieved from https://pafmj.org/index.php/PAFMJ/article/view/404
Section
Original Articles