LOCAL ANAESTHETIC SYSTEMIC TOXICITY AWARENESS AMONG CLINICAL PRACTITIONERS
LAST – Critical Management
Sana Abbas

Armed Forces Institute of Ophthalmology/National University of Medical Sciences (NUMS) Rawalpindi Pakistan

Amjad Akram

Armed Forces Institute of Ophthalmology/National University of Medical Sciences (NUMS) Rawalpindi Pakistan

Beenish Abbas

Armed Forces Institute of Ophthalmology/National University of Medical Sciences (NUMS) Rawalpindi Pakistan

Mohsin Fayyaz

Armed Forces Institute of Ophthalmology/National University of Medical Sciences (NUMS) Rawalpindi Pakistan

Basit Mehmood

Armed Forces Institute of Ophthalmology/National University of Medical Sciences (NUMS) Rawalpindi Pakistan

Umer Hayat

Armed Forces Institute of Ophthalmology/National University of Medical Sciences (NUMS) Rawalpindi Pakistan
Keywords:
Aspiration, Local anaesthetics, Lipid emulsion
Abstract
Objective: to assess comprehension of local anaesthetic systemic toxicity among clinical practitioners.
Study Design: Cross-sectional study.
Place and Duration of Study: Tertiary Care Institute, from Dec 2019 to Mar 2020.
Methodology: Methodology constituted of a web-based questionnaire. A pilot study carried out at 15-20 participants forquestionnaire validation and reviewed by independent experts for face validity, a final questionnaire comprised of 10 multiple-choice questions in addition to demographic profile.
Results: A total of 950 participants participated in the study and data was extracted from their responses. Out of 738 (77.8%) participants declared that they are unaware of local anaesthetic systemic toxicity complication, 26 (2.7%) encountered local anaesthetic systemic toxicity and 185 (19.5%) never experienced. Ninety (9.5%) were aware of the availability and utilization of 'Lipid Emulsion' therapy to treat 'Local Anaesthetic Systemic Toxicity' (LAST).
Conclusion: Although clinicians have significant awareness level regarding local anaesthetic toxicity but unfortunately compliance with management of this life-threatening complication is deficient.
Downloads
Download data is not yet available.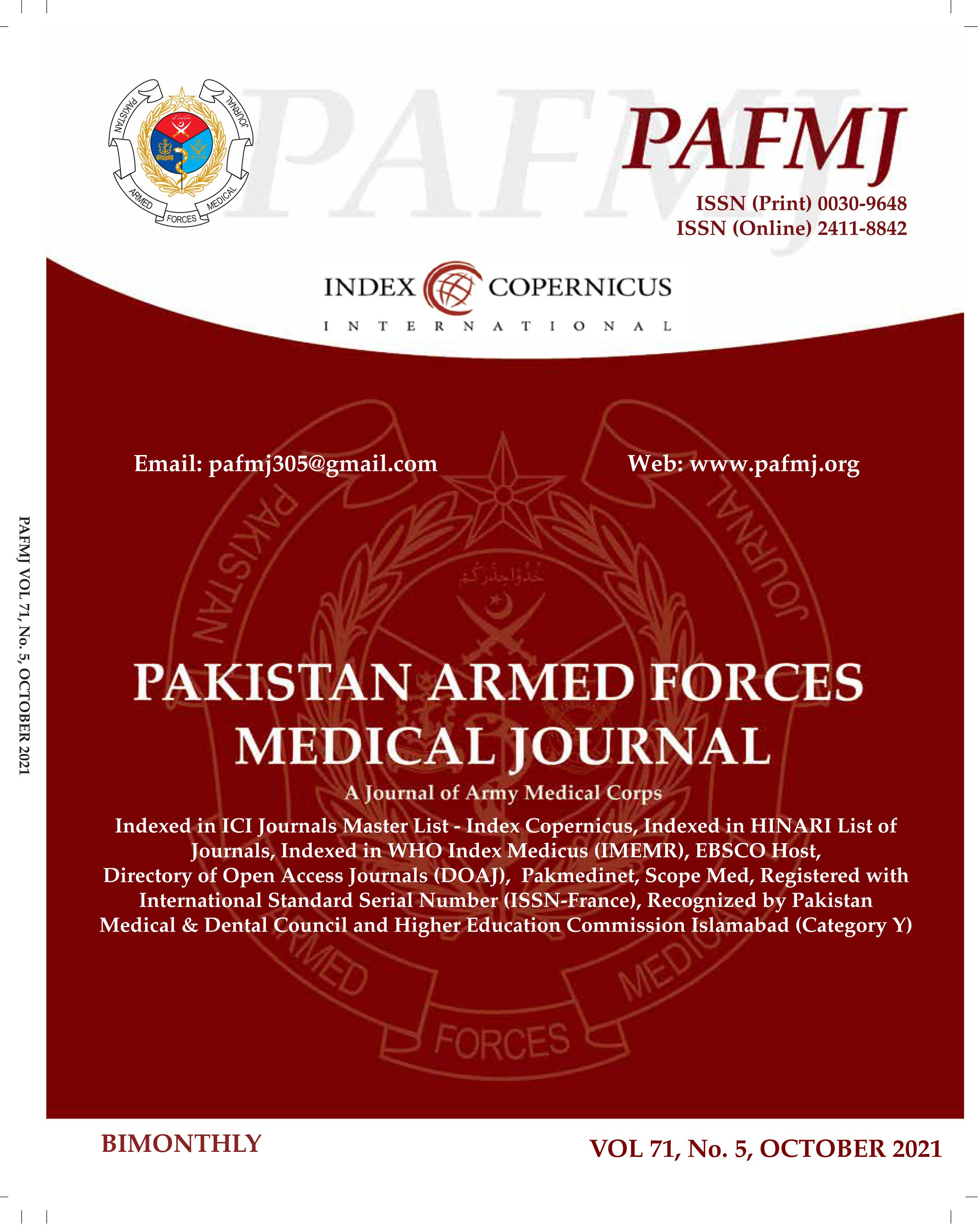 How to Cite
Abbas, S., Akram, A., Abbas, B., Fayyaz, M., Mehmood, B., & Hayat, U. (2021). LOCAL ANAESTHETIC SYSTEMIC TOXICITY AWARENESS AMONG CLINICAL PRACTITIONERS. Pakistan Armed Forces Medical Journal, 71(5), 1642-46. https://doi.org/10.51253/pafmj.v71i5.4035
Section
Original Articles