CLINICAL FEATURES AND OUTCOME IN CHILDREN WITH LANGERHANS CELL HISTIOCYTOSIS. A SINGLE INSTITUTION EXPERIENCE FROM PAKISTAN
Nida Noor

Shaukat Khanum Memorial Cancer Hospital & Research Centre, Lahore Pakistan

Rabia Muhammad wali

Shaukat Khanum Memorial Cancer Hospital & Research Centre, Lahore Pakistan

Annis -Ur- Rehman

Shaukat Khanum Memorial Cancer Hospital & Research Centre, Lahore Pakistan

Muhammad Abu Bakar

Shaukat Khanum Memorial Cancer Hospital & Research Centre, Lahore Pakistan
Keywords:
BRAF mutation, Multi system langerhans cell histiocytosis, Risk organ, Single system langerhans cell histiocytosis
Abstract
Objective: To find out the clinical manifestations, treatment given and outcome of children with diagnosis of Langerhans cell histiocytosis.
Study Design: Retrospective observational study.
Place and Duration of Study: Shaukat Khanum Cancer Hospital, Lahore Pakistan, from Jan 2005 to Dec 2015.
Methodology: Medical charts were reviewed in detail along with the available imaging for the patients. The data included age at the time of diagnosis, extent of the disease, involvement of risk organs, treatment given, response at 6th week of chemotherapy and at the end of the treatment, and outcome in terms of disease progression during the treatment, relapse of disease on follow up and cause of death either due to treatment related mortality or disease complications.
Results: There were 29 patients, 12 patients (41%) had single system and 17 (58%) had multisystem involvement. 7 patients (41%) had risk organ involvement in the multisystem group. All the patients of multisystem and 6 patients of single system were treated according to the Langerhans cell histiocytosis III protocol. Commonest sites of involvement were bone in 22 (75%), followed by lymph nodes in 18 (62%) patients. Disease relapse was seen in 6 patients and all of them had multisystem disease. Mortality was observed only in multisystem Langerhans cell histiocytosis patients and more than 50% were risk organ positive.
Conclusion: Langerhans cell histiocytosis is a highly heterogeneous disease. Some forms are curable without chemotherapy, while the multisystem disease requires aggressive treatment. However, despite intensive treatment, the multisystem disease and risk organs involved have poor...........
Downloads
Download data is not yet available.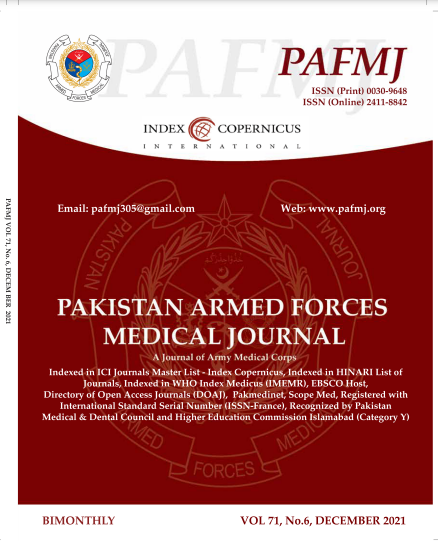 How to Cite
Noor, N., wali, R., Rehman, A., & Bakar, M. (2022). CLINICAL FEATURES AND OUTCOME IN CHILDREN WITH LANGERHANS CELL HISTIOCYTOSIS. A SINGLE INSTITUTION EXPERIENCE FROM PAKISTAN. PAFMJ, 71(6), 2194-2201. https://doi.org/10.51253/pafmj.v71i6.4022
Section
Original Articles