Bacteremia in Pediatric Oncology Patients; A Single-Center Experience
Zunaira Shaukat

Shaukat Khanum Memorial Cancer, Hospital Lahore, Pakistan

Rabia Wali

Shaukat Khanum Memorial Cancer, Hospital Lahore, Pakistan

Saadiya Javed Khan

Shaukat Khanum Memorial Cancer, Hospital Lahore, Pakistan

Summiya Nizamuddin

Shaukat Khanum Memorial Cancer, Hospital Lahore, Pakistan

Romena Qazi

Shaukat Khanum Memorial Cancer, Hospital Lahore, Pakistan

Kainat Memon

Shaukat Khanum Memorial Cancer, Hospital Lahore, Pakistan

Najma Shaheen

Shaukat Khanum Memorial Cancer, Hospital Lahore, Pakistan
Keywords:
Antimicrobial Stewardship, Bacteremia, Escherichia coli, Febrile neutropenia, Mucositis
Abstract
Objective: To study organisms causing bacteremia and their outcome in cancer children with febrile neutropenia (FN) admitted at our centre.
Study Design: Retrospective longitudinal study. 
Place and duration of study: Department of Pediatric Oncology, Shaukat Khanum Memorial Cancer Hospital, Lahore, from Feb to Dec 2017. 
Methodology: All pediatric oncology patients with febrile neutropenia admitted to the inpatient department were included. Data fields included age, diagnoses, demographics, organism types, time to positivity, multi-drug resistance, antibiotics, and outcome.
Results: A total of 391 episodes of febrile neutropenia were documented among 86 patients. The mean age was 4.7±2.7 years. Twelve (14.0%) patients had intensive care admission, and 9(10.5%) of them died. Fifty-four (63.0%) children had primary diagnoses of haematological malignancies. Sixty-five percent had mucositis, central catheter, or both as risk factors. Thirty-nine isolates were cultured in 391 febrile-neutropenic episodes. Escherichia coli was the most frequently isolated organism in 16(41.0%) cultures, followed by Pseudomonas and Streptococcus pneumoniae in 4(10.3%) each. Poly-microbial isolates were seen in 6(15.4%) cultures. Multi-drug resistance was found in 12(30.8%) isolates. Thirty-four (87.0%) patients with positive cultures received appropriate antibiotics. Majority organisms were sensitive to Piperacillin/Tazobactam (14,35.9%) followed by Meropenem (10, 25.6%) and Colistin (6, 15.4%).
Conclusions:  Rapid identification of organisms from positive blood cultures combined with antimicrobial stewardship can have improved antibiotic treatment and outcomes.
Downloads
Download data is not yet available.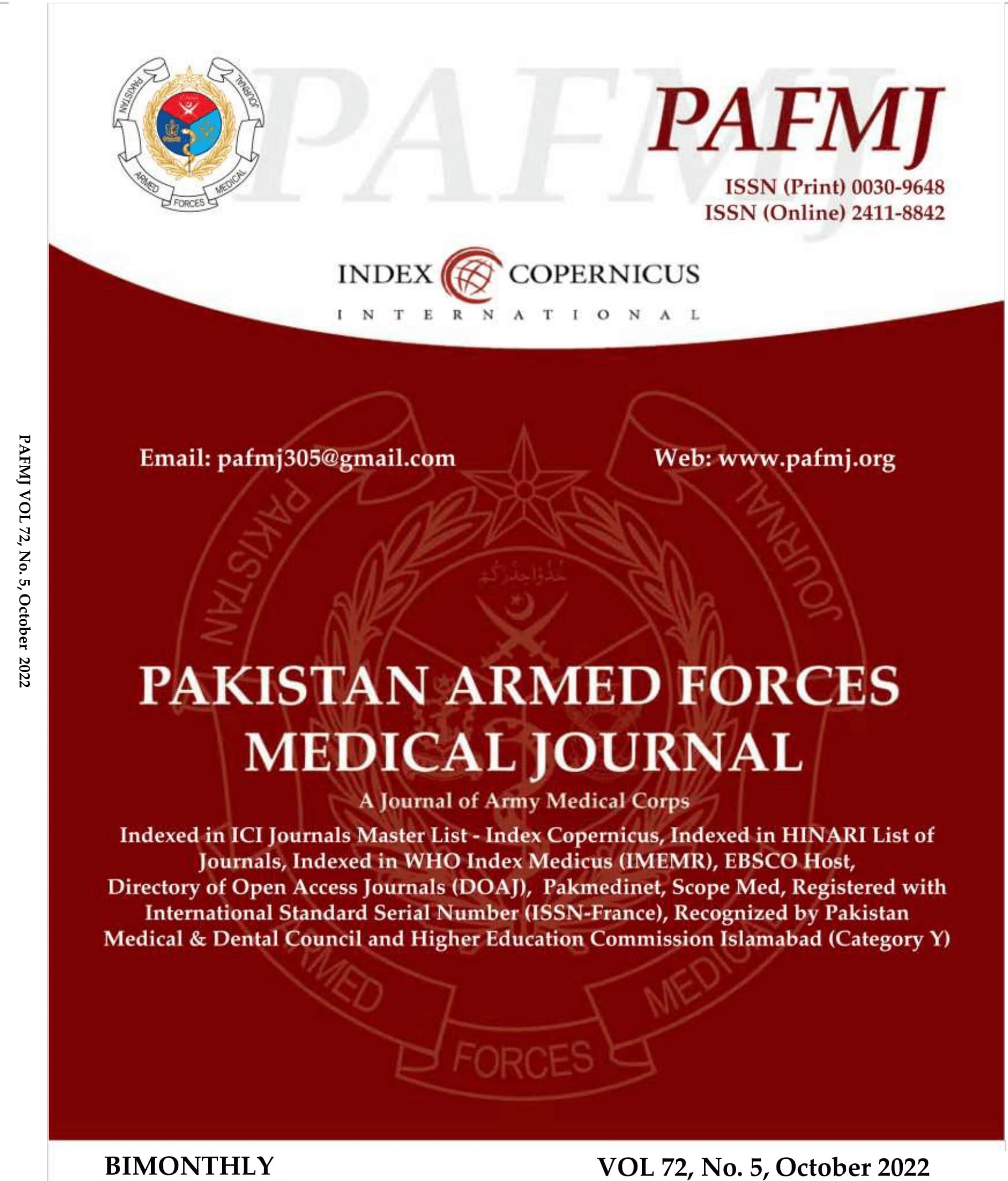 How to Cite
Shaukat, Z., Wali, R., Khan, S., Nizamuddin, S., Qazi, R., Memon, K., & Shaheen, N. (2022). Bacteremia in Pediatric Oncology Patients; A Single-Center Experience. Pakistan Armed Forces Medical Journal, 72(5), 1544-49. https://doi.org/10.51253/pafmj.v72i5.3993
Section
Original Articles