PROTEIN-PROTEIN INTERACTION ANALYSIS OF HUMAN INTERFERON ALPHA RECEPTOR 2 (IFNAR-2) PROTEIN USING STRING SERVER
Gulshan Ara Trali

Swat Medical College, Swat Pakistan

Ambreen Javed

HITEC-Institute of Medical Sciences, Taxila/National University of Medical Sciences (NUMS) Pakistan

Alia Sadiq

HITEC-Institute of Medical Sciences, Taxila/National University of Medical Sciences (NUMS) Pakistan
Keywords:
IFNAR-2 protein, Search Tool for the Retrieval of Interacting Genes/Proteins (STRING), Protein-protein interactions, Molecular associations
Abstract
Objective: To study the functional and molecular interactions of IFNAR-2 within biological networks
Study Design: Computational analysis: STRING software
Place and Duration of Study: Department of Biochemistry, HITEC-Institute of Medical Sciences, Taxila Cantt, Pakistan, from Dec 2017 to Jun 2018.
Methodology: Protein sequence of IFNAR-2 protein was obtained from 'National Centre for Biotechnology Information (NCBI)' database and STRING analysis conducted by applying specific parameters including (1) Text mining (2) Experiments (3) Databases (4) Co-expression (5) Neighborhood (6) Gene fusion and (7) Co-occurrence for identifying protein-protein interactions and molecular associations. Maximum number of interactors was set at 20 and highest confidence level was set at 0.900.
Results: Protein-protein interaction analysis translate that human IFNAR-2 protein has high level of interactions with a set of proteins of similar size, drawn from the genome. This set represents a partial biologically connected group of proteins. This information has a potential to set the basis for further experimental investigations in more integrated and biologically linked pathway-oriented perspective that results in more targeted outcomes.
Conclusion: Functional and molecular enrichment through STRING analysis revealed that IFNAR-2 protein has strong associations and serves as a key player in antiviral response of immune system.
Downloads
Download data is not yet available.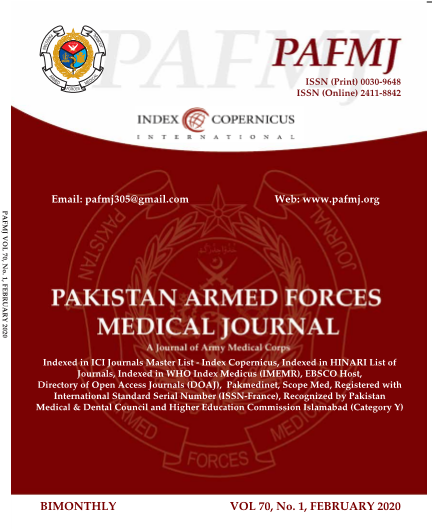 How to Cite
Trali, G., Javed, A., & Sadiq, A. (2020). PROTEIN-PROTEIN INTERACTION ANALYSIS OF HUMAN INTERFERON ALPHA RECEPTOR 2 (IFNAR-2) PROTEIN USING STRING SERVER. Pakistan Armed Forces Medical Journal, 70(1), 245-52. Retrieved from https://pafmj.org/index.php/PAFMJ/article/view/3971
Section
Original Articles