PROPHYLACTIC PHENYLEPHRINE REDUCES THE RISK OF HYPOTENSION AFTER SPINAL ANAESTHESIA IN PARTURIENT PATIENTS UNDERGOING CESAREAN SECTION
Amna Gulrez

Combined Military Hospital, Bahawalpur Pakistan

Asjad Sharif

Combined Military Hospital, Bahawalpur Pakistan

Abu Bakar Sadique

Combined Military Hospital, Bahawalpur Pakistan
Keywords:
Caesarean section, Hypotension, Non invasive blood pressure, Phenylephrine
Abstract
Objective: To demonstrate the stability of blood pressure in parturient patients undergoing caesarean section in spinal anaesthesia after prophylactic dose of phenylephrine.
Study Design: Quasi experimental study. Place and Duration of Study: The study was carried out at Combined Military Hospital Bahawalpur, from Jan 2018 to Jun 2018.
Methodology: In this study a total of 100 patients were taken, (only females) divided in two equal groups, fulfilling the inclusional criteria. Group A was given Inj phenylephrine 50 micrograms (50ug) intravenously right after spinal block and group B was not given anything until required. Non invasive blood pressure was monitored before Spinal anaesthesia then at 01, 03 and 05 mins after the Spinal anaesthesia. Digital monitor was used for noninvasive blood pressure monitoring. The result of non invasive blood pressure was recorded in mmHg. Detailed procedure was explained to patients.
Results: In our study, baseline interval non invasive blood pressure was 107.5 ± 4.75/67.5 ± 7.20 mmHg in group A and 118.3 ± 5.64/78.6 ± 3.94 mmHg in group B. After 01 min it was 112 ± 5.22/70 ± 6.3 mmHg in group A and group B had 103.6 ± 4.94/59.8 ± 2.79mmHg. After 03 mins group A had 108 ± 4.25/74 ± 5.62 mmHg and group B had 85.3 ± 3.14/49.6 ± 2.90 mmHg. Finally, at 05 mins, non invasive blood pressure in group A was 99.5 ± 4.11/63.6 ± 3.34 mmHg and group B had 77.1 ± 3.26/47.8 ± 3.67 mmHg. Group A has significant results (p<0.05) while statistically significant decreased in group B when compared with group A.
Conclusion: When phenylephrine was given prophylactically immediately after spinal anaesthesia, patients remained hemodynamically stable with less incidence of hypotension.
Downloads
Download data is not yet available.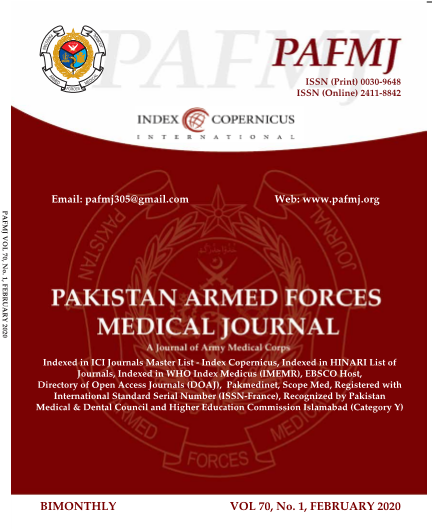 How to Cite
Gulrez, A., Sharif, A., & Sadique, A. B. (2020). PROPHYLACTIC PHENYLEPHRINE REDUCES THE RISK OF HYPOTENSION AFTER SPINAL ANAESTHESIA IN PARTURIENT PATIENTS UNDERGOING CESAREAN SECTION. Pakistan Armed Forces Medical Journal, 70(1), 164-68. Retrieved from https://pafmj.org/index.php/PAFMJ/article/view/3956
Section
Original Articles