DEPTH DEPENDENT HEAT RESPONSE ON ODONTOBLAST LAYER: COMPARISON OF HIGH SPEED HAND-PIECE DIAMOND VERSUS CARBIDE BURS
Nabila Momin

Sardar Begum Dental College Peshawar Pakistan

Zilli Huma

Khyber Medical University, Peshawar Pakistan

Muhammad Haroon

Naseerullah Babar Memorial Hospital, Peshawar Pakistan

Najma Baseer

Khyber Medical University, Peshawar Pakistan
Keywords:
Dental burs, Odontoblast layer, Pre-molar
Abstract
Objective: To find out the depth dependent heat effect of Diamond and Carbide burs on odontoblast layer and processes of premolar teeth.
Study Design: Laboratory based experimental study.
Place and Duration of Study: Anatomy department, Institute of Basic Medical Sciences, Khyber Medical University, from Mar 2018 to Jan 2018.
Methodology: Sixty premolars were obtained from patients undergoing removal of maxillary and mandibular 1st and 2nd premolars from dental hospitals in Peshawar. Cavity preparation by diamond (group B) and carbide bur (group C) at 1mm (B1 & C1), 2 mm (B2 & C2) and 2.5mm (B3 & C3) was carried out and temperature change noted. These were then stained with haematoxylin, eosin and Masson's trichrome to observe the morphological structure of odontoblast layer and odontoblast processes.
Results: The mean temperature change was 3.5°C for both groups (carbide and diamond) though carbide bur showed a significantly higher change in temperature as compared to diamond bur (p<0.001). In the diamond bur group there was a lesser degree of separation of the odontoblast layer as compared to carbide group C2 and C3. The radicular dentin was the most resistant as it has highest mean length of odontoblast processes in all groups at all depths i.e. 601.2 ± 97.9μ.
Conclusion: It was concluded that in comparison with diamond bur, the carbide bur caused more microscopic damage to tooth structure as the temperature recorded was higher than the critical value.
Downloads
Download data is not yet available.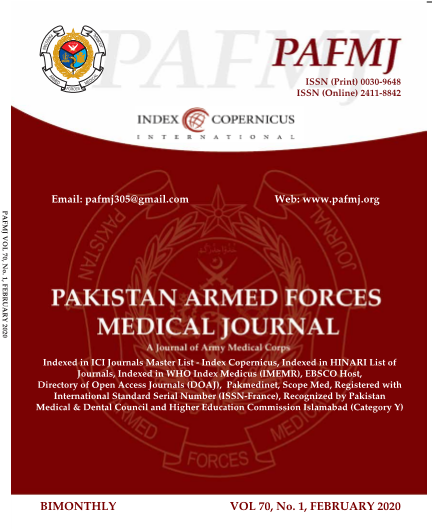 How to Cite
Momin, N., Huma, Z., Haroon, M., & Baseer, N. (2020). DEPTH DEPENDENT HEAT RESPONSE ON ODONTOBLAST LAYER: COMPARISON OF HIGH SPEED HAND-PIECE DIAMOND VERSUS CARBIDE BURS. Pakistan Armed Forces Medical Journal, 70(1), 124-29. Retrieved from https://pafmj.org/index.php/PAFMJ/article/view/3949
Section
Original Articles