DIAGNOSTIC ACCURACY OF FINE NEEDLE ASPIRATION CYTOLOGY IN DETECTION OF THYROID CARCINOMA IN PATIENTS WITH THYROID NODULES USING HISTOPATHOLOGY AS GOLD STANDARD
Kiran Mumtaz

Combined Military Hospital Multan/National University of Medical Sciences (NUMS) Pakistan

Muhammad Tahir Khadim

Combined Military Hospital Multan/National University of Medical Sciences (NUMS) Pakistan

Unaiza Jamil

Combined Military Hospital Multan/National University of Medical Sciences (NUMS) Pakistan

Ayesha Haider

Combined Military Hospital Multan/National University of Medical Sciences (NUMS) Pakistan

Syed Salman Ali

Combined Military Hospital Multan/National University of Medical Sciences (NUMS) Pakistan

Shagufta Iram

Combined Military Hospital Multan/National University of Medical Sciences (NUMS) Pakistan
Keywords:
FNAC, Thyroid carcinoma, Thyroid nodules
Abstract
Objective: To determine the diagnostic accuracy of fine needle aspiration cytology in detection of thyroid carcinoma in patients with thyroid nodules using histopathology as gold standard.
Study Design: Cross sectional validation study.
Place and Duration of Study: Department of Histopathology, Combined Military Hospital Multan, from Oct 2016 to Apr 2017.
Methodology: A total of 120 cases of thyroid lesions were included in the study. Data was analyzed using computer software SPSS 18. The quantitative variables like age, size of nodule, duration of the disease. Gender, marital status, use of iodine supplement in diet and thyroid carcinoma on fine needle aspiration cytology and histopathology were measured and diagnostic accuracy was also calculated.
Results: Out of 120 study cases, 28 (23.3%) were males while 92 (76.7%) were females. Mean age of our study cases was 42.31 ± 8.40 years. Mean disease duration was 8.34 ± 3.91 months that thyroid lesions were benign in 52 cases(43.4%), 20 cases were of suspicious for follicular neoplasm (16.6%). Histopathology documented thyroid carcinoma was present in 31 (25.8%) cases. Of these papillary carcinoma was seen in 25 cases (80.6%) and medullary carcinoma was seen in 6 cases (19.35%) Sensitivity of fine needle aspiration cytology was 87%, specificity was 86.51%, diagnostic accuracy was 86.66%, positive predictive value was 69.23% and negative predictive value was noted to be 95.06%.
Conclusion: Fine needle aspiration cytology is found to be a very accurate, sensitive and specific initial diagnostic modality in evaluating patients who presented with thyroid swellings.
Downloads
Download data is not yet available.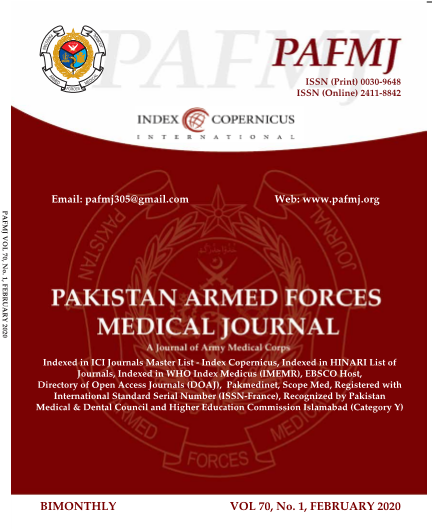 How to Cite
Mumtaz, K., Khadim, M., Jamil, U., Haider, A., Ali, S., & Iram, S. (2020). DIAGNOSTIC ACCURACY OF FINE NEEDLE ASPIRATION CYTOLOGY IN DETECTION OF THYROID CARCINOMA IN PATIENTS WITH THYROID NODULES USING HISTOPATHOLOGY AS GOLD STANDARD. Pakistan Armed Forces Medical Journal, 70(1), 118-23. Retrieved from https://pafmj.org/index.php/PAFMJ/article/view/3948
Section
Original Articles