BODY ESTEEM AND NARCISSISM AS PREDICTOR OF SOOCIAL PHYSIQUE ANXIETY AMONG ADOOLESCENTS
Zartasha Qamar

University of Sargodha, Sargodha Pakistan

Najma Iqbal Malik

University of Sargodha, Sargodha Pakistan

Aneela Maqsood

Fatima Jinnah Women University, Rawalpindi Pakistan

Shoaib Kiani

AG's Branch GHQ, Rawalpindi Pakistan
Keywords:
Adolescents, Body esteem, Narcissism, Social physique anxiety
Abstract
Objective: To discover the predicting role of body esteem and narcissism for social physique anxiety among adolescents.
Study Design: Correlational study. Place and Duration of Study: 06 Different educational institutes of Bhalwal and Sargodha city, from Jul 2018 to Nov 2018.
Methodology: Body Esteem Scale (BES), Social Physique Anxiety Scale (SPAS) and Hyper Sensitive Narcissism Scale were used to measure constructs of present study. Pearson coefficient analysis, linear regression and t-test were run to analyze data.
Results: Result of Pearson correlation revealed that adolescents' body esteem had significant negative relationship with social physique anxiety and non-significant positive relationship with narcissism; however, narcissism had strong positive relationship with social physique anxiety. Linear regression showed that body esteem was significant negative whereas narcissism was significant positive predictor of social physique anxiety among adolescent boys and girls. Furthermore, t-test analyses revealed that adolescent girls had significantly low body esteem, high social physique anxiety and narcissism as compared to adolescent boys. However, differences regarding age and education levels were found to be non-significant. The implications, suggestions and limitations of study have also been discussed.
Conclusion: Current study concluded that body esteem and narcissism are significant predictors of social physique anxiety among adolescents and this varies across gender.
Downloads
Download data is not yet available.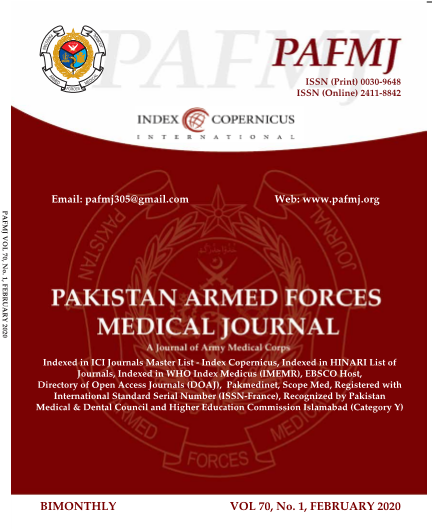 How to Cite
Qamar, Z., Malik, N., Maqsood, A., & Kiani, S. (2020). BODY ESTEEM AND NARCISSISM AS PREDICTOR OF SOOCIAL PHYSIQUE ANXIETY AMONG ADOOLESCENTS. Pakistan Armed Forces Medical Journal, 70(1), 106-11. Retrieved from https://pafmj.org/index.php/PAFMJ/article/view/3946
Section
Original Articles