FREQUENCY OF PROSTATE CARCINOMA HAVING RAISED SERUM PROSTATE SPECIFIC ANTIGEN LEVEL IN TRANSURETHRAL RESECTION OF PROSTATE
Unaiza Jamil

Combined Military Hospital Multan/National University of Medical Sciences (NUMS) Pakistan

Muhammad Tahir Khadim

Combined Military Hospital Multan/National University of Medical Sciences (NUMS) Pakistan

Syed Salman Ali

Combined Military Hospital Multan/National University of Medical Sciences (NUMS) Pakistan

Akhter Ali

Combined Military Hospital Multan/National University of Medical Sciences (NUMS) Pakistan

Kiran Mumtaz

Combined Military Hospital Multan/National University of Medical Sciences (NUMS) Pakistan

Ayesha Haider

Combined Military Hospital Multan/National University of Medical Sciences (NUMS) Pakistan
Keywords:
Benign prostate hyperplasia, Prostate specific antigen, Transurethral resection of prostate
Abstract
Objective: To determine the frequency of prostate carcinoma having raised serum Prostate Specific Antigen level in Transurethral Resection of Prostate (TURP) specimens sent for histopathology.
Study Design: Descriptive, cross sectional study.
Place and Duration of Study: Department of Histopathology, Combined Military Hospital Multan, from Dec 2015 to Jun 2016.
Methodology: A total of 100 cases were included in the study. The quantitative variables i.e. serum prostate specific antigen (PSA), age & duration of disease were presented by calculating mean and standard deviation. The qualitative variables i.e. benign prostate hyperplasia (BPH), prostatitis, prostate carcinoma and marital status were presented by calculating frequency and percentages. Data was analyzed by using SPSS version 18. Effect modifiers like age, duration of disease and marital status were controlled through stratification. Chi square test was applied after stratification with p-value ≤0.05 considered as significant.
Results: Out of 100 cases of TURP, all patients were married. The age of the patients was between 46 and 85 years with an average age of 64.4 years and standard deviation of ± 10.7. Out of 100 cases, 17 cases (17%) were prostate carcinoma, 59 cases (59%) were BPH and 24 cases (24%) were prostatitis. Seventy seven cases (77%) showed abnormal PSA level while 23 cases (23%) have normal levels. Out of 77 cases of abnormal PSA level, 49 cases (63.6%) were BPH, 17 cases (22.1%) were prostate carcinoma and 11 cases (14.3%) were prostatitis. Briefly, 41(41%) patients had serum PSA level > 20ng/ml. Among these, 24 cases (24%) were benign and 17 (17%) were malignant. However, remaining 59 (59%) benign cases had serum PSA level below 20ng/ml. A significant statistical association was seen, p-value being <0.05.
Conclusion: The abnormal level of PSA in large number of benign lesions of prostate will be helpful in developing a consensus that it is not a tumor specific antigen.
Downloads
Download data is not yet available.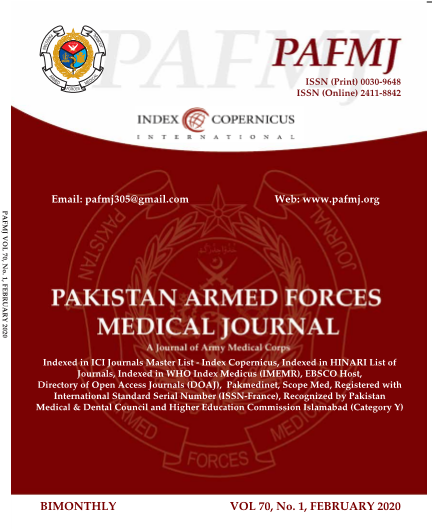 How to Cite
Jamil, U., Khadim, M., Ali, S., Ali, A., Mumtaz, K., & Haider, A. (2020). FREQUENCY OF PROSTATE CARCINOMA HAVING RAISED SERUM PROSTATE SPECIFIC ANTIGEN LEVEL IN TRANSURETHRAL RESECTION OF PROSTATE. Pakistan Armed Forces Medical Journal, 70(1), 63-67. Retrieved from https://pafmj.org/index.php/PAFMJ/article/view/3936
Section
Original Articles