LAPAROSCOPIC APPENDECTOMY IN OBESE. AN ATTRACTIVE OPTION
Saeed Awan

Combined Military Hospital Kohat Pakistan

Munawar Jameel

Bahawal Victoria Hospital, Bahawalpur Pakistan

Khurram Niaz

Bahawal Victoria Hospital, Bahawalpur Pakistan

Iqra Khalid

Bahawal Victoria Hospital, Bahawalpur Pakistan
Keywords:
Ileus, Intraabdominal abscess, Laparoscopic appendectomy, Open appendectomy, Stump leakage, Wound sepsis
Abstract
Objective: To evaluate the outcomes of laparoscopic and open appendectomy in obese patients in Surgical departments of a tertiary care hospital.
Study Design: Prospective observational study.
Place and Duration of Study: Bahawal Victoria Hospital. Bahawalpur, from Jan 2013 to Dec 2016.
Methodology: A sample of 173 patients (aged ≥16 years, BMI >30) admitted to a surgical teaching service with a clinical diagnosis of acute appendicitis. This study was conducted on appendicitis patients, who underwent standard laparoscopic appendectomy (LA) and open Appendectomy (OA). Complicated appendicitis cases were disqualified. Variables analyzed includes age of patients, gender, operative time (OT), postoperative pain, return of bowel function, intra-abdominal abscesses, wound sepsis and length of Hospital stay.
Results: Laparoscopic appendectomy was performed on 83 patients & open appendectomy on 90. Statistical disparity in mean operative time between the laparoscopic (52 ± 8min) and open appendectomy (67 ± 13 min) groups was determined. Rate of intra-abdominal abscess was higher after open appendectomy (11%) than laparoscopic (3%) as well as the wound sepsis which was 9% in Open Appendectomy and 2% in Laparoscopic Appendectomy. Likewise, post-operative ileus was 12% in Laparoscopic Appendectomy and 20% in Open appendectomy. The span of stay in hospital was shorter in laparoscopic group (3 ± 1 day) as compared with open group (5 ± 1 days). Two cases needed re-exploration (0.5%) for appendicular stump leakage and pelvic collection respectively.
Conclusion: Laparoscopic approach is advantageous in comparison with open appendectomy in terms of less postoperative pain, shorter Hospital stay, reduced wound sepsis and operative time in obese patients.
Downloads
Download data is not yet available.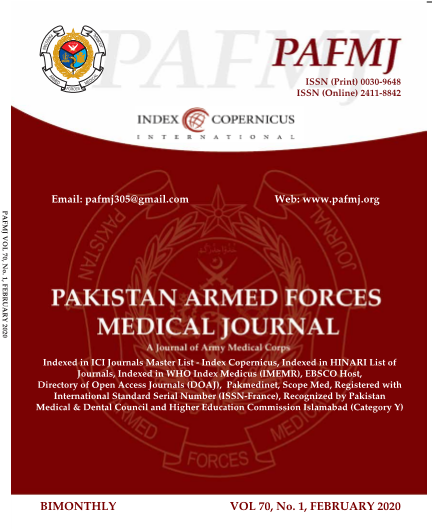 How to Cite
Awan, S., Jameel, M., Niaz, K., & Khalid, I. (2020). LAPAROSCOPIC APPENDECTOMY IN OBESE. AN ATTRACTIVE OPTION. Pakistan Armed Forces Medical Journal, 70(1), 58-62. Retrieved from https://pafmj.org/index.php/PAFMJ/article/view/3935
Section
Original Articles