COMPARISON OF DEXXMEDETOMIDINE AND MIDAZOLAM FOR SEDATION AND ANALGESIA DURING SEPTOPLASTY UNDER MONITORED ANESTHESIA CARE
Faisal Wahid

Combined Military Hospital Malir/National University of Medical Sciences (NUMS) Pakistan

Aftab Hussain

Combined Military Hospital Malir/National University of Medical Sciences (NUMS) Pakistan

Hina Iftikhar

Combined Military Hospital Malir/National University of Medical Sciences (NUMS) Pakistan

Faiz Ur Rehman

Combined Military Hospital Malir/National University of Medical Sciences (NUMS) Pakistan

Ahmed Mushtaq

Combined Military Hospital Malir/National University of Medical Sciences (NUMS) Pakistan

Muhammad Javad Yousaf

Army Medical College/National University of Medical Sciences (NUMS) Rawalpindi Pakistan
Keywords:
Dexmedetomidine, Midazolam, Monitored anesthesia care, Sedation
Abstract
Objective: To compare dexmedetomidine and midazolam for effective sedation and pain relief during monitored anesthesia care for septoplasty using ramsay sedation scale and visual analogue scale.
Study Design: Prospective observational study.
Place and Duration of Study: Anesthesia Department, Combined Military Hospital Malir, from May 2019 to Jul 2019.
Methodology: After ethical committee approval, 100 patients were recruited and divided in two groups to undergo septoplasty under local anesthesia. Group1 received dexmedetomidine 1 microgram/kg intravenously given over Five minute followed by 0.5 micrograms/kg/hr. Group 2 received midazolam 0.06 mg/kg intra-venously slowly followed by 0.01mg/kg/hr. Sedation was titrated with ramsay sedation scale. The target end point was patient having ramsay sedation scale 3 by the end of 10 minutes. Rescue sedation was given in patients having ramsay sedation scale <3. Intraoperative pain was assessed using visual analogue scale. Visual analogue scale target value was <6. Rescue analgesia was given if visual analogue scale >5.
Results: Mean ramsay sedation scale was significantly high in group-1 (2.6 ± 0.48) as compared to group-2 (2.18 ± 0.54) with a p-value of 0.008. Intra-operative rescue sedation was provided in significantly less number of patients in group-1 18 (36%) as compared to group-2 35 (70%) with a p-value of 0.009. Visual analogue scale was also significantly less in group-1 (2.4 ± 1.4) than in group-2 (3.2 ± 1.6) with a p-value of 0.017. Intra-operative rescue analgesia was also required in significantly lesser number of patients in group-1 13 (26%) than group-2 27 (54%) with a p-value of 0.007.
Conclusion: This study proved that dexmedetomidine is superior to midazolam for providing sedation and analgesia.
Downloads
Download data is not yet available.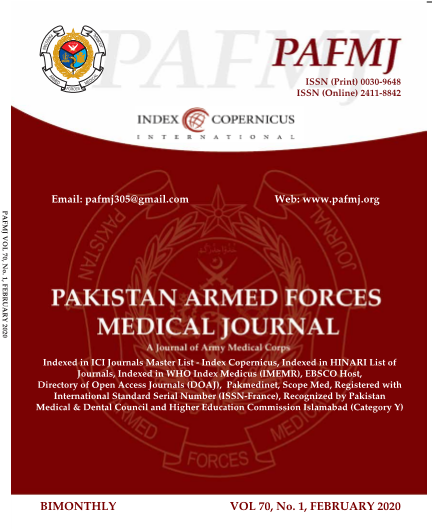 How to Cite
Wahid, F., Hussain, A., Iftikhar, H., Rehman, F., Mushtaq, A., & Yousaf, M. (2020). COMPARISON OF DEXXMEDETOMIDINE AND MIDAZOLAM FOR SEDATION AND ANALGESIA DURING SEPTOPLASTY UNDER MONITORED ANESTHESIA CARE. Pakistan Armed Forces Medical Journal, 70(1), 53-57. Retrieved from https://pafmj.org/index.php/PAFMJ/article/view/3929
Section
Original Articles