DONOR SITE MORBIDITY OF RADIAL FOREARM FREE FLAP; A CASE SERIES
Ghazanfar Ali

Combined Military Hospital Quetta/National University of Medical Sciences (NUMS) Pakistan

Riaz Ahmad Khokhar

McGill University Health Centre, Montreal Canada

Abdul Majid

Combined Military Hospital, Pano Aqil Pakistan

Rao Saad Ahmad

Combined Military Hospital/National University of Medical Sciences (NUMS) Rawalpindi Pakistan

Rana Hassan Javed

Combined Military Hospital Quetta/National University of Medical Sciences (NUMS) Pakistan
Keywords:
Donor site morbidity, Outcome, Radial forearm free flap, Surgery
Abstract
Objective: To evaluate the donor site morbidity associated with the radial forearm free flap surgery.
Study Design: Case series study.
Place and Duration of Study: Departments of Plastic and Reconstructive Surgery, Combined Military Hospital Rawalpindi and Bahawalpur, from Jul 2011 to Jul 2017.
Methodology: One hundred and nineteen patients, who underwent radial forearm free flap surgery, were included in the study. Patients were followed up at first and second week and then at six months. Patients were examined for wound infection, radial nerve injury, flexor tendon desiccation, cold intolerance, persistent post-op pain, wrist mobility, and pinch and grip strength (using a dynamometer).
Results: There were a total 109 patients out of which 78 (71.6%) were male patients and 31 (28.4%) were female patients. The mean age was 35 ±12 years (range: 16 to 64) years. Three (2.8%) patients had early wound infection. Two (1.8%) patients had injury to sensory branch of the radial nerve and two (1.8%) had desiccation of flexor tendons near wrist. On six-month's follow-up, five (4.6%) patients developed cold intolerance while six (5.5%) patients had persistent post-operative pain. Four (3.7%) patients developed reduced wrist mobility and same percentage of patients (3.7%) had reduced pinch and grip strength.
Conclusion: The donor site in radial forearm free flap surgery carries donor site morbidity that can be minimized by careful and meticulous surgical techniques.
Downloads
Download data is not yet available.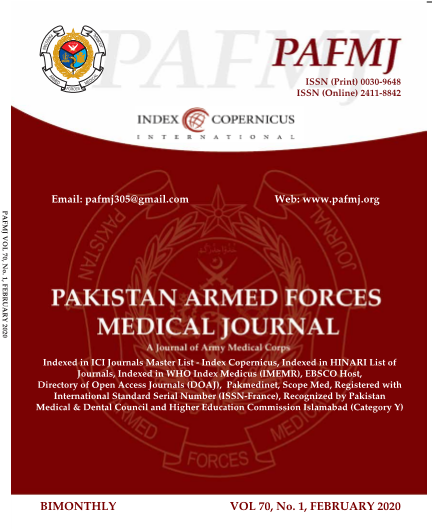 How to Cite
Ali, G., Khokhar, R., Majid, A., Ahmad, R., & Javed, R. (2020). DONOR SITE MORBIDITY OF RADIAL FOREARM FREE FLAP; A CASE SERIES. Pakistan Armed Forces Medical Journal, 70(1), 48-52. Retrieved from https://pafmj.org/index.php/PAFMJ/article/view/3928
Section
Original Articles