ASSESSMENT OF PSYCHO-SOCIAL IMPACT OF ACNE AMONG YOUNG ADULTS - A CROSS SECTIONAL STUDY AT A TERTIARY CARE HOSPITAL OF RAWALPINDI
Zubaida Rashid

Army Medical College/National University of Medical Sciences (NUMS) Rawalpindi Pakistan

Syed Fawad Mashhadi

Army Medical College/National University of Medical Sciences (NUMS) Rawalpindi Pakistan

Imtenan Sharif

Army Medical College/National University of Medical Sciences (NUMS) Rawalpindi Pakistan

Syeda Urooj Zaidi

Army Medical College/National University of Medical Sciences (NUMS) Rawalpindi Pakistan

Saira Maroof

Army Medical College/National University of Medical Sciences (NUMS) Rawalpindi Pakistan

Mufliha Khan

Army Medical College/National University of Medical Sciences (NUMS) Rawalpindi Pakistan

Umama Liaqat

Army Medical College/National University of Medical Sciences (NUMS) Rawalpindi Pakistan
Keywords:
Acne, Impact, Quality of life, Young adults
Abstract
Objective: To assess the psychosocial impact of acne and to evaluate the quality of life in relation to severity of symptoms among young adults.
Study Design: Cross-sectional – analytical study.
Place and Duration of Study: Outpatient Department, Pak Emirates Military Hospital, Rawalpindi, from Sep 2018 to Feb 2019.
Methodology: We included 300 individuals visiting the hospital and their quality of life was assessed using Acne quality of life Index questionnaire. Data was analyzed using SPSS-23.
Results: Total scores were calculated for three domains of Quality of life in patients with Acne i.e. Self-perception, Emotional well-being and Social life. Out of these three domains, Social Life was most affected by acne (mean score 15.61 ± 7.37out of a total of 30) and Self-Perception was seen to be least affected (mean score 16.90 ± 8.20). There was a strong positive co-relation between the increasing severity of symptoms and impact on Self Perception (r=-0.58, p<0.01), between severity and Impact on Social life (r=-0.581, p<0.01) and between severity of symptoms and Impact on emotional well-being of the patients (r=-0.551, p<0.01). A significant difference was seen between the two genders with reference to the impact on "Social Life", the mean
score for Males being 13.96 ± 7.55 while that for Females being 17.29 ± 6.81 (p<0.01).
Conclusion: Acne has significant impact on the quality of life of patients treated by primary care physicians. The severity of symptoms had strong positive correlation with self-perception, social and emotional domains.
Downloads
Download data is not yet available.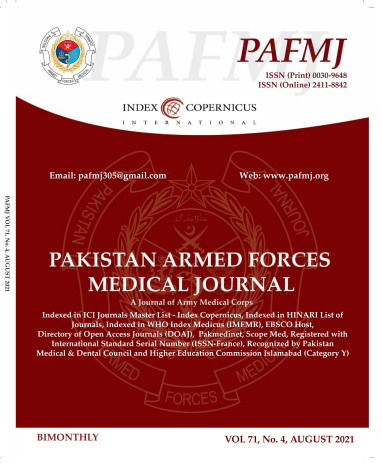 How to Cite
Rashid, Z., Mashhadi, S., Sharif, I., Zaidi, S., Maroof, S., Khan, M., & Liaqat, U. (2021). ASSESSMENT OF PSYCHO-SOCIAL IMPACT OF ACNE AMONG YOUNG ADULTS - A CROSS SECTIONAL STUDY AT A TERTIARY CARE HOSPITAL OF RAWALPINDI. Pakistan Armed Forces Medical Journal, 71(4), 1171-74. https://doi.org/10.51253/pafmj.v71i4.3906
Section
Original Articles