The HIGH BCR-ABL1 GENE PERCENTAGE AT TIME OF PRESENTATION: A TOOL TO PREDICT FAILURE IN ACHIEVING EARLY MOLECULAR RESPONSE IN CHRONIC MYELOID LEUKEMIA (CML): A TERTIARY CARE CENTER EXPERIENCE
Amjad Khan

Combined Military Hospital/National University of Medical Sciences (NUMS) Rawalpindi Pakistan

Riaz Ahmed

Combined Military Hospital/National University of Medical Sciences (NUMS) Rawalpindi Pakistan

Sarah Fatimah

Armed Forces Institute of Pathology/ National University of Medical Sciences (NUMS) Rawalpindi Pakistan

Muhammad Nadeem

Combined Military Hospital/National University of Medical Sciences (NUMS) Rawalpindi Pakistan

Shama Iqbal

Naserullah Baber Memorial Hospital, Peshawar Pakistan

Sayed Tanveer Abbas Gilani

Armed Forces Institute of Cardiology/National Institute of Heart Disease (AFIC/NIHD) National University of Medical Sciences (NUMS) Rawalpindi Pakistan

Huma Amjad

Basis Health Unit, Swabi Pakistan
Keywords:
Chronic Myeloid Leukemia, Early molecular response, Imatinib
Abstract
Objective: To determine the relationship of baseline quantitative BCR ABL1 gene percentage and therapeutic response i.e. Early Molecular Response (EMR) at 3 months with first generation Tyrosine kinase inhibitors (Imatinib) in patients with Chronic Myeloid Leukemia (CML) in chronic phase (CP).
Study Design: Prospective observational study.
Place and Duration of Study: Combined Military Hospital, Rawalpindi, Pakistan, and Armed Forces Institute of Pathology Rawalpindi, Pakistan from Oct 2017 to Oct 2019.
Methodology: One hundred and seventy patients, 18 years of age or older with newly diagnosed Chronic Myeloid Leukemia (CML) in chronic phase (CP) with quantitative baseline BCR-ABL (IS) transcript were included in the study. All enrolled patients were placed on Imatinib therapy (400 mg/day) and Reverse transcription polymerase chain reaction (RT-PCR) for BCR ABL transcript was repeated at 3 months to document EMR (BCR-ABL (IS) <10%). Patients who were in accelerated/blast phase, or already taking any Tyrosine Kinase Inhibitors (TKI) or chemotherapy were excluded from the study.
Results: In our study 101 (59.4%) patients achieved early molecular response. Out of these 80 (70.8%) patients with BCR-ABL<50% at baseline value showed early molecular response. However, only 21 (36.8%) with BCRABL >50% at baseline achieved early molecular response (p-value <0.001).
Conclusion: A significant number of patients achieved early molecular response with Imatinib therapy that had BCR ABL below 50%, however those with baseline BCR ABL >50%, the rate of EMR was comparatively lower.
Downloads
Download data is not yet available.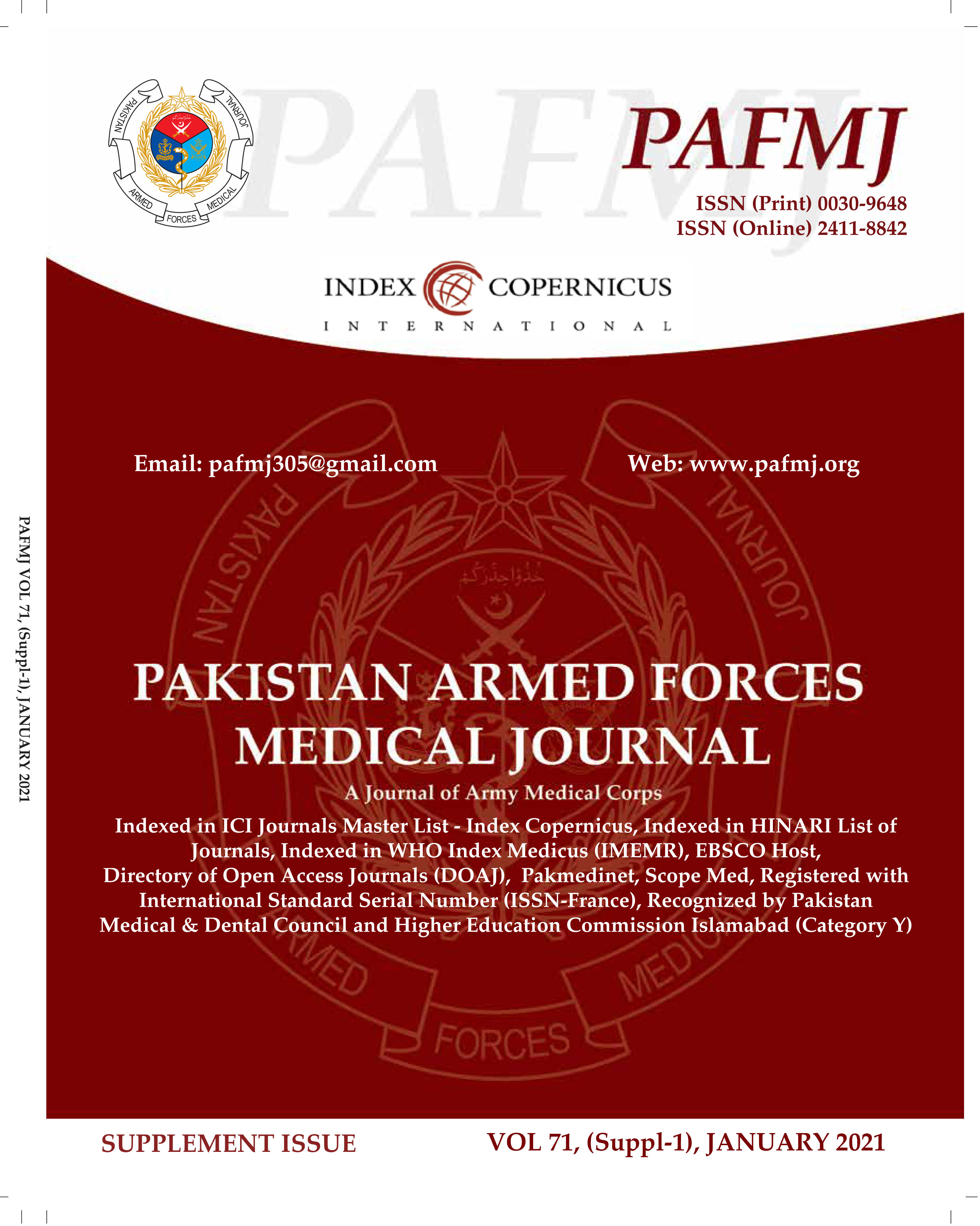 How to Cite
Khan, A., Ahmed, R., Fatimah, S., Nadeem, M., Iqbal, S., Gilani, S. T., & Amjad, H. (2021). The HIGH BCR-ABL1 GENE PERCENTAGE AT TIME OF PRESENTATION: A TOOL TO PREDICT FAILURE IN ACHIEVING EARLY MOLECULAR RESPONSE IN CHRONIC MYELOID LEUKEMIA (CML): A TERTIARY CARE CENTER EXPERIENCE. PAFMJ, 71(Suppl-1), S71-75. https://doi.org/10.51253/pafmj.v71iSuppl-1.3891
Section
Original Articles