OCCUPATIONAL NOISE INDUCED HEARING LOSS: IT'S FREQUENCY & RISK FACTORS
Muhammad Javid Iqbal Pattafi

Bahawal Victoria Hospital, Bahawalpur Pakistan

Nazia Mumtaz

Riphah International University, Lahore Pakistan

Ghulam Saqulain

Capital Hospital, CDA Islamabad Pakistan
Keywords:
Exposure to noise, Frequency, Hearing protective devices, Hearing loss, Occupational noise
Abstract
Objective: To determine the frequency and risk factors of occupational noise induced hearing loss.
Study Design: Cross sectional study.
Place and Duration of Study: Dispensary Unit of Jaith Bhuta Sugar Mill near Rahim Yar Khan, Southern Punjab.
from Aug 2017 to Jan 2018.
Methodology: This study was conducted using nonprobability consecutive sampling. n=300 workers of both
genders aged 18-40 years were assessed. Basic demographic parameters, otoscopic examination and Pure Tone Audiometry were used for data collection. The Data was analyzed by using SPSS version 21.
Results: Study included 215 (71.7%) males and 85 (28.3%) females with male to female ratio of 2.53: 1 and mean
age of 28.34 ± 4.61 years. The frequency rate of hearing impairment (HI) was 90 (30%) out of 300 respondents in
this study. Out of 70 (100%) of respondents were affected with duration of job of 6-10 years. There was significant association between gender, age, education, duration of noise exposure with occupational noise induced hearing loss with p-value <0.001.
Conclusion: There was high frequency of occupational noise induced hearing loss (ONIHL) with significant
risk factors being level and duration of exposure to noise (ETN), age, gender, education and hearing protective
devices (HPD)'s.
Downloads
Download data is not yet available.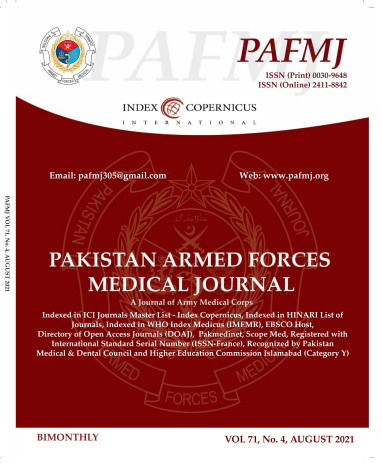 How to Cite
Pattafi, M., Mumtaz, N., & Saqulain, G. (2021). OCCUPATIONAL NOISE INDUCED HEARING LOSS: IT'S FREQUENCY & RISK FACTORS. Pakistan Armed Forces Medical Journal, 71(Suppl-3), S607-11. https://doi.org/10.51253/pafmj.v1i1.3850
Section
Original Articles