FREQUENCY OF VANCOMYCIN RESISTANT STAPHYLOCOCCUS AUREUS AMONG CLINICAL ISOLATES OF MRSA COLLECTED FROM TERTIARY CARE HOSPITALS OF LAHORE, PAKISTAN
Clinical Isolates of MRSA
Keywords:
Methicillin resistant staphylococcus aureus, Minimum inhibitory concentration, Staphylococcus aureus
Abstract
Objective: To determine the frequency of vancomycin resistant Staphylococcus aureus (VRSA) among clinical isolates of methicillin resistant Staphylococcus aureus (MRSA).
Study Design: Descriptive study.
Place and Duration of Study: Department of Microbiology, University of Health Sciences, Lahore from Jul 2014    to Dec 2014.
Material and Methods: A total of 240 (n=240) clinical isolates of MRSA were collected by consecutive sampling from different tertiary care hospitals of Lahore. Re-confirmation of MRSA was done by the standard microbiological methods using disc diffusion technique according to Clinical Laboratory Standards Institute (CLSI) guidelines 2014. Minimum inhibitory concentration (MIC) of the vancomycin was done by agar dilution method.
Results: It was found that vancomycin inhibited MRSA strains in the range of 1.0–2.0 µg/ml. Ninety percent (90%) of the strains inhibited at 1 µg/ml while 25 (10.41%) strains showed growth at 1 µg/ml which indicates that their MIC was 2 µg/ml. No vancomycin resistant (VRSA) or intermediate strains (VISA) of MRSA were found during the study but there were significant numbers of isolates having ≥1 µg/ml MIC of vancomycin.
Conclusion: Vancomycin has until now excellent activity against clinical isolates of Methicillin-resistant Staphylococcus aureus.
Downloads
Download data is not yet available.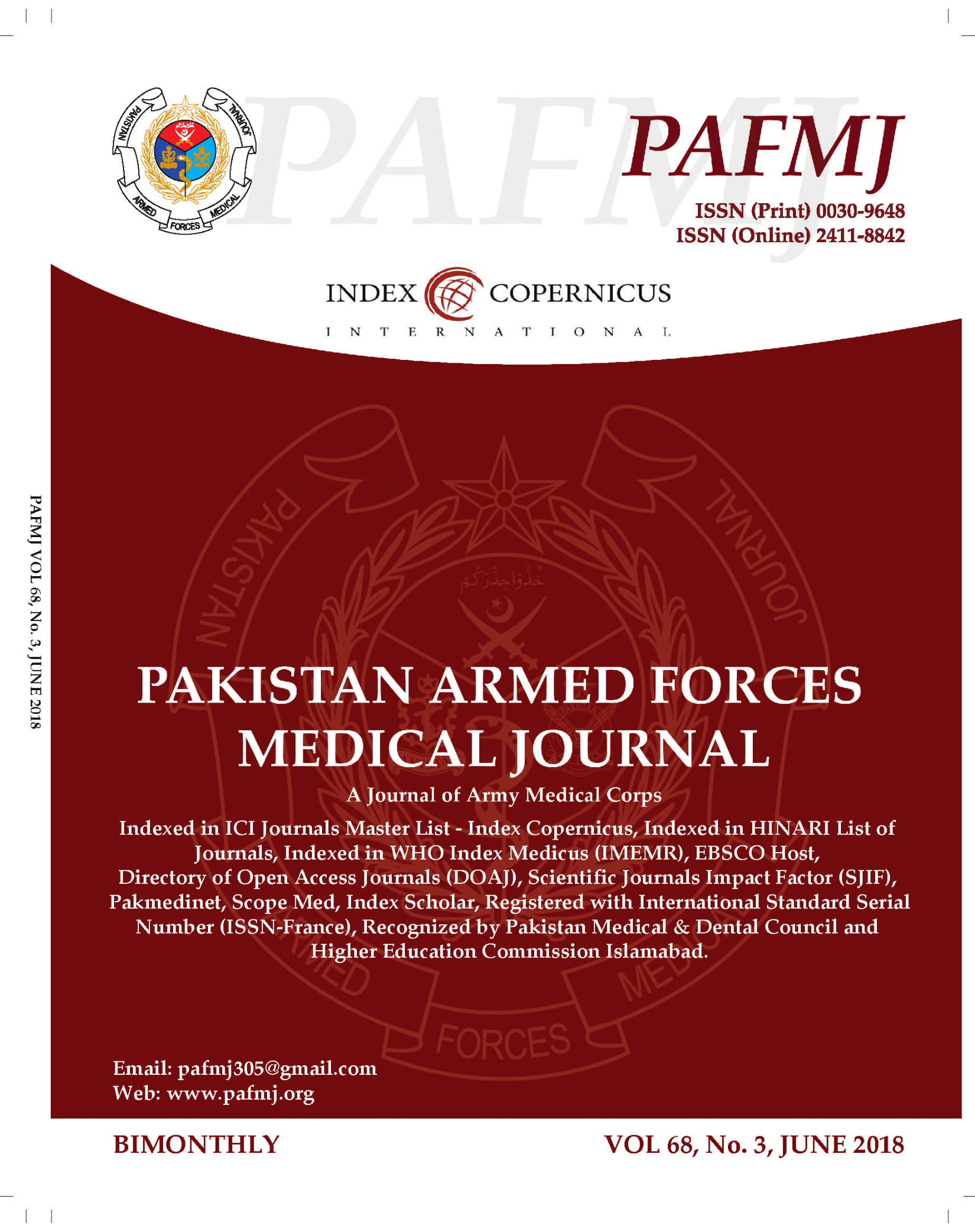 Downloads
How to Cite
Akhtar, R. W., Hannan, A., Saleem, S., Qaisar, A., & Jahan, S. (2018). FREQUENCY OF VANCOMYCIN RESISTANT STAPHYLOCOCCUS AUREUS AMONG CLINICAL ISOLATES OF MRSA COLLECTED FROM TERTIARY CARE HOSPITALS OF LAHORE, PAKISTAN: Clinical Isolates of MRSA. Pakistan Armed Forces Medical Journal, 68(3), 580–84. Retrieved from https://pafmj.org/index.php/PAFMJ/article/view/385
Section
Original Articles