ACUTE PANCREATITIS IN PATIENTS WITH DIABETIC KETOACIDOSIS PRESENTING AT A TERTIARY CARE UNIT
Zubia Hassan

Pak Emirates Military Hospital/National University of Medical Sciences (NUMS) Rawalpindi Pakistan

Imran Fazal

Pak Emirates Military Hospital/National University of Medical Sciences (NUMS) Rawalpindi Pakistan

Nadeem Ashraf

Pak Emirates Military Hospital/National University of Medical Sciences (NUMS) Rawalpindi Pakistan

Arshad Hayat

Pak Emirates Military Hospital/National University of Medical Sciences (NUMS) Rawalpindi Pakistan

Kaswar Sajjad

Pak Emirates Military Hospital/National University of Medical Sciences (NUMS) Rawalpindi Pakistan

Asad Zaman

Pak Emirates Military Hospital/National University of Medical Sciences (NUMS) Rawalpindi Pakistan
Keywords:
Acute pancreatitis, Diabetic ketoacidosis, Frequency
Abstract
Objective: To determine the frequency of acute pancreatitis among the patients diagnosed with diabetic ketoacidosis at our tertiary care hospital.
Study Design: Co-relational study.
Place and Duration of Study: Medicine department, Pak Emirates Military Hospital Rawalpindi, from Jun to Dec 2019.
Methodology: A total of 40 cases presenting with diabetic ketoacidosis were included in our study. Diabetic ketoacidosis was diagnosed by consultant medical specialist. All patients underwent baseline investigations including serum amylase, lipid profile and CT scan abdomen in order to diagnose acute pancreatitis. Relationship of age, gender, duration of diabetes mellitus and triglyceride levels was assessed with the presence of acute pancreatitis among the patients of diabetic ketoacidosis.
Results: A total of forty patients were managed as diabetic ketoacidosis in our hospital during the study period. Out of them 8 (20%) had acute pancreatitis while 32 (80%) were not diagnosed with acute pancreatitis. Confusion (55%) was the commonest presenting complaint followed by abdominal pain (25%). With binary logistic regression analysis, we found that female gender and raised triglyceride levels had a statistically significant relationship with presence of acute pancreatitis among the patients of diabetic ketoacidosis included in this study.
Conclusion: Considerable number of patients were diagnosed with acute pancreatitis who presented with diabetic ketoacidosis. Special attention should be paid towards female patients and those with raised triglyceride levels to look for the sign and symptoms of acute pancreatitis in order to diagnose and manage this condition.
Downloads
Download data is not yet available.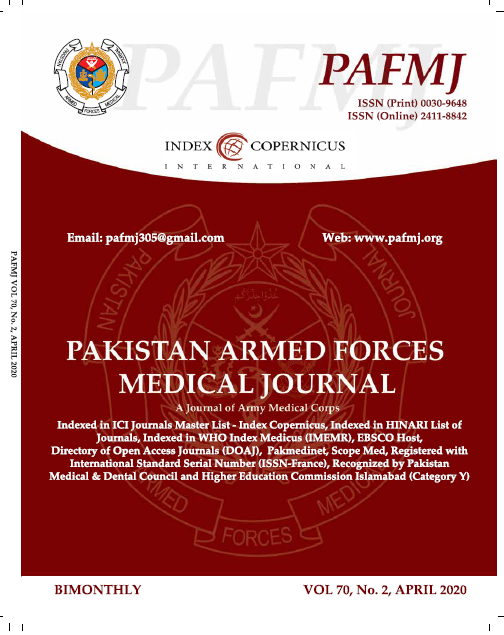 How to Cite
Hassan, Z., Fazal, I., Ashraf, N., Hayat, A., Sajjad, K., & Zaman, A. (2021). ACUTE PANCREATITIS IN PATIENTS WITH DIABETIC KETOACIDOSIS PRESENTING AT A TERTIARY CARE UNIT. Pakistan Armed Forces Medical Journal, 71(2), 606-09. https://doi.org/10.51253/pafmj.v71i2.3767
Section
Original Articles