AWARENESS OF ANTIMICROBIAL RESISTANCE FROM ONE HEALTH PERSPECTIVE AND ITS RELATION TO SOCIAL DETERMINANTS IN RESIDENTS OF WAH
Antimicrobial Resistance
Hina Shan

Senior Lecturer, HITEC-Institute of Medical Sciences, Taxila Pakistan (

Syed Fawad Mashhadi

Army Medical College / National University of Medical Sciences (NUMS) Rawalpindi Pakistan

Humaira Mahmood

Karachi Institute of Medical Sciences/ CMH Malir Karachi Pakistan
Keywords:
AMR, Antibiotic resistance, Antimicrobial resistance, One Health
Abstract
Objective: To assess the awareness about antimicrobial resistance (AMR) and the various aspects of AMR from a one health concept in relation to social determinants in residents of Wah.
Study Design: Cross sectional-analytical study.
Place and Duration of Study: One year from Jan to Dec 2017 in Wah, Pakistan.
Material and Methods: A total of 400 participants completed the questionnaire, aged 16 years and older. A probability sampling technique was used and Chi-square test of significance was applied to determine the relationship between social variables with dependent variables, p-value <0.05 was taken as significant.
Results: The phrase 'antibiotic resistance' was known to 52.5%, and 19.8% heard 'antimicrobial resistance'. The term least heard was 'superbugs' (9.5%). The most cited source of information was 'doctor' followed by 'media.' Results showed that 67.3% believed that health of people is connected to the health of animals and environment, 62% agreed that collaborative efforts could achieve the best health of people and environment.
Conclusion: The awareness related to the causes and spread of antimicrobial resistance came out to be quite low, and the outcomes were found to be associated with gender, age, education, occupation and socioeconomic status. Participants had many misconceptions about various aspects of antimicrobial resistance. Public awareness of AMR was low in all occupational groups, and the results show that high education level, high socioeconomic status, and healthcare-related occupation marked a higher level of knowledge about AMR awareness.
Downloads
Download data is not yet available.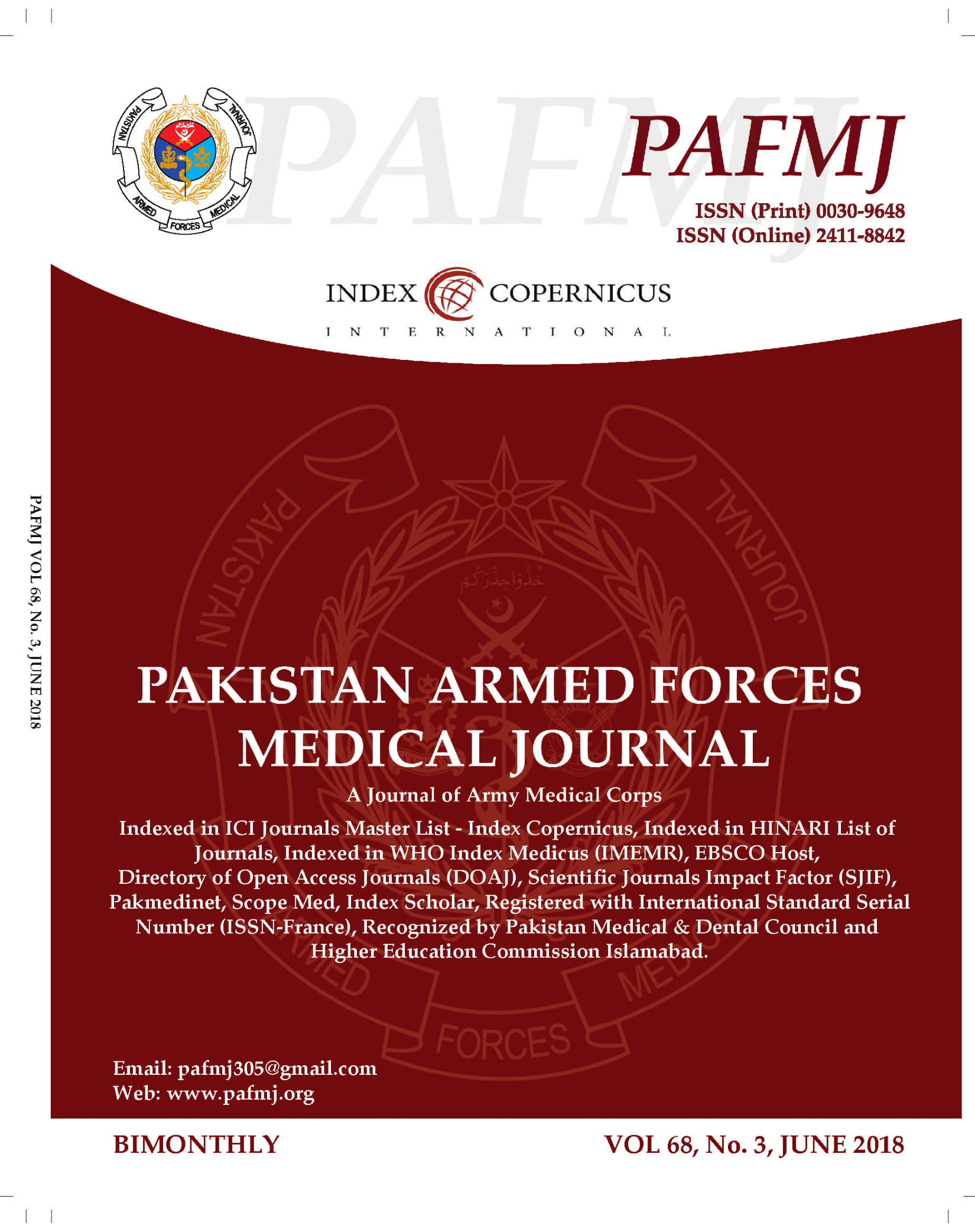 How to Cite
Shan, H., Mashhadi, S. F., & Mahmood, H. (2018). AWARENESS OF ANTIMICROBIAL RESISTANCE FROM ONE HEALTH PERSPECTIVE AND ITS RELATION TO SOCIAL DETERMINANTS IN RESIDENTS OF WAH. Pakistan Armed Forces Medical Journal (PAFMJ), 68(3), 556-64. Retrieved from https://pafmj.org/index.php/PAFMJ/article/view/376
Section
Original Articles